Abstract
The widespread use of tetracyclines (TCs) in animal husbandry is associated with their constant penetration into the environment and the threat they might pose to living organisms. While the literature data on the analysis of these substances in such matrices as food, tissues, or wastewater are quite extensive, there are still only a few methods presented for the determination of these compounds in soil samples. Moreover, among the literature methods for the extraction of TCs from soil samples, microwave-assisted solvent extraction (MAE) was used only once and in combination with liquid chromatography with spectrophotometric detection (LC-UV). However, according to the EU Commission Decision 2002/657/EC, the use of LC-UV for the determination of compounds, including pharmaceuticals, in environmental samples is not sufficient. Therefore, the development and application of a sensitive and selective method using the MAE-SPE-LC-MS/MS(MRM) technique for the isolation and identification of a mixture of oxytetracycline (OTC), tetracycline (TC), and chlortetracycline (CTC) in soils is presented in our study. The credibility of this method has been confirmed with good parameters of validation. The optimal extraction conditions of three TCs using MAE techniques were to conduct double extraction for 10 min each, at 60 °C, using a mixture of ACN:McIlvaine buffer:0.1 M EDTA (2:1:1, v/v/v) and an additional cleaning of the extracts by SPE. The effectiveness of the extraction of these compounds was assessed based on two different ways (absolute recovery from 46 to 65.1% and relative recovery from 101.1 to 109.5%). Finally, the validated MAE-SPE-LC-MS/MS(MRM) method was used for the analysis of six samples from agricultural areas of northern Poland. OTC and TC, at concentrations of 11.7 and 14.5 μg kg−1 were determined in two different samples. An assessment of risk quotients was also performed. The presented method was proven to be a useful tool in the analysis of residues of selected TCs in the soil ecosystem. Obtained data on the presence of these drugs in Polish soils is the first report for this country.
This is a preview of subscription content, log in to check access.
Access options
Buy single article
Instant access to the full article PDF.
US$ 39.95
Price includes VAT for USA
Subscribe to journal
Immediate online access to all issues from 2019. Subscription will auto renew annually.
US$ 157
This is the net price. Taxes to be calculated in checkout.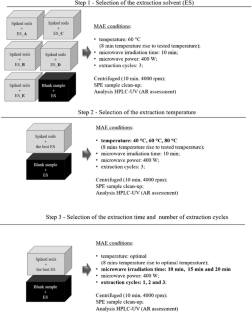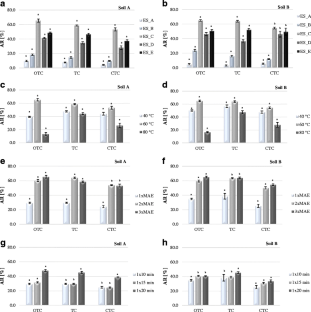 References
1.

Zhang Z, Li X, Ding S, Jiang H, Shen J, Xia X. Multiresidue analysis of sulfonamides, quinolones, and tetracyclines in animal tissues by ultra-high performance liquid chromatography—tandem mass spectrometry. Food Chem. 2016;204:252–62.

2.

Jeong J, Song W, Cooper WJ, Jung J, Greaves J. Degradation of tetracycline antibiotics: mechanisms and kinetic studies for advanced oxidation/reduction processes. Chemosphere. 2010;78(5):533–40.

3.

Anderson CR, Rupp HS, Wu W-H. Complexities in tetracycline analysis—chemistry, matrix extraction, cleanup, and liquid chromatography. J Chromatogr A. 2005;1075(1–2):23–32.

4.

Dghrir A, Drogui P. Tetracycline antibiotics in the environment: a review. Environ Chem Lett. 2013;11(3):209–27.

5.

Qiao M, Chen W, Su J, Zhang B, Zhang C. Fate of tetracyclines in swine manure of three selected swine farms in China. J Environ Sci. 2012;24(6):1047–52.

6.

Horvat AJM, Babić S, Pavlović DM, Ašperger D, Pelko S, Kaštelan-Macan M, et al. Analysis, occurrence and fate of anthelmintics and their transformation products in the environment. TrAC Trends Anal Chem. 2012;31:61–84.

7.

Pamreddy A, Hidalgo M, Havel J, Salvadó V. Determination of antibiotics (tetracyclines and sulfonamides) in biosolids by pressurized liquid extraction and liquid chromatography–tandem mass spectrometry. J Chromatogr A. 2013;1298:68–75.

8.

O'Connor S, Aga DS. Analysis of tetracycline antibiotics in soil: advances in extraction, clean-up, and quantification. TrAC Trends Anal Chem. 2007;26(6):456–65.

9.

Łukaszewicz P, Maszkowska J, Mulkiewicz E, Kumirska J, Stepnowski P, Caban M. Impact of veterinary pharmaceuticals on the agricultural environment: a re-inspection. Reviews of environmental contamination and toxicology. Switzerland: Springer; 2016;243:89–148

10.

Tolls J. Sorption of veterinary pharmaceuticals in soils: a review. Environ Sci Technol. 2001;35(17):3397–406.

11.

Shariati S, Yamini Y, Esrafili A. Carrier mediated hollow fiber liquid phase microextraction combined with HPLC-UV for preconcentration and determination of some tetracycline antibiotics. J Chromatogr B. 2009;877(4):393–400.

12.

Tölgyesi Á, Tölgyesi L, Békési K, Sharma VK. Determination of tetracyclines in pig and other meat samples using liquid chromatography coupled with diode array and tandem mass spectrometric detectors. Meat Sci. 2014;96:1332–9.

13.

Pailler J-Y, Krein A, Pfister L, Hoffmann L, Guignard C. Solid phase extraction coupled to liquid chromatography-tandem mass spectrometry analysis of sulfonamides, tetracyclines, analgesics and hormones in surface water and wastewater in Luxembourg. Sci Total Environ. 2009;407(16):4736–43.

14.

Hu W, Ma L, Guo C, Sha J, Zhu X. International journal of environmental simultaneous extraction and determination of fluoroquinolones, tetracyclines and sulfonamides antibiotics in soils using optimised solid phase extraction chromatography-tandem mass spectrometry. Environ Anal Chem. 2012;92(6):698–713.

15.

Zheng W, Zhang L, Zhang K, Wang X, Xue F. Determination of tetracyclines and their epimers in agricultural soil fertilized with swine manure by ultra-high-performance liquid chromatography tandem mass spectrometry. J Integr Agric. 2012;11(7):1189–98.

16.

O'Connor S, Locke J, Aga DS. Addressing the challenges of tetracycline analysis in soil: extraction, clean-up, and matrix effects in LC-MS. J Environ Monit. 2007;9(11):1254–62.

17.

Jiao Z, Guo Z, Zhang S, Chen H. Microwave-assisted micro-solid-phase extraction for analysis of tetracycline antibiotics in environmental samples. Int J Environ Anal Chem. 2015;95(1):82–91.

18.

Wang H, Ding J, Ren N. Recent advances in microwave-assisted extraction of trace organic pollutants from food and environmental samples. TrAC - Trends Anal Chem. 2016;75:197–208.

19.

Karci A, Balcioğlu IA. Investigation of the tetracycline, sulfonamide, and fluoroquinolone antimicrobial compounds in animal manure and agricultural soils in Turkey. Sci Total Environ. 2009;407(16):4652–64.

20.

Caban M, Migowska N, Stepnowski P, Kwiatkowski M, Kumirska J. Matrix effects and recovery calculations in analyses of pharmaceuticals based on the determination of β-blockers and β-agonists in environmental samples. J Chromatogr A. 2012;1258:117–27.

21.

Migowska N, Caban M, Stepnowski P, Kumirska J. Simultaneous analysis of non-steroidal anti-inflammatory drugs and estrogenic hormones in water and wastewater samples using gas chromatography-mass spectrometry and gas chromatography with electron capture detection. Sci Total Environ. 2012;441:77–88.

22.

Kumirska J, Migowska N, Caban M, Łukaszewicz P, Stepnowski P. Simultaneous determination of non-steroidal anti-inflammatory drugs and oestrogenic hormones in environmental solid samples. Sci Total Environ. 2015;508:498–505.

23.

U.S. EPA recommendations. Method 8000D8000D: Determinative chromatographic separations SW-846, part of Test Methods for Evaluating Solid Waste, Physical/Chemical Methods. 2014;4:1–57.

24.

TGD. Technical guidance document on risk assessment in support of Commissions Directive 93/67/EEC on risk assessment for new notified substances and Commissions Regulation (EC) No. 1488/94 on risk assessment for existing substances. Ispra, Italy: European Chemicals Bureau. 1996.

25.

Xiang L, Wu XL, Jiang YN, Yan QY, Li YW, Huang XP, et al. Occurrence and risk assessment of tetracycline antibiotics in soil from organic vegetable farms in a subtropical city, south China. Environ Sci Pollut Res. 2016;23(14):13984–95.

26.

Hu X, Luo Y, Zhou Q. Simultaneous analysis of selected typical antibiotics in manure by microwave-assisted extraction and LC–MS n. Chromatographia. 2010;71(3–4):217–23.

27.

Mitscher LA. The chemistry of the tetracycline antibiotics. New York: Marcel Dekker; 1978.

28.

Blackwood RK, Boothe JH, Chopra I, Cunha BA, Good-man JJ, Gustafson RH, et al. In: Boothe JJH, JH, editors. The Tetracyclines. Berlin: Springer; 1985.

29.

Jacobsen AM, Halling-Sørensen B, Ingerslev F, Honoré Hansen S. Simultaneous extraction of tetracycline, macrolide and sulfonamide antibiotics from agricultural soils using pressurised liquid extraction, followed by solid-phase extraction and liquid chromatography–tandem mass spectrometry. J Chromatogr A. 2004;1038(1–2):157–70.

30.

Wagil M, Maszkowska J, Białk-Bielińska A, Caban M, Stepnowski P, Kumirska J. Determination of metronidazole residues in water, sediment and fish tissue samples. Chemosphere. 2014;119:S28–34.

31.

Andreu V, Vazquez-Roig P, Blasco C, Picó Y. Determination of tetracycline residues in soil by pressurized liquid extraction and liquid chromatography tandem mass spectrometry. Anal Bioanal Chem. JChromatogr A. 2009;394(5):1329–39.

32.

Vazquez-roig P, Segarra R, Blasco C, Andreu V, Picó Y. Determination of pharmaceuticals in soils and sediments by pressurized liquid extraction and liquid chromatography tandem mass spectrometry. 2010;1217:2471–83.

33.

Li Y-W, Wu X-L, Mo C-H, Tai Y-P, Huang X-P, Xiang L. Investigation of sulfonamide, tetracycline, and quinolone antibiotics in vegetable farmland soil in the Pearl River Delta area, southern China. J Agric Food Chem. 2011;59(13):7268–76.

34.

Salvia MV, Fieu M, Vulliet E. Determination of tetracycline and fluoroquinolone antibiotics at trace levels in sludge and soil. Appl Environ Soil Sci. 2015;2015:1–10

35.

Borecka M, Białk-Bielińska A, Siedlewicz G, Kornowska K, Kumirska J, Stepnowski P, et al. A new approach for the estimation of expanded uncertainty of results of an analytical method developed for determining antibiotics in seawater using solid-phase extraction disks and liquid chromatography coupled with tandem mass spectrometry technique. J Chromatogr A. 2013;1304:138–46.

36.

Cengiz M, Balcioglu I, Oruc HH. Detection of oxytetracycline and chlortetracycline residues in agricultural fields in Turkey. J Environ Sci. 2010;4(10):23–7.

37.

Huang Y, Cheng M, Li W, Wu L, Chen Y, Luo Y, et al. Simultaneous extraction of four classes of antibiotics in soil, manure and sewage sludge and analysis by liquid chromatography-tandem mass spectrometry with the isotope-labelled internal standard method. Anal Methods. 2013;5(15):3721–31.
Acknowledgements
The authors would like to acknowledge the financial support of the National Science Centre (Poland) under decision UMO-2014/13/N/ST4/04127 and the Ministry of Science and Higher Education in Poland under grant BMN 538-8610-B362-13 and 538-8610-B362-14. The authors are also grateful to Justyna Jastroch for her support in the experimental part.
Ethics declarations
The authors state that the research did not include human and/or animal participants.
Conflict of interest
The authors declare that they have no conflict of interest.
Electronic supplementary material
About this article
Cite this article
Łukaszewicz, P., Białk-Bielińska, A., Dołżonek, J. et al. A new approach for the extraction of tetracyclines from soil matrices: application of the microwave-extraction technique. Anal Bioanal Chem 410, 1697–1707 (2018). https://doi.org/10.1007/s00216-017-0815-7
Received:

Revised:

Accepted:

Published:

Issue Date:
Keywords
Veterinary antibiotics

Microwave-assisted extraction

Liquid chromatography-mass spectrometry

Environmental analysis