Novel comprehensive multidimensional liquid chromatography approach for elucidation of the microbosphere of shikimate-producing Escherichia coli SP1.1/pKD15.071 strain
Part of the following topical collections:
Abstract
Shikimic acid is a intermediate of aromatic amino acid biosynthesis and the preferred starting material for production of the most commonly prescribed anti-influenza drug, Tamiflu. Its six-membered carbocyclic ring is adorned with several chiral centers and various functionalities, making shikimic acid a valuable chiral synthon. When microbially-produced, in addition to shikimic acid, numerous other metabolites are exported out of the cytoplasm and accumulate in the culture medium. This extracellular matrix of metabolites is referred to as the microbosphere. Due to the high sample complexity, in this study, the microbosphere of shikimate-producing Escherichia coli SP1.1/pKD15.071 was analyzed by liquid chromatography and comprehensive two-dimensional liquid chromatography coupled to photodiode array and mass spectrometry detection. GC analysis of the trimethylsilyl derivatives was also carried out in order to support the elucidation of the selected metabolites in the microbosphere. The elucidation of the metabolic fraction of this bacterial strain might be of valid aid for improving, through genetic changes, the concentration and yield of shikimic acid synthesized from glucose.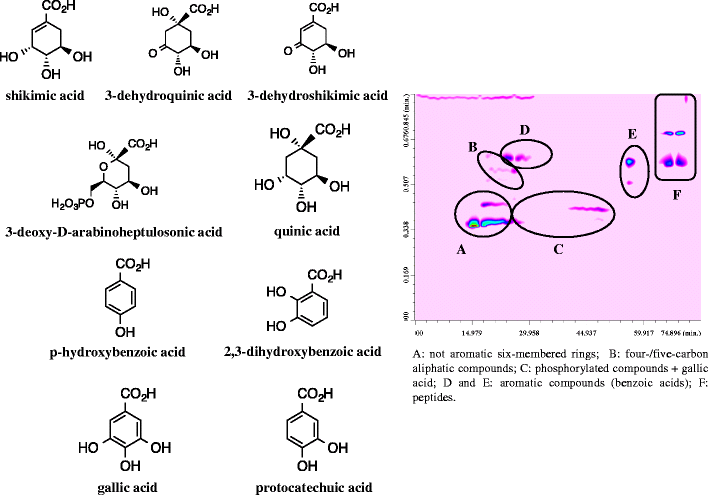 Keywords
Shikimic acid 
Metabolites 
Comprehensive two-dimensional liquid chromatography 
Microbosphere 
Notes
Acknowledgments
The authors would like to thank Prof. John Frost and Dr. Karen Draths (Michigan State University, Lansing, MI, USA) for supplying the samples and helpful discussions.
Funding information
The authors wish to thank the "University of Messina" for support through the "Research and Mobility" Project.
Compliance with ethical standards
Conflict of interest
The authors declare that they have no conflict of interest.
Ethical approval
This article does not contain any studies with human participants or animals performed by any of the authors.
Copyright information
© Springer-Verlag GmbH Germany, part of Springer Nature 2017