Plasmonic cell nanocoating: a new concept for rapid microbial screening
Abstract
Nanocoating of single microbial cells with gold nanostructures can confer optical, electrical, thermal, and mechanical properties to microorganisms, thus enabling new avenues for their control, study, application, and detection. Cell nanocoating is often performed using layer-by-layer (LbL) deposition. LbL is time-consuming and relies on nonspecific electrostatic interactions, which limit potential applications for microbial diagnostics. Here, we show that, by taking advantage of surface molecules densely present in the microbial outer layers, cell nanocoating with gold nanoparticles can be achieved within seconds using surface molecules, including disulfide- bond-containing (Dsbc) proteins and chitin. A simple activation of these markers and their subsequent interaction with gold nanoparticles allow specific microbial screening and quantification of bacteria and fungi within 5 and 30 min, respectively. The use of plasmonics and fluorescence as transduction methods offers a limit of detection below 35 cfu mL–1 for E. coli bacteria and 1500 cfu mL–1 for M. circinelloides fungi using a hand-held fluorescent reader.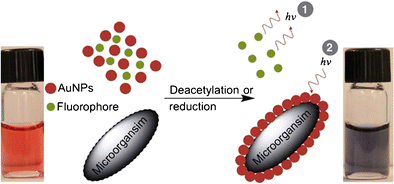 Keywords
Cell nanocoating 
Gold nanoparticles 
Disulfide-bond containing (Dsbc) surface proteins 
Chitin 
Microbial screening 
Notes
Acknowledgments
The authors thank Dr. Renu Singh for help acquiring the Raman spectroscopy data and Yan Wu for help with microbial culture. The authors are grateful for the financial support of the National Science Foundation award No. 1605191, the University of Minnesota MnDRIVE Global Food Venture, the USDA National Institute of Food and Agriculture, Hatch project 1006789, General Mills, Schwan Food Company Graduate Fellowship, and the Midwest Dairy Association.
Compliance with ethical standards
This study has been approved by the Ethical committee of University of Minnesota and has been performed in accordance to the ethical standards and guidelines of University of Minnesota.
Conflict of interest
Dr. Abbas has filled out an international patent application no. PCT/US2017/015044, related to "Methods of attaching probes to microorganisms and methods of use". The authors declare that they have no financial or nonfinancial conflict of interest.
Copyright information
© Springer-Verlag GmbH Germany 2017