Abstract
Biopharmaceutical products such as protein drugs and monoclonal antibodies (mAb) are currently of great interest with monoclonal antibody drugs being one of the fastest growing categories of biopharmaceutical products. Liquid chromatography-tandem mass spectrometry (LC-MS/MS) has gained high interest for measuring mAb drugs in biological samples in recent years due to its high selectivity. Bevacizumab is a humanized immunoglobulin G (IgG) mAb drug against human vascular endothelial cell growth factor A (VEGF-A). It is used for treating many types of cancers. Recent studies have indicated that clinical outcomes vary among patients treated with bevacizumab and produce various side effects, such as vascular disorders. In this study, we developed an LC-MS/MS method to quantify bevacizumab concentration. We selected readily available and economic materials for sample preparation to facilitate its wider use in clinical fields.—Protein G was used to trap bevacizumab from human plasma. In place of an extended stable isotope-labeled internal standard (SIL-IS), the IgG-based drug-IS tocilizumab was used because of its better calibration performance. The method was validated in terms of its precision, accuracy, linearity, and sensitivity. The accuracies which were expressed as percentage recoveries for three concentration levels were within 92.8 ± 3.2 to 112.7 ± 4.5%. Repeatability and intermediate precision in terms of peak area ratios were lower than 5.2 and 12.9% RSD, respectively. The application to patients' sample measurements revealed a wide individual variability of drug concentrations, and the proposed simple and general method may facilitate personalized medicine for improving therapeutic efficacy and safety.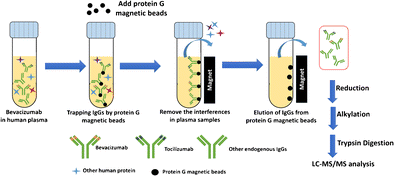 Access options
Buy single article
Instant access to the full article PDF.
USD 39.95
Price excludes VAT (USA)
Tax calculation will be finalised during checkout.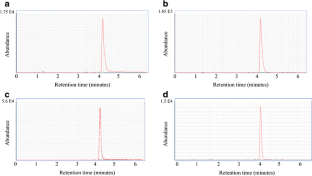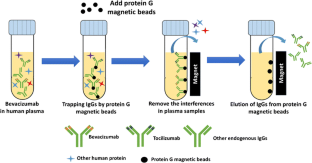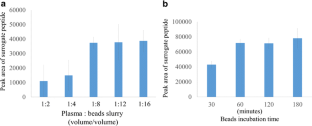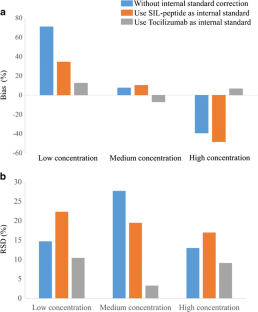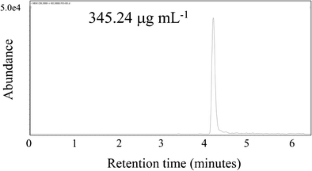 References
Walsh G. Biopharmaceutical benchmarks 2014. Nat Biotechnol. 2014;32(10):992–1000. https://doi.org/10.1038/nbt.3040.

Hurwitz H, Fehrenbacher L, Novotny W, Cartwright T, Hainsworth J, Heim W, et al. Bevacizumab plus irinotecan, fluorouracil, and leucovorin for metastatic colorectal cancer. N Engl J Med. 2004;350(23):2335–42. https://doi.org/10.1056/NEJMoa032691.

Mulleman D, Meric JC, Paintaud G, Ducourau E, Magdelaine-Beuzelin C, Valat JP, et al. Infliximab concentration monitoring improves the control of disease activity in rheumatoid arthritis. Arthritis Res Ther. 2009;11(6):ARTN R178. https://doi.org/10.1186/ar2867.

Wang W, Wang EQ, Balthasar JP. Monoclonal antibody pharmacokinetics and pharmacodynamics. Clin Pharmacol Ther. 2008;84(5):548–58. https://doi.org/10.1038/clpt.2008.170.

Ranpura V, Hapani S, Wu SH. Treatment-related mortality with bevacizumab in cancer patients a meta-analysis. JAMA J Am Med Assoc. 2011;305(5):487–94. https://doi.org/10.1001/jama.2011.51.

Damen CWN, de Groot ER, Heij M, Boss DS, Schellens JHM, Rosing H, et al. Development and validation of an enzyme-linked immunosorbent assay for the quantification of trastuzumab in human serum and plasma. Anal Biochem. 2009;391(2):114–20. https://doi.org/10.1016/j.ab.2009.05.030.

Ternant D, Mulleman D, Degenne D, Willot S, Guillaumin JM, Watier H, et al. An enzyme-linked immunosorbent assay for therapeutic drug monitoring of infliximab. Ther Drug Monit. 2006;28(2):169–74. https://doi.org/10.1097/01.ftd.0000189901.08684.4b.

Kim W, Lee JE, Li XF, Kim SH, Han BG, Lee BI, et al. Quantitative measurement of anti-aquaporin-4 antibodies by enzyme-linked immunosorbent assay using purified recombinant human aquaporin-4. Mult Scler J. 2012;18(5):578–86. https://doi.org/10.1177/1352458511424590.

O'Hara DM, Theobald V, Egan AC, Usansky J, Krishna M, TerWee J, et al. Ligand binding assays in the 21st century laboratory: recommendations for characterization and supply of critical reagents. AAPS J. 2012;14(2):316–28. https://doi.org/10.1208/s12248-012-9334-9.

Savoie N, Garofolo F, van Amsterdam P, Bansal S, Beaver C, Bedford P, et al. 2010 white paper on recent issues in regulated bioanalysis & global harmonization of bioanalytical guidance. Bioanalysis. 2010;3(5):523–34. https://doi.org/10.4155/Bio.11.16.

Casteele NV, Buurman DJ, Sturkenboom MGG, Kleibeuker JH, Vermeire S, Rispens T, et al. Detection of infliximab levels and anti-infliximab antibodies: a comparison of three different assays. Bioanalysis. 2012;2(12):1945–60. https://doi.org/10.4155/Bio.10.164.

Yang ZP, Hayes M, Fang XP, Daley MP, Ettenberg S, Tse FLS. LC-MS/MS approach therapeutic proteins for quantification of in plasma using a protein internal standard and 2D-solid-phase extraction cleanup. Aliment Pharmacol Ther. 2007;36(8):765–71. https://doi.org/10.1111/apt.12030.

Jourdil JF, Lebert D, Gautier-Veyret E, Lemaitre F, Bonaz B, Picard G, et al. Infliximab quantitation in human plasma by liquid chromatography-tandem mass spectrometry: towards a standardization of the methods? Anal Chem. 2017;79(24):9294–301. https://doi.org/10.1021/ac0712502.

Bults P, van de Merbel NC, Bischoff R. Quantification of biopharmaceuticals and biomarkers in complex biological matrices: a comparison of liquid chromatography coupled to tandem mass spectrometry and ligand binding assays. Expert Rev Proteomic. 2015;12(4):355–74. https://doi.org/10.1586/14789450.2015.1050384.

Hopfgartner G, Lesur A, Varesio E. Analysis of biopharmaceutical proteins in biological matrices by LC-MS/MS II. LC-MS/MS analysis. Trac Trend Anal Chem. 2013;48:52–61. https://doi.org/10.1016/j.trac.2013.03.008.

Stojiljkovic N, Paris A, Garcia P, Popot MA, Bonnaire Y, Tabet JC, et al. Application and challenges in using LC-MS assays for absolute quantitative analysis of therapeutic proteins in drug discovery. Bioanalysis. 2014;6(6):785–803. https://doi.org/10.4155/bio.14.36.

Iwamoto N, Umino Y, Aoki C, Yamane N, Hamada A, Shimada T. Fully validated LCMS bioanalysis of bevacizumab in human plasma using nano-surface and molecular-orientation limited (nSMOL) proteolysis. Drug Metab Pharmacokinet. 2016;31(1):46–50. https://doi.org/10.1016/j.dmpk.2015.11.004.

Lu QZ, Zheng XY, McIntosh T, Davis H, Nemeth JF, Pendley C, et al. Development of different analysis platforms with LC-MS for pharmacokinetic studies of protein drugs. Anal Chem. 2009;81(21):8715–23. https://doi.org/10.1021/ac901991x.

Ocana MF, James IT, Kabir M, Grace C, Yuan GJ, Martin SW, et al. Clinical pharmacokinetic assessment of an anti-MAdCAM monoclonal antibody therapeutic by LC-MS/MS. Anal Chem. 2012;84(14):5959–67. https://doi.org/10.1021/ac300600f.

Li HY, Ortiz R, Tran L, Hall M, Spahr C, Walker K, et al. General LC-MS/MS method approach to quantify therapeutic monoclonal antibodies using a common whole antibody internal standard with application to preclinical studies. Anal Chem. 2012;84(3):1267–73. https://doi.org/10.1021/ac202792n.

Todoroki K, Nakano T, Eda Y, Ohyama K, Hayashi H, Tsuji D, et al. Bioanalysis of bevacizumab and infliximab by high-temperature reversed-phase liquid chromatography with fluorescence detection after immunoaffinity magnetic purification. Anal Chim Acta. 2016;916:112–9. https://doi.org/10.1016/j.aca.2016.02.029.

Iwamoto N, Shimada T, Umino Y, Aoki C, Aoki Y, Sato TA, et al. Selective detection of complementarity-determining regions of monoclonal antibody by limiting protease access to the substrate: nano-surface and molecular-orientation limited proteolysis. Analyst. 2014;139(3):576–80. https://doi.org/10.1039/c3an02104a.

Gonzalez-Quintela A, Alende R, Gude F, Campos J, Rey J, Meijide LM, et al. Serum levels of immunoglobulins (IgG, IgA, IgM) in a general adult population and their relationship with alcohol consumption, smoking and common metabolic abnormalities. Clin Exp Immunol. 2008;151(1):42–50. https://doi.org/10.1111/j.1365-2249.2007.03545.x.

Peng XY, Liu BN, Li YT, Wang H, Chen X, Guo HZ, et al. Development and validation of LC-MS/MS method for the quantitation of infliximab in human serum. Chromatographia. 2015;78(7–8):521–31. https://doi.org/10.1007/s10337-015-2866-2.

Dispenzieri A, Gertz MA, Therneau TM, Kyle RA. Retrospective cohort study of 148 patients with polyclonal gammopathy. Mayo Clin Proc. 2001;76(5):476–87.

DeSilva B, Smith W, Weiner R, Kelley M, Smolec JM, Lee B, et al. Recommendations for the bioanalytical method validation of ligand-binding assays to support pharmacokinetic assessments of macromolecules. Pharm Res. 2003;20(11):1885–900. https://doi.org/10.1023/B:PHAM.0000003390.51761.3d.

El Amrani M, van den Broek MPH, Gobel C, van Maarseveen EM. Quantification of active infliximab in human serum with liquid chromatography-tandem mass spectrometry using a tumor necrosis factor alpha-based pre-analytical sample purification and a stable isotopic labeled infliximab bio-similar as internal standard: a target-based, sensitive and cost-effective method. J Chromatogr A. 2016;1454:42–8. https://doi.org/10.1016/j.chroma.2016.05.070.

Ferrara N, Hillan KJ, Gerber HP, Novotny W. Discovery and development of bevacizumab, an anti-VEGF antibody for treating cancer. Nat Rev Drug Discov. 2004;3(5):391–400. https://doi.org/10.1038/nrd1381.

Lanshoeft C, Wolf T, Heudi O, Cianferani S, Barteau S, Walles M, et al. The use of generic surrogate peptides for the quantitative analysis of human immunoglobulin G1 in pre-clinical species with high-resolution mass spectrometry. Anal Bioanal Chem. 2016;408(6):1687–99. https://doi.org/10.1007/s00216-015-9286-x.

Bender JLG, Adamson PC, Reid JM, Xu L, Baruchel S, Shaked Y, et al. Phase I trial and pharmacokinetic study of bevacizumab in pediatric patients with refractory solid tumors: a children's oncology group study. J Clin Oncol. 2008;26(3):399–405. https://doi.org/10.1200/Jco.2007.11.9230.

Lu JF, Bruno R, Eppler S, Novotny W, Lum B, Gaudreault J. Clinical pharmacokinetics of bevacizumab in patients with solid tumors. Cancer Chemother Pharmacol. 2008;62(5):779–86. https://doi.org/10.1007/s00280-007-0664-8.

Ternant D, Ceze N, Lecomte T, Degenne D, Duveau AC, Watier H, et al. An enzyme-linked immunosorbent assay to study bevacizumab pharmacokinetics. Ther Drug Monit. 2010;32(5):647–52. https://doi.org/10.1097/FTD.0b013e3181ef582a.

Nugue G, Bidart M, Arlotto M, Mousseau M, Berger F, Pelletier L. Monitoring monoclonal antibody delivery in oncology: the example of bevacizumab. PLoS One. 2013;8(8):e72021. https://doi.org/10.1371/journal.pone.0072021.

Reichert JM. Antibodies to watch in 2014. Mabs-Austin. 2014;6(1):5–14. https://doi.org/10.4161/mabs.27333.

Staack RF, Stracke JO, Stubenrauch K, Vogel R, Schleypen J, Papadimitriou A. Quality requirements for critical assay reagents used in bioanalysis of therapeutic proteins: what bioanalysts should know about their reagents. Bioanalysis. 2011;3(5):523–34. https://doi.org/10.4155/Bio.11.16.
Acknowledgments
This study was supported by the Ministry of Science and Technology, Taiwan (MOST 105-2113-M-002-013-). The authors thank the NTU Integrated Core Facility for Functional Genomics of the National Research Program for Genomic Medicine of Taiwan for the technical assistance.
Ethics declarations
Plasma samples including healthy volunteers and patients were collected at the National Taiwan University Hospital and obtained with informed consent. The study was approved by the institutional review board of the National Taiwan University Hospital.
Conflict of interest
The authors declare that they have no conflict of interest.
About this article
Cite this article
Chiu, HH., Tsai, IL., Lu, YS. et al. Development of an LC-MS/MS method with protein G purification strategy for quantifying bevacizumab in human plasma. Anal Bioanal Chem 409, 6583–6593 (2017). https://doi.org/10.1007/s00216-017-0607-0
Received:

Revised:

Accepted:

Published:

Issue Date:

DOI: https://doi.org/10.1007/s00216-017-0607-0
Keywords
Bevacizumab

Protein G purification

Monoclonal antibody (mAb)

Plasma

In-solution digestion

LC-MS/MS