Click chemistry-mediated cyclic cleavage of metal ion-dependent DNAzymes for amplified and colorimetric detection of human serum copper (II)
Abstract
The determination of the level of Cu2+ plays important roles in disease diagnosis and environmental monitoring. By coupling Cu+-catalyzed click chemistry and metal ion-dependent DNAzyme cyclic amplification, we have developed a convenient and sensitive colorimetric sensing method for the detection of Cu2+ in human serums. The target Cu2+ can be reduced by ascorbate to form Cu+, which catalyzes the azide-alkyne cycloaddition between the azide- and alkyne-modified DNAs to form Mg2+-dependent DNAzymes. Subsequently, the Mg2+ ions catalyze the cleavage of the hairpin DNA substrate sequences of the DNAzymes and trigger cyclic generation of a large number of free G-quadruplex sequences, which bind hemin to form the G-quadruplex/hemin artificial peroxidase to cause significant color transition of the sensing solution for sensitive colorimetric detection of Cu2+. This method shows a dynamic range of 5 to 500 nM and a detection limit of 2 nM for Cu2+ detection. Besides, the level of Cu2+ in human serums can also be determined by using this sensing approach. With the advantages of simplicity and high sensitivity, such sensing method thus holds great potential for on-site determination of Cu2+ in different samples.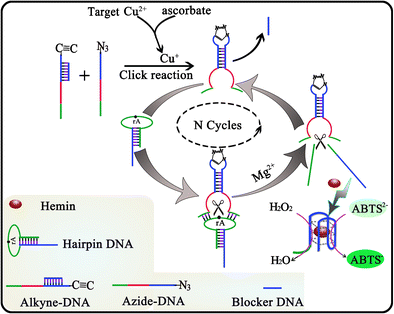 Keywords
Copper (II) detection 
Click chemistry 
Colorimetry 
DNAzyme 
Human serum 
Notes
Acknowledgements
This work was supported by the National Natural Science Foundation of China (Nos. 21675128 and 21505010), Chongqing Research Program of Basic Research and Frontier Technology (No. cstc2015jcyjA1357), and scientific research innovation team of Chongqing University of Technology (2015TD22).
Compliance with ethical standards
Conflict of interest
The authors declare no conflict of interest.
Ethical approval
The present study was approved by the Ethics Committee of Southwest University, and written informed consent was obtained from all individuals participating in the study prior to the collection of the serum samples.
Copyright information
© Springer-Verlag GmbH Germany 2017