Evaluation of blood adsorption onto dialysis membranes by time-of-flight secondary ion mass spectrometry and near-field infrared microscopy
Abstract
Blood adsorption onto the inside surface of hollow fiber dialysis membranes was investigated by means of time-of-flight secondary ion mass spectrometry (TOF-SIMS) and near-field infrared microscopy (NFIR) in order to evaluate the biocompatibility and permeability of dialysis membranes. TOF-SIMS is useful for the imaging of particular molecules with a high spatial resolution of approximately 100 nm. In contrast, infrared spectra provide quantitative information and NFIR enables analysis with a high spatial resolution of less than 1 μm, which is close to the resolution of TOF-SIMS. A comparison was made of one of the most widely used dialysis membranes made of polysulfone (PSf), that has an asymmetric and inhomogeneous pore structure, and a newly developed asymmetric cellulose triacetate (ATA) membrane that also has an asymmetric pore structure, even though the conventional cellulose triacetate membrane has a symmetric and homogeneous pore structure. As a result, it was demonstrated that blood adsorption on the inside surface of the ATA membrane is more reduced than that on the PSf membrane.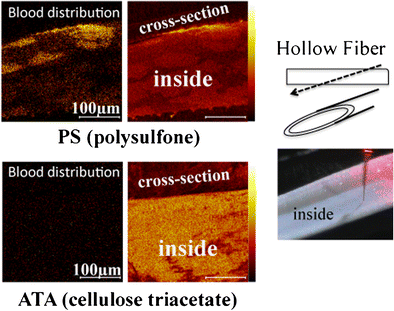 Keywords
Time-of-flight secondary ion mass spectrometry (TOF-SIMS) 
Near-field infrared microscopy (NFIR) 
Dialysis membrane 
Blood adsorption 
Notes
Acknowledgements
The authors thank Dr. Shinichi Iida, Mr. Takuya Miyayama, and Mr. Takahiro Suzuki from Ulvac-Phi for their support on TOF-SIMS measurement.
Compliance with ethical standards
Conflict of interest
Satoka Aoyagi has received research grants from Nipro Corporation and this study was partly funded by Japan Society for the Promotion of Science (JSPS) KAKENHI Grant Number JP17K05908. Hideo Iwai and this study were partly funded by National Institute for Materials Science (NIMS) microstructural characterization platform as a program of "Nanotechnology Platform" of the Ministry of Education, Culture, Sports, Science and Technology (MEXT), Japan.
The other co-authors declare that they have no conflict of interest.
Ethics approval and consent to participate
All procedures performed in studies involving human participants were in accordance with the ethical standards of the ethical committee of Seikei University and with the 1964 Helsinki declaration and its later amendments or comparable ethical standards.
Informed consent was obtained from all individual participants included in the study.
Copyright information
© Springer-Verlag GmbH Germany 2017