Optimization of total vaporization solid-phase microextraction (TV-SPME) for the determination of lipid profiles of Phormia regina, a forensically important blow fly species
Abstract
A new method has been developed for the determination of fatty acids, sterols, and other lipids which naturally occur within pupae of the blow fly Phormia regina. The method relies upon liquid extraction in non-polar solvent, followed by derivatization using N,O-bis(trimethylsilyl)trifluoroacetamide (BSTFA) w/ 1% trimethylchlorsilane (TMCS) carried out inside the sample vial. The analysis is facilitated by total vaporization solid-phase microextraction (TV-SPME), with gas chromatography-mass spectrometry (GC-MS) serving as the instrumentation for analysis. The TV-SPME delivery technique is approximately a factor of five more sensitive than traditional liquid injection, which may alleviate the need for rotary evaporation, reconstitution, collection of high performance liquid chromatography fractions, and many of the other pre-concentration steps that are commonplace in the current literature. Furthermore, the ability to derivatize the liquid extract in a single easy step while increasing sensitivity represents an improvement over current derivatization methods. The most common lipids identified in fly pupae were various saturated and unsaturated fatty acids ranging from lauric acid (12:0) to arachinoic acid (20:4), as well as cholesterol. The concentrations of myristic acid (14:0), palmitelaidic acid (16:2), and palmitoleic acid (16:1) were the most reliable indicators of the age of the pupae.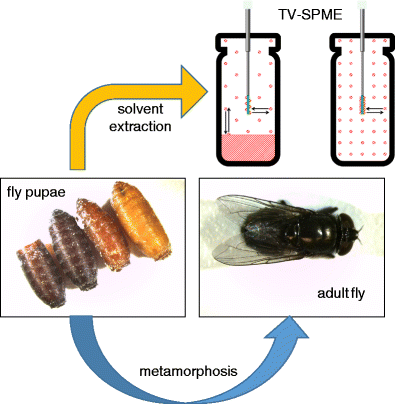 Keywords
Total vaporization 
Solid-phase microextraction 
Phormia regina
Lipids 
Blow fly 
Notes
Acknowledgements
The authors acknowledge the American Chemical Society Project SEED program for financial support of Mr. Dixon. This work was made possible by the National Institute of Justice (Contract 2013-DN-BX-K019). The opinions and conclusions expressed do not necessarily reflect those of the aforementioned organizations.
Compliance with ethical standards
Conflict of interest
The authors declare that they have no conflict of interest.
Copyright information
© Springer-Verlag GmbH Germany 2017