Exploring the binding of two potent anticancer drugs bosutinib and imatinib mesylate with bovine serum albumin: spectroscopic and molecular dynamic simulation studies
Abstract
Bosutinib (BST) and imatinib mesylate (IMT) are tyrosine kinase inhibitors (TKIs). In view of the importance of these inhibitors in cancer treatment, we investigated the mechanism of interaction between BST/IMT and bovine serum albumin (BSA) using various spectroscopic and molecular docking methods. Fluorescence studies indicated that BST/IMT interacted with BSA without affecting the microenvironment around the residue Trp213 of BSA. The quenching mechanism associated with the BST–BSA and IMT–BSA interactions was determined by performing fluorescence measurements at different temperatures. These results suggested that BST and IMT quenched the fluorescence intensity of BSA through static and dynamic processes, respectively, which was confirmed by time-resolved fluorescence measurements. Evaluation of the thermodynamic parameters ∆H°, ∆S°, and ∆G° suggested that hydrophobic and electrostatic interactions played significant roles in the BST–BSA interaction, while IMT–BSA was stabilized by hydrophobic forces. Competitive experimental results revealed that the primary binding sites for BST and IMT on BSA were sites II and I, respectively. This was supported by the results of molecular docking and dynamic simulation studies. The change in the secondary structure of BSA upon binding with BST/IMT was investigated by 3D fluorescence, absorption, and CD spectroscopic studies. In addition, the influences of β-cyclodextrin and metal ions (Cu2+ and Zn2+) on the binding affinities of BST and IMT to BSA were examined.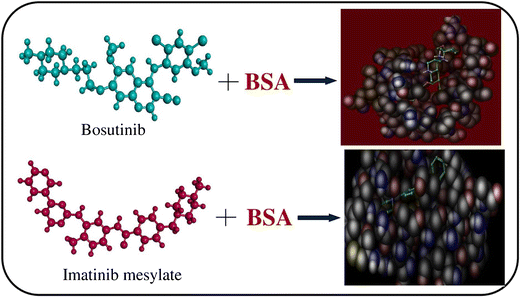 Keywords
Interaction 
Bosutinib 
Imatinib mesylate 
β-Cyclodextrin 
Molecular dynamic simulation 
Notes
Acknowledgements
The authors thank the University Grant Commission, New Delhi, for providing the financial support to carry out this work [F. no. 43-205/2014(SR) dated 18-08-2015]. Thanks are also due to the Chairman, Department of Molecular Biophysics, Indian Institute of Science, Bangalore, for CD facilities. One of the authors (Suma K. Pawar) acknowledges the University Grant Commission, New Delhi, for awarding the Rajiv Gandhi National Fellowship (F1-17.1/2016-17/RGNF-2015-17-SC-KAR-11858 dated January 2016).
Compliance with ethical standards
Conflict of interest
The authors declare that there are no conflicts of interest.
Copyright information
© Springer-Verlag GmbH Germany 2017