Abstract
Based on the observation of intense and offensive smells in the product group of aquatic toys, four representative products were exemplarily chosen and sensorially characterized by an expert panel. Panellists reported mostly almond- and rubber-like notes for three of the four samples, whereas the smell of the fourth sample was dominated by organic solvent-associated notes such as "nail polish-like." To elucidate the molecular reasons of these smells, we isolated the volatile fraction of the product by solvent extraction and high vacuum distillation, and identified the main odorants by aroma extract dilution analysis (AEDA), followed by one- and two-dimensional gas chromatography, with parallel mass spectrometric and olfactometric detection. Additionally, the materials of the samples were identified by means of differential scanning calorimetry (DSC), attenuated total reflectance spectroscopy (ATR-spectroscopy), and Beilstein halogen test. Between 32 and 46 odors could be detected in each sample by means of AEDA, whereby five to 13 of these compounds were detectable with by far the highest dilution factors, and were found to primarily correlate with the smells of the respective products. Focussing the subsequent identification on these causative substances led to the successful identification of the majority of these odorants. Among them were several mono- or di-unsaturated carbonyl compounds and their epoxidized derivatives, which are typical odorous artefacts from fatty acid oxidation, but also odor-active organic solvents such as cyclohexanone, isophorone, and phenol.
Access options
Buy single article
Instant access to the full article PDF.
US$ 39.95
Tax calculation will be finalised during checkout.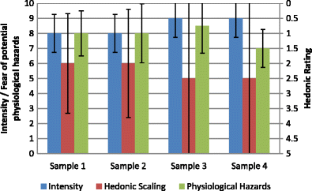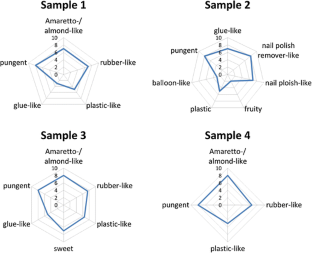 References
1.

European Commission – Enterprise and Industry Directorate-General. Guidance Document No. 7 on the Application of the Directive on the Safety of Toys. 2014. Available at: http://ec.europa.eu/DocsRoom/documents/3841/attachments/1/translations.

2.

Directive 2009/48/EC of the European Parliament and of the Council of 18 June 2009 on the safety of toys. 2009.

3.

Husko Z. 2012. Screening handelsüblicher Bedarfsgegenstände und Spielzeuge auf Kunststoff-Basis auf geruchsaktive Begleitsubstanzen mittels gaschromatisch-olfaktometrischer Methoden

4.

Skjevrak I, Due A, Gjerstad KO, Herikstad H. Volatile organic components migrating from plastic pipes (HDPE, PEX and PVC) into drinking water. Water Res. 2003;37(8):1912–20.

5.

Nilsson NH, Malmgren-Hansen B, Bernth N, Pedersen E, Pommer K (2006) Survey and health assesment of chemicals substances in sex toys. Available at: http://www2.mst.dk/udgiv/publications/2006/87-7052-227-8/pdf/87-7052-228-6.pdf.

6.

Engel W, Bahr W, Schieberle P. Solvent assisted flavor evaporation – a new and versatile technique for the careful and direct isolation of aroma compounds from complex food matrices. Eur Food Res Technol. 1999;209(3/4):237–41.

7.

Bemelmans JMH. Review of isolation and concentation techniques. In: Land DG, editor. Progress in flavor research. Applied Science Publishers: London; 1979. p. 79–98.

8.

van Den Dool H, Dec Kratz P (1963) A generalization of the retention index system including linear temperature programmed gas–liquid partition chromatography. J Chromatogr A 11:463–471.

9.

Grosch W. Evaluation of the key odorants of foods by dilution experiments, aroma models, and omission. Chem Senses. 2001;26(5):533–45.

10.

Mettler-Toledo GmbH (1997) Applikationssammlung Thermische Analyse - Thermoplaste.

11.

Molyneux RJ, Schieberle P (2007) Compound identification: a journal of agricultural and food chemistry perspective. J Agric Food Chem 55(12):4625–4629.

12.

Domininghaus H. Die Kunststoffe und ihre Eigenschaften. 5th ed. Berlin: Springer; 1998.

13.

Dreger M, Simat TJ, Fehlaromarad für Lebensmittelkontaktmaterialien. 2013. Available at: https://www.chm.tu-dresden.de/lc2/dateien/Fehlaromarad.pdf.

14.

Lehmann R, Schöbel N, Hatt H, van Thriel C. The involvement of TRP channels in sensory irritation: a mechanistic approach toward a better understanding of the biological effects of local irritants. Arch Toxicol. 2016;90(6):1399–413.

15.

Buettner A, Schieberle P. Application of a comparative aroma extract dilution analysis to monitor changes in orange juice aroma compounds during processing. gas chromatography-olfactometry. ACS Symposium Series. Am Chem Soc. 2001;782:33–45.

16.

Buettner A, Schieberle P. Evaluation of aroma differences between hand-squeezed juices from valencia late and navel oranges by quantitation of key odorants and flavor reconstitution experiments. J Agric Food Chem. 2001;49(5):2387–94.

17.

BASF Corporation. Cyclohexanone – Technical Data Sheet. 1998. Available at: http://worldaccount.basf.com/wa/NAFTA %7Ees_MX/Catalog/ChemicalsNAFTA/doc4/BASF/PRD/30084681/.pdf?title=&asset_type=pi/pdf&language=EN&urn=urn:documentum:eCommerce_sol_EU:09007bb28001dbb8.pdf.

18.

California Office of Environmental Health Hazard Assessment (OEHHA). Technical Supporting Document for Noncancer RELs, Appendix D3. 2008. Available at: http://oehha.ca.gov/media/downloads/crnr/appendixd3final.pdf.

19.

Nederlandse Voedsel en Waren Autoriteit. Screening of plastic toys for chemical composition and hazards - market surveillance in The Netherlands. 2005. Available at: http://www.nvwa.nl/binaries/nvwa/documenten/communicatie/inspectieresultaten/consument/2016m/chemische-stoffen-in-kunststof-speelgoed/20060207_Kunststof_speelgoed.pdf.

20.

Musser MT (2000) Cyclohexanol and Cyclohexanone Ullmann's Encyclopedia of Industrial Chemistry. Wiley-VCH Verlag GmbH & Co: KGaA.

21.

Weber M, Weber M, Kleine-Boymann M (2000) Phenol. Ullmann's Encyclopedia of Industrial Chemistry. Wiley-VCH Verlag GmbH & Co: KGaA.

22.

Mayer F, Breuer K. Material odor-odoractive compounds identified in different materials - the surprising similarities with certain foods, possible sources and hypotheses on their formation. Indoor Air. 2006;16(5):373–82.

23.

Bundesinstitut für gesundheitlichen Verbraucherschutz und Veterinärmedizin. Gesundheitliche Bewertung von Isophoron in Babybüchern. 2002. Available at: http://www.bfr.bund.de/cm/343/gesundheitliche_bewertung_von_isophoron_in_babybuechern.pdf.

24.

Svendsen N, Pedersen SF, Hansen OC, Pedersen E, Bernth N. 2005. Survey and release of chemical substances in "slimy" toys. Available at: http://www2.mst.dk/Udgiv/publications/2006/87-7052-013-5/pdf/87-7052-014-3.pdf.

25.

Tirendi S, Geiss O, Barrero-Moreno J, Kotzias D. Chemical emissions from toys – the case of stink blasters. Int J Environ Anal Chem. 2009;89(8/12):929–38.

26.

Shimoda M, Shigematsu H, Shiratsuchi H, Osajima Y. Comparison of volatile compounds among different grades of green tea and their relations to odor attributes. J Agric Food Chem. 1995;43(6):1621–5.

27.

Anjou K, Von Sydow E. The aroma of cranberries. II. Vaccinium macrocarpon Ait. Acta Chem Scand. 1967;21(8):2076–82.

28.

European Commission. Regulation (EC) No. 1272/2008 of the European Parliament and of the Council of 16 December 2008 on classification, labeling, and packaging of substances and mixtures. 2008.

29.

Bundesinstitut für Risikobewertung. Empfehlung XLVII des Bundesinstituts für Risikobewertung zu Spielzeug aus Kunststoffen und anderen Polymeren sowie aus Papier. Karton, und Pappe. 2003. Available at: https://bfr.ble.de/kse/faces/resources/pdf/470.pdf.
Acknowledgements
The authors thank Symrise AG for providing the rotundone standard. They also thank Marius Jesdinszki and Zuzana Scheuerer from the Department of Materials Development at Fraunhofer IVV for performing the material identification analyses.
Ethics declarations
There are no competing financial or nonfinancial interests to declare.
The study was conducted in agreement with the Declaration of Helsinki. The study (registration number 180_16B) was approved by the Ethics Committee of the Medical Faculty, Friedrich-Alexander Universität Erlangen-Nürnberg.
Informed consent was obtained from all subjects participating in the study.
Funding sources
This study was funded by the Bavarian State Ministry of Environment and Consumer Safety (StMUV).
About this article
Cite this article
Wiedmer, C., Velasco-Schön, C. & Buettner, A. Characterization of odorants in inflatable aquatic toys and swimming learning devices—which substances are causative for the characteristic odor and potentially harmful?. Anal Bioanal Chem 409, 3905–3916 (2017). https://doi.org/10.1007/s00216-017-0330-x
Received:

Revised:

Accepted:

Published:

Issue Date:
Keywords
Aroma extract dilution analysis (AEDA)

Gas chromatography olfactometry (GC-O)

Products of daily use

Plastic

Cyclohexanone

Isophorone