Abstract
A simple sample pre-treatment method based on solid phase microextraction (SPME) and gas chromatography–mass spectrometry (GC-MS) has been optimized and validated for the assessment of 15 residual solvents (2-propanol, 2-methylpentane, 3-methylpentane, acetone, ethyl acetate, benzene, hexane, methylcyclohexane, methylcyclopentane, m-xylene, propyl acetate, toluene, 1,2,4-trimethylbenzene, dichloromethane, and ethylbenzene) in seized illicit cocaine and heroin. DMSO and DMF as sample diluents were found to offer the best residual solvent transference to the head space for further adsorption onto the SPME fiber, and the developed method therefore showed high sensitivity and analytical recovery. Variables affecting SPME were fully evaluated by applying an experimental design approach. Best conditions were found when using an equilibration time of 5 min at 70 °C and headspace sampling of residual solvents at the same temperature for 15 min. Method validation, performed within the requirements of international guidelines, showed excellent sensitivity, as well as intra- and inter-day precision and accuracy. The proposed methodology was applied to 96 cocaine samples and 14 heroin samples seized in Galicia (northwestern Spain) within 2013 and 2014.
Access options
Buy single article
Instant access to the full article PDF.
US$ 39.95
Tax calculation will be finalised during checkout.
Subscribe to journal
Immediate online access to all issues from 2019. Subscription will auto renew annually.
US$ 119
Tax calculation will be finalised during checkout.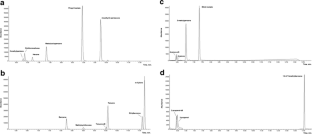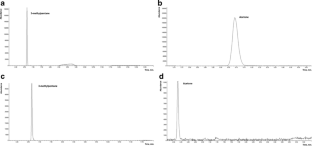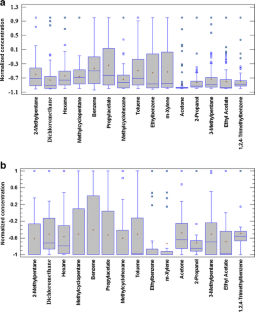 References
1.

ICH Topic Q3C (R4) Impurities: guideline for residual solvents. European Medicines Agency, 2010. www.ema.europa.eu

2.

Mulligan K, Brueggemeyer TW, Crockett D, Schepman J. Analysis of organic volatile impurities as a forensic tool for the examination of bulk pharmaceuticals. J Chromatogr B. 1996;686:85–95.

3.

Chiarotti M, Marsili R, Moreda-Piñeiro A. Gas chromatographic-mass spectrometric analysis of residual solvent trapped into illicit cocaine exhibits using head-space solid-phase microextraction. J Chromatogr B. 2002;772:249–56.

4.

Sköld KS. Validation of a generic analytical procedure for determination of residual solvents in drug substances. J Pharm Biomed. 2004;36:401–9.

5.

Cheng C, Liu S, Mueller B, Yan Z. A generic static headspace gas chromatography method for determination of residual solvents in drug substance. J Chromatogr A. 2010;1217:6413–21.

6.

Otero R, Carrera G, Dulsat JF, Fábregas JL, Claramunt J. Static headspace gas chromatography method for quantitative determination of residual solvents in pharmaceutical drug substances according to European Pharmacopoeia requirements. J Chromatogr A. 2004;1057:193–201.

7.

El-Haj BM, Al-Amri AM, Ali HS. Heroin profiling: mannitol hexaacetate as an unusual ingredient of some illicit drug seizures. Forensic Sci Int. 2004;145:41–6.

8.

Collins M, Casale E, Hibbert B, Panicker S, Robertson J, Vujic S. Chemical profiling of heroin recovered from the north Korean Merchant Vessel Pong Su. J Forensic Sci. 2006;51(3):597–602.

9.

Casale J, Boudreau D, Jones L. Tropane ethyl esters in illicit cocaine: isolation, detection and determination of new manufacturing by-products from the clandestine purification of crude cocaine base with ethanol. J Forensic Sci. 2008;53(3):661–7.

10.

Esseiva P, Gaste L, Alvarez D, Anglada F. Illicit drug profiling, reflection on statistical comparisons. Forensic Sci Int. 2011;207:27–34.

11.

Debrus B, Broséus J, Guillarme D, Lebrun P, Hubert P, Veuthey JL, et al. Innovative methodology to transfer conventional GC-MS heroin profiling to UHPLC-MS/MS. Anal Bioanal Chem. 2011;399:2719–30.

12.

B'Hymer C. Residual solvent testing: a review of gas chromatographic and alternative techniques. Pharm Res-Dordr. 2003;20(3):337–44.

13.

Urakami K, Higashi A, Umemoto K, Godo M. Matrix media selection for the determination of residual solvents in pharmaceuticals by static headspace gas chromatography. J Chromatogr A. 2004;1057:203–10.

14.

Guidance for industry. Bioanalytical method validation. U.S. Department of Health and Human Services. Food and Drug Administration (FDA). 2013

15.

Dujourdy L, Besacier F. Headspace profiling of cocaine samples for intelligence purposes. Forensic Sci Int. 2008;179:111–22.
Acknowledgments
The authors wish to thank the European Commission Directorate-General Justice (JUST/2011/ISEC/DRUGS/AG/3670) for support in this investigation.
Ethics declarations
Conflict of interest
The authors declare that they have no conflict of interest.
Electronic supplementary material
Below is the link to the electronic supplementary material.
About this article
Cite this article
Cabarcos, P., Herbello-Hermelo, P., Álvarez-Freire, I. et al. Solid phase microextraction and gas chromatography–mass spectrometry methods for residual solvent assessment in seized cocaine and heroin. Anal Bioanal Chem 408, 6393–6402 (2016). https://doi.org/10.1007/s00216-016-9754-y
Received:

Revised:

Accepted:

Published:

Issue Date:
Keywords
Residual solvents

Seized cocaine

Seized heroin

GC-MS

SPME