GC-MS/MS survey of collision-induced dissociation of tert-butyldimethylsilyl-derivatized amino acids and its application to 13C-metabolic flux analysis of Escherichia coli central metabolism
Abstract
Stable isotope labeling experiments using mass spectrometry have been employed to investigate carbon flow levels (metabolic flux) in mammalian, plant, and microbial cells. To achieve a more precise 13C-metabolic flux analysis (13C-MFA), novel fragmentations of tert-butyldimethylsilyl (TBDMS)-amino acids were investigated by gas chromatography-tandem mass spectrometry (GC-MS/MS). The product ion scan analyses of 15 TBDMS-amino acids revealed 24 novel fragment ions. The amino acid-derived carbons included in the five fragment ions were identified by the analyses of 13C-labeled authentic standards. The identification of the fragment ion at m/z 170 indicated that the isotopic abundance of S-methyl carbon in methionine could be determined from the cleavage of C5 in the precursor of [M–159]+ (m/z 218). It was also confirmed that the precision of 13C-MFA in Escherichia coli central carbon metabolism could be improved by introducing 13C-labeling data derived from novel fragmentations.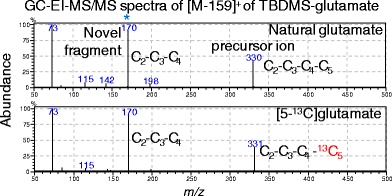 Keywords
13C-metabolic flux analysis 
GC-MS/MS 
Fragmentation 
Amino acids 
Escherichia coli
Abbreviations
3PG

3-Phosphoglycerate

6PG

6-Phosphogluconate

AcCoA

Acetyl-coenzyme A

Ala

Alanine

Asp

Aspartate

Cit

Citrate

DHAP

Dihydroxyacetone phosphate

E4P

Erythrose 4-phosphate

F6P

Fructose 6-phosphate

FBP

Fructose 1,6-bisphosphate

Fum

Fumarate

G6P

Glucose 6-phosphate

GAP

Glyceraldehyde 3-phosphate

Glu

Glutamate

Gly

Glycine

His

Histidine

Ile

Isoleucine

Leu

Leucine

Lys

Lysine

Mal

Malate

Met

Methionine

Oxa

Oxaloacetate

PEP

Phosphoenolpyruvate

Phe

Phenylalanine

Pro

Proline

Pyr

Pyruvate

R5P

Ribose 5-phosphate

Ru5P

Ribulose 5-phosphate

S7P

Sedoheptulose 7-phosphate

Ser

Serine

Suc

Succinate

Thr

Threonine

Tyr

Tyrosine

Val

Valine

Xu5P

Xylulose 5-phosphate

αKG

α-Ketoglutarate
Notes
Acknowledgments
We thank Prof. Eiichiro Fukusaki and Prof. Yoshihiro Toya (Osaka University, Japan) for their helpful comments. This research was partially supported by JST, Strategic International Collaborative Research Program, SICORP, for JP-US Metabolomics.
Compliance with ethical standards
All remaining authors have declared no conflicts of interest.
Copyright information
© Springer-Verlag Berlin Heidelberg 2016