ATP and autophosphorylation driven conformational changes of HipA kinase revealed by ion mobility and crosslinking mass spectrometry
Abstract
Toxin-antitoxin systems are genetic modules involved in a broad range of bacterial cellular processes including persistence, multidrug resistance and tolerance, biofilm formation, and pathogenesis. In type II toxin-antitoxin systems, both the toxin and antitoxin are proteins. In the prototypic Escherichia coli HipA-HipB module, the antitoxin HipB forms a complex with the protein kinase HipA and sequesters it in the nucleoid. HipA is then no longer able to phosphorylate glutamyl-tRNA-synthetase and this prevents the initiation of the forthcoming stringent response. Here we investigated the assembly of the Shewanella oneidensis MR-1 HipA-HipB complex using native electrospray ion mobility-mass spectrometry and chemical crosslinking combined with mass spectrometry. We revealed that the HipA autophosphorylation was accompanied by a large conformational change, and confirmed structural evidence that S. oneidensis MR-1 HipA-HipB assembly was distinct from the prototypic E. coli HipA-HipB complex.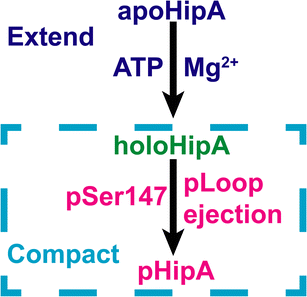 Keywords
Toxin-antitoxin system 
HipAB 
Ion mobility 
Chemical crosslinking 
Mass spectrometry 
Notes
Acknowledgments
YW is supported by National Natural Science Foundation of China (NO.31500051), China Postdoctoral Science Foundation (2015M572545), and the Fundamental Research Funds for the Central Universities (XJJ2015056). BD is indepted to the Ghent University Research Funds for support via a CSC co-financing grant and a GOA project; and to the Belgian Federal Government Science Policy (Belspo) for the interuniversity attraction pole project IAP P7/44 Integrated Protein Science.
Compliance with ethical standards
Conflict of interest
The authors declare that they have no conflict of interest.
Copyright information
© Springer-Verlag Berlin Heidelberg 2016