Abstract
Donkey milk is a valuable product for the food industry due to its nutraceutical, nutritional, and functional properties. In this work, the endogenous peptides from donkey milk were investigated for their antioxidant and ACE-inhibitory activities, combining a two-dimensional peptide fractionation strategy with high-resolution mass spectrometry, bioinformatics analysis, and in vitro assays. After extraction, the endogenous peptides were fractionated twice, first by polymeric reversed phase and then by hydrophilic interaction chromatography. Fractions were screened for the investigated bioactivities and only the most active ones were finally analyzed by nanoRP-HPLC-MS/MS; this approach allowed to reduce the total number of possible bioactive sequences. Results were further mined by in silico analysis using PeptideRanker, BioPep, and PepBank, which provided a bioactivity score to the identified peptides and matched sequences to known bioactive peptides, in order to select candidates for chemical synthesis. Thus, five peptides were prepared and then compared to the natural occurring ones, checking their retention times and fragmentation patterns in donkey milk alone and in spiked donkey milk samples. Pure peptide standards were finally in vitro tested for the specific bioactivity. In this way, two novel endogenous antioxidant peptides, namely EWFTFLKEAGQGAKDMWR and GQGAKDMWR, and two ACE-inhibitory peptides, namely REWFTFLK and MPFLKSPIVPF, were successfully validated from donkey milk.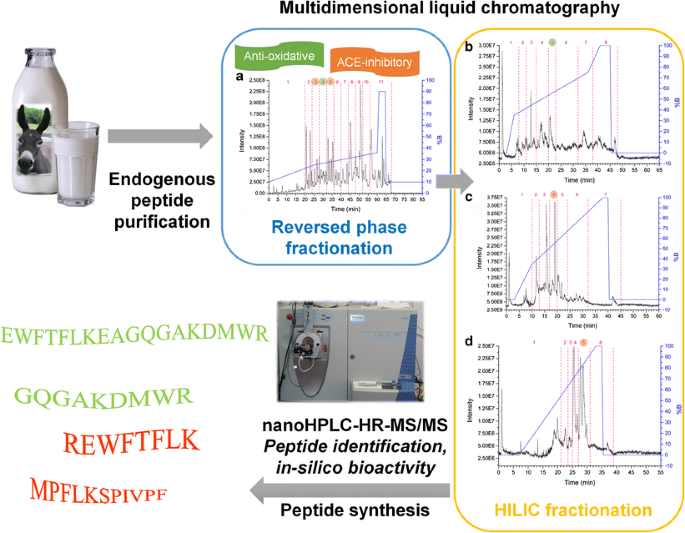 Access options
Buy single article
Instant access to the full article PDF.
US$ 39.95
Tax calculation will be finalised during checkout.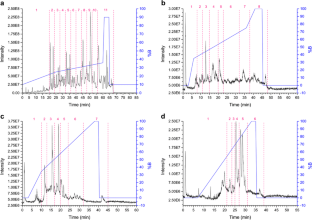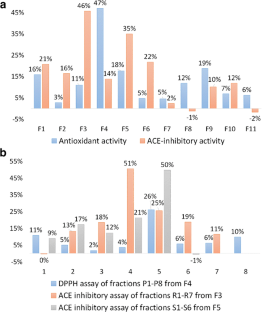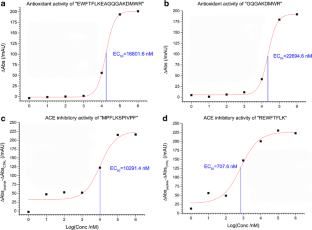 References
1.

Perna A, Intaglietta I, Simonetti A, Gambacorta E. Donkey milk for manufacture of novel functional fermented beverages. J Food Sci. 2015;80:S1352–9.

2.

Polidori P, Vincenzetti S. Effects of thermal treatments on donkey milk nutritional characteristics. Recent Pat Food Nutr Agric. 2013;5:182–7.

3.

Medhammar E, Wijesinha-Bettoni R, Stadlmayr B, Nilsson E, Charrondiere UR, Burlingame B. Composition of milk from minor dairy animals and buffalo breeds: a biodiversity perspective. J Sci Food Agric. 2012;92:445–74.

4.

Jirillo F, Magrone T. Anti-inflammatory and anti-allergic properties of donkey's and goat's milk. Endocr Metab Immune Disord Drug Targets. 2014;14:27–37.

5.

Tidona F, Sekse C, Criscione A, Jacobsen M, Bordonaro S, Marletta D. Antimicrobial effect of donkeys' milk digested in vitro with human gastrointestinal enzymes. Int Dairy J. 2011;21:158–65.

6.

Brumini D, Criscione A, Bordonaro S, Vegarud GE, Marletta D. Whey proteins and their antimicrobial properties in donkey milk: a brief review. Dairy Sci Technol. 2016;96:1–14.

7.

Bučević-Popović V, Delaš I, Međugorac S, Pavela-Vrančić M, Kulišić-Bilušić T. Oxidative stability and antioxidant activity of bovine, caprine, ovine and asinine milk. Int J Dairy Technol. 2014;67:394–401.

8.

Tafaro A, Magrone T, Jirillo F, Martemucci G, D'Alessandro AG, Amati L, et al. Immunological properties of donkey's milk: its potential use in the prevention of atherosclerosis. Curr Pharm Des. 2007;13:3711–7.

9.

Bruminia D, Bø Furlund C, Comi I, Gulbrandsen Devold T, Marletta D, Vegarud GE, et al. Antiviral activity of donkey milk protein fractions on echovirus type 5. Int Dairy J. 2013;28:109–11.

10.

Mao X, Gu J, Sun Y, Xu S, Zhang X, Yang H, et al. Anti-proliferative and anti-tumour effect of active components in donkey milk on A549 human lung cancer cells. Int Dairy J. 2009;19:703–8.

11.

Rutherfurd-Markwick KJ. Food proteins as a source of bioactive peptides with diverse functions. Br J Nutr. 2012;108 Suppl 2:S149–57.

12.

Nagpal R, Behare P, Rana R, Kumar A, Kumar M, Arora S, et al. Bioactive peptides derived from milk proteins and their health beneficial potentials: an update. Food Funct. 2011;2:18–27.

13.

Mohanty DP, Mohapatra S, Misra S, Sahu PS. Milk derived bioactive peptides and their impact on human health—a review. Saudi J Biol Sci. 2015. doi:10.1016/j.sjbs.2015.06.005.

14.

Capriotti AL, Cavaliere C, Piovesana S, Samperi R, Laganà A. Recent trends in the analysis of bioactive peptides in milk and dairy products. Anal Bioanal Chem. 2016;408:2670–85.

15.

Chianese L, Calabrese MG, Ferranti P, Mauriello R, Garro G, De Simone C, et al. Proteomic characterization of donkey milk "caseome". J Chromatogr A. 2010;1217:4834–40.

16.

Cunsolo V, Muccilli V, Fasoli E, Saletti R, Righetti PG, Foti S. Poppea's bath liquor: the secret proteome of she-donkey's milk. J Proteomics. 2011;74:2083–99.

17.

Polidori P, Vincenzetti S. Protein profile characterization of donkey milk. In: Hurley W, editor. Milk protein. Rijeka: InTech. 2012; doi: 10.5772/45982.

18.

Vincenzetti S, Amici A, Pucciarelli S, Vita A, Micozzi D, Carpi FM, et al. A proteomic study on donkey milk. Biochem Anal Biochem. 2012;1:109.

19.

Bidasolo IB, Ramos M, Gomez-Ruiz JA. In vitro simulated gastrointestinal digestion of donkeys' milk. Peptide characterization by high performance liquid chromatography–tandem mass spectrometry. Int Dairy J. 2012;24:146–52.

20.

Piovesana S, Capriotti AL, Cavaliere C, La Barbera G, Samperi R, Zenezini Chiozzi R, et al. Peptidome characterization and bioactivity analysis of donkey milk. J Proteomics. 2015;119:21–9.

21.

Guerrero A, Dallas DC, Contreras S, Bhandari A, Cánovas A, Islas-Trejo A, et al. Peptidomic analysis of healthy and subclinically mastitic bovine milk. Int Dairy J. 2015;46:46–52.

22.

Sagar BK, Singh RP. Genesis and development of DPPH method of antioxidant assay. J Food Sci Technol. 2011;48:412–22.

23.

Cushman DW, Cheung HS. Spectrophotometric assay and properties of the angiotensin-converting enzyme of rabbit lung. Biochem Pharmacol. 1971;20:1637–48.

24.

Mooney C, Haslam NJ, Pollastri G, Shields DC. Towards the improved discovery and design of functional peptides: common features of diverse classes permit generalized prediction of bioactivity. PLoS ONE. 2012;7:e45012.

25.

D'Attoma A, Grivel C, Heinisch S. On-line comprehensive two-dimensional separations of charged compounds using reversed-phase high performance liquid chromatography and hydrophilic interaction chromatography. Part I: orthogonality and practical peak capacity considerations. J Chromatogr A. 2012;1262:148–59.

26.

Sànchez-Rivera L, Martìnez-Maqueda D, Cruz-Huerta E, Miralles B, Recio I. Peptidomics for discovery, bioavailability and monitoring of dairy bioactive peptides. Food Res Int. 2014;63:170–81.

27.

Li Z, Jiang A, Yue T, Wang J, Wang Y, Su J. Purification and identification of five novel antioxidant peptides from goat milk casein hydrolysates. J Dairy Sci. 2013;96:4242–51.

28.

Tenore GC, Ritieni A, Campiglia P, Stiuso P, Di Maro S, Sommella E, et al. Antioxidant peptides from "Mozzarella di Bufala Campana DOP" after simulated gastrointestinal digestion: in vitro intestinal protection, bioavailability, and anti-haemolytic capacity. J Funct Foods. 2015;15:365–75.

29.

Sommella E, Pepe G, Ventre G, Pagano F, Manfra M, Pierri G, et al. Evaluation of two sub-2 μm stationary phases, core-shell and totally porous monodisperse, in the second dimension of on-line comprehensive two dimensional liquid chromatography, a case study: separation of milk peptides after expiration date. J Chromatogr A. 2015;1375:54–61.

30.

Power O, Jakeman P, FitzGerald RJ. Antioxidative peptides: enzymatic production, in vitro and in vivo antioxidant activity and potential application of milk-derived antioxidative peptides. Amino Acids. 2013;44:797–820.

31.

Lassoued I, Mora L, Barkia A, Aristoy MC, Nasri M, Toldrá F. Bioactive peptides identified in thornback ray skin's gelatin hydrolysates by proteases from Bacillus subtilis and Bacillus amyloliquefaciens. J Proteomics. 2015;14(128):8–17.

32.

Saito T, Nakamura T, Kitazawa H, Kawai Y, Itoh T. Isolation and structural analysis of antihypertensive peptides that exist naturally in Gouda cheese. J Dairy Sci. 2000;83:1434–40.

33.

Liu Q, Cobb JS, Johnson JL, Wang Q, Agar JN. Performance comparisons of nano-LC systems, electrospray sources and LC-MS-MS platforms. J Chromatogr Sci. 2014;52:120–27.

34.

Smith R, Ventura D, Prince JT. LC-MS alignment in theory and practice: a comprehensive algorithmic review. Brief Bioinform. 2013;16:104–17.

35.

Wandy J, Daly R, Breitling R, Rogers S. Incorporating peak grouping information for alignment of multiple liquid chromatography mass spectrometry datasets. Bioinformatics. 2015;31:1999–06.

36.

Nimmi OS, George P. Evaluation of the antioxidant potential of a newly developed polyherbal formulation for antiobesity. Int J Pharm Pharm Sci. 2012;4:505–10.

37.

Zhang QX, Wu H, Ling YF, Lu RR. Isolation and identification of antioxidant peptides derived from whey protein enzymatic hydrolysate by consecutive chromatography and Q-TOF MS. J Dairy Res. 2013;80:367–73.

38.

Uenishi H, Kabuki T, Seto Y, Serizawa A, Nakajima H. Isolation and identification of casein-derived dipeptydyl-peptidase 4 (DPP-4)-inhibitory peptide LPQNIPPL from gouda-type cheese and its effect on plasma glucose in rats. Int Dairy J. 2012;22:24–30.

39.

Kohmura M, Nio N, Ariyoshi Y. Inhibition of angiotensin-converting enzyme by synthetic peptide fragments of various β-caseins. Agric Biol Chem. 1990;54:1101–2.

40.

Jäkälä P, Vapaatalo H. Antihypertensive peptides from milk proteins. Pharmaceuticals. 2010;3:251–72.

41.

Vizcaíno JA, Deutsch EW, Wang R, Csordas A, Reisinger F, Ríos D, et al. ProteomeXchange provides globally coordinated proteomics data submission and dissemination. Nat Biotechnol. 2014;30:223–6.
Acknowledgments
This work has been carried out within the framework of the Research Project "Identification and characterization of new bioactive peptides in milk and dairy products," supported by Sapienza Università di Roma, nr. C26H15WEZH.
The MS proteomics data have been deposited to the ProteomeXchange Consortium [41] via the PRIDE partner repository with the dataset identifier "PXD004035."
Ethics declarations
Conflict of interest
The authors declare that they have no competing interests.
About this article
Cite this article
Zenezini Chiozzi, R., Capriotti, A.L., Cavaliere, C. et al. Purification and identification of endogenous antioxidant and ACE-inhibitory peptides from donkey milk by multidimensional liquid chromatography and nanoHPLC-high resolution mass spectrometry. Anal Bioanal Chem 408, 5657–5666 (2016). https://doi.org/10.1007/s00216-016-9672-z
Received:

Revised:

Accepted:

Published:

Issue Date:
Keywords
Peptidomics

Donkey milk

Antioxidant peptides

ACE-inhibitory peptides

Off-line two-dimensional chromatography

High-resolution mass spectrometry