Redox-dependent interactions between reduced/oxidized cytochrome c and cytochrome c oxidase evaluated by in-situ electrochemical surface plasmon resonance
Abstract
The interactions between the redox couple of cytochrome c (Cyt c) and cytochrome c oxidase (COX) were investigated at a mimic redox-modulated interface by using an electrochemical surface plasmon resonance (EC-SPR) system. Although early studies of the binding between COX and Cyt c have been conducted using several techniques in homogeneous solutions, a problem still inherent is that ferro-cytochrome c (Cyt c red), the reduced form of Cyt c, can be easily oxidized into ferri-cytochrome c (Cyt c ox) and adversely impact the accuracy and reproducibility of the binding measurements. In order to realize reliable redox-dependent binding tests, here the Cyt c red is quantitatively electro-generated from Cyt c ox by in situ cathodic polarization in a flow cell. Then the kinetic and dissociation constants of the bindings between COX and Cyt c red/Cyt c ox can be evaluated accurately. In this study, the values of association/dissociation rate constants (k a, k d) for both COX/Cyt c red and COX/Cyt c ox were obtained. The dissociation constants, K D, were finally calculated as 3.33 × 10–8 mol · L–1 for COX/Cyt c red and 4.25 × 10–5 mol · L–1 for COX/Cyt c ox, respectively. In-situ EC-SPR is promising for better mimicking the in vivo condition that COX is embedded in the inner mitochondrial membrane and Cyt c acts as an electron shuttle in the mobile phase. It is an effective method for the investigation of redox-dependent biomolecular interactions.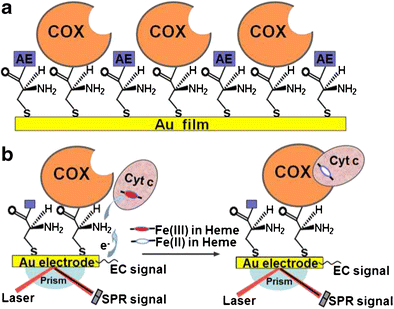 Keywords
Electrochemical surface plasmon resonance (EC-SPR) 
Cytochrome c (Cyt c) 
Cytochrome c oxidase (COX) 
Redox-dependent interaction 
Mimic interface 
Association/dissociation rate constant 
Notes
Acknowledgments
Partial support of this work by the National High Technology Research and Development Program of China (2015AA020502), the National Key Basic Research Program of China (2014CB744502), the National Natural Science Foundation of China (nos. 21573290, 51502088, 21273288), and the Specialized Research Fund for the Doctor Program of Higher Education (20120162110018) is gratefully acknowledged.
Compliance with ethical standards
Conflict of interest
The authors declare that they have no conflict of interest.
Copyright information
© Springer-Verlag Berlin Heidelberg 2016