Composition of ultrathin binary polymer brushes by thermogravimetry–gas chromatography–mass spectrometry
Abstract
In the present paper, a reliable and rugged thermogravimetry–gas chromatography–mass spectrometry (TGA–GC–MS) method was developed to determine the composition of ultrathin films consisting of binary blends of functional polystyrene (PS) and polymethylmethacrylate (PMMA) grafted to a silicon wafer. A general methodology will be given to address the composition determination problem for binary or even multicomponent polymer brush systems using the PS/PMMA-based samples as a paradigmatic example. In this respect, several distinct tailor-made materials were developed to ensure reliable calibration and validation stages. The analytical method was tested on unknown samples to follow the composition evolution in PS/PMMA brushes during the grafting reaction. A preferential grafting of the PMMA was revealed in full agreement with its preferential interaction with the SiO2 polar surface.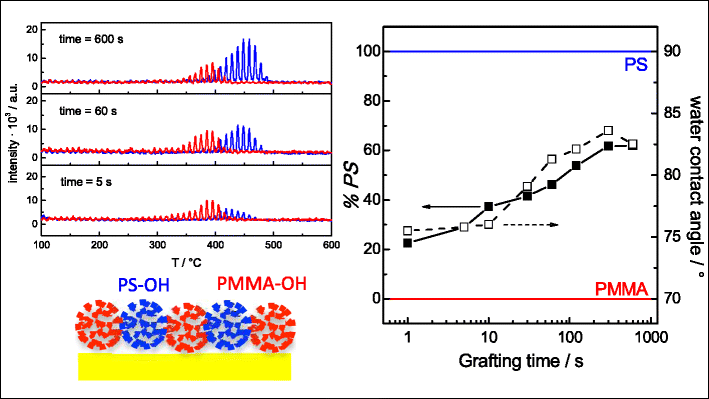 Keywords
Thermogravimetry–gas chromatography–mass spectrometry 
Composition determination 
Method validation 
Ultrathin film analysis 
Polymer brushes 
Notes
Acknowledgments
Financial support by PRIN 2010–2014 "Materiali Polimerici Nanostrutturati con Strutture Molecolari e Cristalline Mirate" is acknowledged.
Compliance with ethical standards
Conflict of interest
The authors declare that they have no competing interests.
Copyright information
© Springer-Verlag Berlin Heidelberg 2016