Abstract
An LC/MS/MS method to identify and quantitate in hair the minor metabolites of cocaine—meta-, para-, and ortho-hydroxy cocaine—was developed and validated. Analysis was performed on a triple quadrupole ABSciex API 3000 MS equipped with an atmospheric pressure ionization source via an IonSpray (ESI). For LC, a series 200 micro binary pump with a Perkin Elmer Model 200 autosampler was used. The limit of detection (LOD) and limit of quantification (LOQ) were 0.02 ng/10 mg hair, with linearity from 0.02 to 10 ng/10 mg hair. Concentrations of the para isomer in extensively washed hair samples were in the range of 1–2 % of the cocaine in the sample, while the concentrations of the ortho form were considerably less. The method was used to analyze large numbers of samples from two populations: workplace and criminal justice. In vitro experiments to determine if deodorants or peroxide-containing cosmetic treatments could result in the presence of these metabolites in hair showed that this does not occur with extensively washed hair. Presence of hydroxycocaines, when detected after aggressive washing of the hair samples, provides a valuable additional indicator of ingestion of cocaine rather than mere environmental exposure.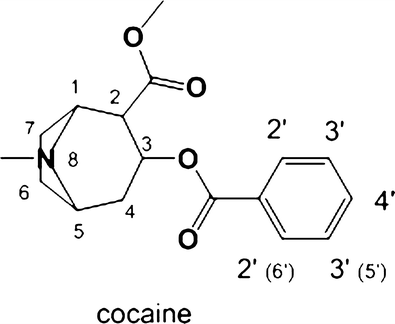 This is a preview of subscription content, log in to check access.
Access options
Buy single article
Instant access to the full article PDF.
US$ 39.95
Tax calculation will be finalised during checkout.
Subscribe to journal
Immediate online access to all issues from 2019. Subscription will auto renew annually.
US$ 157
Tax calculation will be finalised during checkout.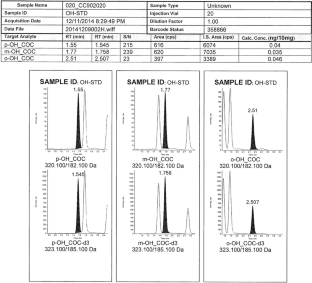 References
1.

SAMHSA. Notice of proposed revisions to the mandatory guidelines for federal workplace drug testing programs. Fed Regist. 2004;69:19673–732.

2.

Stout PR, Ropero-Miller JD, Baylor MR, Mitchell JM. External contamination of hair with cocaine: evaluation of external contamination and development of performance-testing materials. J Anal Toxicol. 2006;30:490–500.

3.

Baumgartner W, Hill V. Hair analysis for organic analytes: methodology, reliability issues, and field studies. In: Kintz P, editor. Drug testing in hair. Boca Raton: CRC Press; 1996. p. 224–64.

4.

Baumgartner W, Hill V. Hair analysis for drugs of abuse: probative features of hair testing. In: Cone E, Welch M, Babecki M, editors. Hair Testing for Drugs of Abuse: International Research on Standards and Technology. NIH Publication No. 95–3727, 1995; p. 148–185.

5.

Baumgartner W, Hill V. Hair analysis for drugs of abuse: decontamination issues. In: Sunshine I, editor. Recent developments in therapeutic drug monitoring and clinical toxicology. New York: Marcel Dekker Inc; 1992. p. 577–97.

6.

Cairns T, Hill V, Schaffer M, Thistle W. Removing and identifying drug contamination in the analysis of human hair. Forensic Sci Int. 2004;145:97–108.

7.

Cairns T, Hill V, Schaffer M, Thistle W. Levels of cocaine and its metabolites in washed hair of demonstrated cocaine users and workplace subjects. Forensic Sci Int. 2004;145:175–81.

8.

Schaffer M, Hill V, Cairns T. Hair analysis for cocaine: the requirement for effective wash procedures and effects of drug concentration and hair porosity in contamination and decontamination. J Anal Toxicol. 2005;29:319–26.

9.

Hill V, Loni E, Cairns T, Sommer J, Schaffer M. Identification and analysis of damaged or porous hair. Drug Test Anal. 2014;6:42–54.

10.

Ropero Miller JS, Stout PR. Analysis of cocaine analytes in human hair II. Evaluation of different hair color and ethnicity types NCJ 1466353031. 2002.

11.

Pichini S, Marchei E, Pacifici R, Pellegrini M, Lozano J, Garcia-Algar O. Application of a validated high-performance liquid chromatography-mass spectrometry assay to the analysis of m- and p-hydroxybenzoylecgonine in meconium. J Chromatog B. 2005;2005(820):151–6.

12.

Paul BD, Lalani S, Jacobs AJ, Huestis MA. Concentration profiles of cocaine, pyrolytic methyl ecgonidine and thirteen metabolites in human blood and urine: determination by gas chromatography-mass spectrometry. Biomed Chromatogr. 2005;2005(19):677–88.

13.

Roband PP, Reda LJ, Klette KL. Complete automation of solid-phase extraction with subsequent liquid chromatography-tandem mass spectrometry for the quantification of benzoylecgonine, m-hydroxybenzoylecgonine, p-hydroxybenzoylecgonine and norbenzoylecgonine in urine—application to a high-throughput urine analysis laboratory. J Anal Toxicol. 2000;2000(32):577–85.

14.

Klette KL, Poch GK, Czarny R, Lau CO. Simultaneous GC-MS analysis of meta- and para-hydroxybenzoylecgonine and nor benzoylecgonine: a secondary method to corrobrote cocaine ingestion using nonhydrolytic metabolites. J Anal Toxicol. 2000;2000(24):482–8.

15.

Jufer RA, Wstadik A, Walsh SLM, Levine BS, Cone EJ. Elimination of cocaine and metabolites in plasma, saliva and urine following repeated oral administration to human volunteers. J Anal Toxicol. 2000;2000(24):467–77.

16.

Cone EJ, Tsadik A, Oyler J, Darwin WD. Cocaine metabolism and urinary excretion after different routes of administration. J Anal Toxicol Ther Drug Monit. 1998;1998(20):556–60.

17.

ElSohly MA, Kipycki WJ, Feng S, Murphy TP, Lukey BJ. GC/MS analysis of m-hydroxybenzoylecgonine in urine. Forensic implication in cocaine use. Clin Lab Med. 1998;18:699–704.

18.

ElSohly MA, Kipycki WJ, Feng S, Murphy BJ. Identification and analysis of the major metabolites of mocaine in meconium. J Anal Toxicol. 1999;1999(23):446–51.

19.

Watanabe K, Hida Y, Matsunaga T, Yamamoto I, Yoshimura H. Formation of p-OH cocaine from cocaine by hepatic microsomes of animals and its pharmacological effects in mice. Biol Pharm Bull. 1993;1993(16):1041–3.

20.

Kolbrich EA, Barnes AJ, Gorelick DA, Boyd SJ, Cone EJ, Huestis MA. Major and minor metabolites of cocaine in human plasma following controlled subcutaneous cocaine administration. J Anal Toxicol. 2006;2006(30):501–10.

21.

Cone EJ, Sampson-Cone AH, Darwin WD, Huestis MA, Oyler JM. Urine testing for cocaine abuse: metabolic and excretion patterns following different routes of administration and methods for detection of false negative results. J Anal Toxicol. 2003;2003(27):386–401.

22.

Zhang JY, Foltz RL. Cocaine metabolism in man: Identification of four previously unreported cocaine metabolites in human urine. J Anal Toxicol.1990;14:201–5.

23.

Cheng CC, Schaffer M, Chao O, El Sohly M, Hill V, Cairns T. Development and validation of a new LC/MS/MS method for the detection of m-, p-, and o-hydroxycocaine in hair as an indicator of cocaine use. Presented at the 2007 Annual Meeting of the Society of Forensic Toxicologists, S20 Abstract. 2007.

24.

Morris-Kukoski CL, Montgomery M, Hammer RL. Analysis of extensively washed hair from cocaine users and drug chemists to establish new reporting criteria. J Anal Toxicol. 2014;2014(38):628–36.

25.

Franz T, Steinmetz S, Dame T, Schwarz G, Musshof F. Determination of hydroxy metabolites of cocaine in hair samples for proof of definite consumption. Presented at 2015 Meeting of The International Assocication of Forensic Toxicologists, THOP 17 Abstract.
Acknowledgments
The authors wish to thank Dr. Mahmoud A. ElSohly for his generous and most helpful collaboration.
Ethics declarations
Ethical standards
The authors declare that no human subjects were involved in the studies; the data presented in the paper were prior testing data stored anonymously.
Conflict of interest
The authors declare that they have no competing of interests.
About this article
Cite this article
Schaffer, M., Cheng, CC., Chao, O. et al. Analysis of cocaine and metabolites in hair: validation and application of measurement of hydroxycocaine metabolites as evidence of cocaine ingestion. Anal Bioanal Chem 408, 2043–2054 (2016). https://doi.org/10.1007/s00216-016-9354-x
Received:

Revised:

Accepted:

Published:

Issue Date:
Keywords
Cocaine

Hydroxycocaine

Hair

Extended washing