Comprehensive two-dimensional gas chromatographic profiling and chemometric interpretation of the volatile profiles of sweat in knit fabrics
Abstract
Human axillary sweat is a poorly explored biofluid within the context of metabolomics when compared to other fluids such as blood and urine. In this paper, we explore the volatile organic compounds emitted from two different types of fabric samples (cotton and polyester) which had been worn repeatedly during exercise by participants. Headspace solid-phase microextraction (SPME) and comprehensive two-dimensional gas chromatography time-of-flight mass spectrometry (GC×GC-TOFMS) were employed to profile the (semi)volatile compounds on the fabric. Principal component analysis models were applied to the data to aid in visualizing differences between types of fabrics, wash treatment, and the gender of the subject who had worn the fabric. Statistical tools included with commercial chromatography software (ChromaTOF) and a simple Fisher ratio threshold-based feature selection for model optimization are compared with a custom-written algorithm that uses cluster resolution as an objective function to maximize in a hybrid backward-elimination forward-selection approach for optimizing the chemometric models in an effort to identify some compounds that correlate to differences between fabric types. The custom algorithm is shown to generate better models than the simple Fisher ratio approach.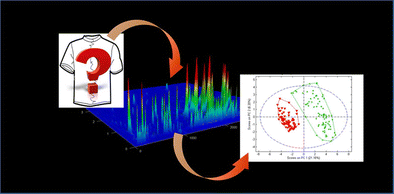 Keywords
Metabolomics 
Human body odor 
Solid-phase microextraction (SPME) 
Comprehensive two-dimensional gas chromatography time-of-flight mass spectrometry (GC×GC TOFMS) 
Variable selection 
Fisher ratio 
Textiles 
Notes
Acknowledgements
A.P. de la Mata would like to thank CONACyT for its support. The authors also thank Cotton Incorporated, Alberta Innovates Technology Futures, and the Natural Sciences and Engineering Research Council (NSERC) Canada, Genome Canada, and Genome Alberta for financial support related to this study. Leco, The Canada Foundation for Innovation (CFI), and the Government of Alberta are acknowledged for their support in obtaining the GC×GC-TOFMS system.
Compliance with ethical standards
The authors declare that they have no conflicts of interest. Prior to any research being carried out involving human participants, all research protocols were approved by the relevant Human Research Ethics Board at the University of Alberta, including obtaining the informed consent of all participants in the wear trial that generated the fabric samples.
Copyright information
© Springer-Verlag Berlin Heidelberg 2016