In ovo sexing of chicken eggs by fluorescence spectroscopy
Abstract
Culling of day-old male chicks in production of laying hen strains involves several millions of animals every year worldwide and is ethically controversial. In an attempt to provide an alternative, optical spectroscopy was investigated to determine nondestructively in ovo the sex of early embryos of the domestic chicken. The extraembryonic blood circulation system was accessed by producing a window in the egg shell and the flowing blood was illuminated with a near-infrared laser. The strong fluorescence and the weak Raman signals were acquired and spectroscopically analyzed between 800 and 1000 nm. The increase of fluorescence intensity between 3.5 and 11.5 days of incubation was found to be in agreement with the erythropoietic stages, thus enabling to identify hemoglobin as fluorescence source. Sex-related differences in the fluorescence spectrum were found at day 3.5, and principal component (PC) analysis showed that the blood of males was characterized by a specific fluorescence band located at ∼910 nm. Supervised classification of the PC scores enabled the determination of the sex of 380 eggs at day 3.5 of incubation with a correct rate up to 93% by combining the information derived from both fluorescence and Raman scattering.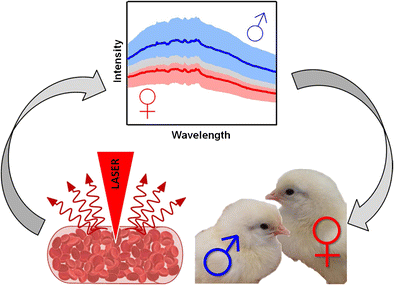 Keywords
Optical spectroscopy 
Fluorescence 
Raman scattering 
Chicken embryo 
Sexing 
In ovo 
Notes
Acknowledgments
The authors gratefully acknowledge Andrea Büchner for performing molecular genetic analyses and Lohmann Tierzucht GmbH (Cuxhaven, Germany) for providing eggs. Special thanks to Prof. Rudolf Preisinger and Dr. Anke Förster (Lohmann Tierzucht GmbH, Cuxhaven, Germany) for the insightful discussions about hatchery practice.
Compliance with ethical standards
Funding
This work was financially supported by the German Federal Ministry of Food, Agriculture, and Consumer Protection (BMELV) through the Federal Office for Agriculture and Food (BLE), grant no. 511–06.01-28-1-33.010-07.
Conflict of interest
Patent applications for in ovo sexing with the methods described in this paper are pending.
Copyright information
© Springer-Verlag Berlin Heidelberg 2016