Selective quantification of DOSS in marine sediment and sediment-trap solids by LC-QTOF-MS
Abstract
At the onset of the 2010 Gulf oil spill, analytical methods for the quantification of the surfactants in Corexit did not exist in the peer-reviewed literature. To date, only a single study reports the presence of bis-(2-ethylhexyl) sodium sulfosuccinate (DOSS) in deep-sea Gulf sediment collected in 2010 from a single location. There are no data on the occurrence of DOSS in association with settling solids (i.e., sediment-trap solids). To address this data gap, DOSS was initially quantified by liquid chromatography tandem quadrupole mass spectrometry (LC-MS/MS) in sediment and sediment-trap solids collected from multiple sites in the Gulf between 2010 and 2013. However, interferences confounded analyses using only a quadrupole (MS/MS) system; therefore, a LC-high mass accuracy quadruple time of flight mass spectrometry (LC-QTOF-MS) method was developed. The LC-QTOF method was validated and applied to eight representative samples of sediment and of sediment-trap solids. The presented method quantifies DOSS in solids of marine origin at concentrations above the limit of quantification of 0.23 μg kg−1 with recoveries of 97 ± 20 % (mean ± 95 CI). Gulf sediment and sediment-trap solids gave DOSS concentrations of <LOQ–25 and 1.5–6.3 μg kg−1, respectively.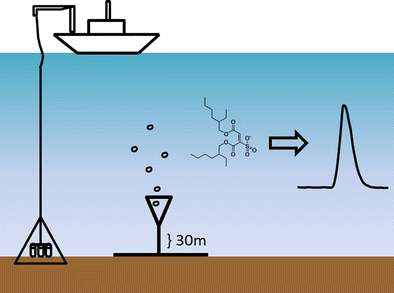 Keywords
Corexit 
DOSS 
Dioctyl sulfosuccinate 
Sediment 
Sediment trap 
QTOF 
Notes
Acknowledgments
This research was made possible in part by a grant from The Gulf of Mexico Research Initiative supporting the ECOGIG (Ecosystem Impacts of Oil and Gas into the Gulf) consortium and in part by the National Institute of Environmental Health Sciences of the National Institutes of Health under Award Number T32ES007060. The content is solely the responsibility of the authors and does not necessarily represent the official views of the National Institutes of Health. This is ECOGIG manuscript number 376. Data are publicly available through the Gulf of Mexico Research Initiative Information & Data Cooperative (GRIIDC) at https://data.gulfresearchinitiative.org (doi:  10.7266/N7B56GP8). The authors thank Uta Passow of the Marine Science Institute at the University of California Santa Barbara for providing access to the sediment-trap solids described in this manuscript. The study was conducted, in part, in the Oregon State University's Mass Spectrometry Center. The procurement of the AB Sciex TripleTOF 5600 instrument was made possible by NIH grant S10RR027878.
Compliance with ethical standards
Conflict of interest
The authors declare that they have no conflict of interest.
Copyright information
© Springer-Verlag Berlin Heidelberg 2016