A smart pipette for equipment-free separation and delivery of plasma for on-site whole blood analysis
Abstract
A novel device of smart pipette has been suggested to extract and deliver plasma from whole blood in a disposable format. By operating an on-chip disposable micropump, approximately 30 μL of plasma was obtained from 100 μL of whole blood within 5 min without any external equipment for point-of-care blood analysis.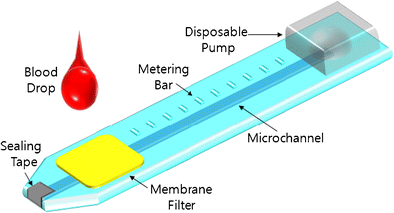 Keywords
Blood separation 
Micropump 
Lab on a chip 
Point-of-care testing 
Microfilter 
Notes
Acknowledgments
The authors gratefully acknowledge the support of this work by the Kwangwoon Research Grant of 2014. This research was also supported by Basic Science Research Program through the National Research Foundation of Korea (NRF) funded by the Ministry of Education (No. NRF-2015R1D1A1A01060369) and Business for Cooperative R&D between Industry, Academy, and Research Institute funded Korea Small and Medium Business Administration in 2015 (Grants No. C0299553).
Compliance with ethical standards
Conflict of interest
The authors declare that they have no competing interests.
Copyright information
© Springer-Verlag Berlin Heidelberg 2015