Anti-heat shock protein autoantibody profiling in breast cancer using customized protein microarray
Abstract
Heat shock proteins (HSPs) are over-expressed in a wide range of human cancers. It results in the stimulation of the immune system and consequently in elevated concentration of anti-HSP autoantibodies. Elevated anti-HSP autoantibodies were found in breast cancer patients, and they are associated with tumor metastasis. Therefore, screening these autoantibodies could be of diagnostic and prognostic values. Protein microarrays have already demonstrated their great potential as a diagnostic tool. However, protein diversity requires optimization of the microarray fabrication to achieve high sensitivity and specificity. In this study, seven HSPs were immobilized on six different surface chemistries. After evaluation and optimization with purified antibodies of the six surface chemistries, two surfaces were selected to detect anti-HSP autoantibodies in breast cancer sera. Multiplex detection of anti-HSP autoantibodies allowed discrimination of breast cancer patients (50) from healthy controls (26) with a sensitivity of 86 % and a specificity of 100 %.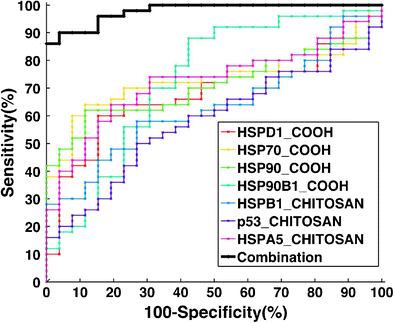 Keywords
Breast cancer 
Autoantibodies 
Heat shock proteins 
Protein microarray 
Notes
Acknowledgments
China Scholarship Council is acknowledged for offering a Ph.D. fellowship to Liu Shi. The CNANO Rhône-Alpes and BQR Ecole Centrale de Lyon are acknowledged for financial support. NanoLyon is acknowledged for technical support.
Compliance with ethical standards
Conflict of interest
The authors declare that they have no competing interests.
Informed consent
All human samples were prospectively collected between 2005 and 2007 at the CRLC Val d'Aurelle Cancer Institute (Montpellier, France) at the time of cancer diagnosis after obtaining written informed consent. This study was approved by the Montpellier University Hospital human research committee and the INSERM review board (RBM-03-63).
Copyright information
© Springer-Verlag Berlin Heidelberg 2015