Abstract
Heat shock proteins (HSPs) are over-expressed in a wide range of human cancers. It results in the stimulation of the immune system and consequently in elevated concentration of anti-HSP autoantibodies. Elevated anti-HSP autoantibodies were found in breast cancer patients, and they are associated with tumor metastasis. Therefore, screening these autoantibodies could be of diagnostic and prognostic values. Protein microarrays have already demonstrated their great potential as a diagnostic tool. However, protein diversity requires optimization of the microarray fabrication to achieve high sensitivity and specificity. In this study, seven HSPs were immobilized on six different surface chemistries. After evaluation and optimization with purified antibodies of the six surface chemistries, two surfaces were selected to detect anti-HSP autoantibodies in breast cancer sera. Multiplex detection of anti-HSP autoantibodies allowed discrimination of breast cancer patients (50) from healthy controls (26) with a sensitivity of 86 % and a specificity of 100 %.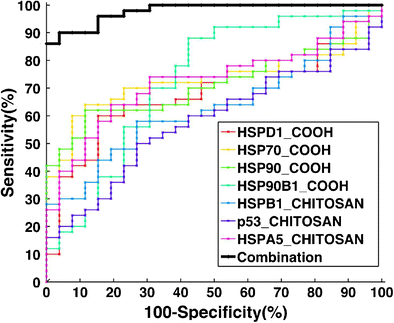 This is a preview of subscription content, log in to check access.
Access options
Buy single article
Instant access to the full article PDF.
US$ 39.95
Price includes VAT for USA
Subscribe to journal
Immediate online access to all issues from 2019. Subscription will auto renew annually.
US$ 157
This is the net price. Taxes to be calculated in checkout.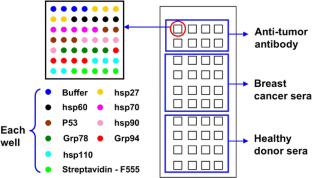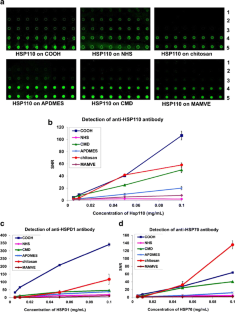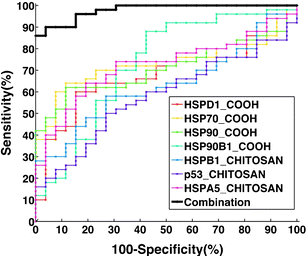 References
1.

Radpour R, Barekati Z, Kohler C, Holzgreve W, Zhong XY. New trends in molecular biomarker discovery for breast cancer. Genet Test Mol Biomarkers. 2009;13:565–71.

2.

Brooks M. Breast cancer screening and biomarkers. Methods Mol Biol. 2009;472:307–21.

3.

Tan HT, Low J, Lim SG, Chung MC. Serum autoantibodies as biomarkers for early cancer detection. FEBS J. 2009;276:6880–904.

4.

Etzioni R, Urban N, Ramsey S, McIntosh M, Schwartz S, Reid B, et al. The case for early detection. Nat Rev Cancer. 2003;3:243–52.

5.

Heo CK, Bahk YY, Cho EW. Tumor-associated autoantibodies as diagnostic and prognostic biomarkers. BMB Rep. 2012;45:677–85.

6.

Chapman C, Murray A, Chakrabarti J, Thorpe A, Woolston C, Sahin U, et al. Autoantibodies in breast cancer: their use as an aid to early diagnosis. Ann Oncol. 2007;18:868–73.

7.

Misek DE, Kim EH. Protein biomarkers for the early detection of breast cancer. Int J Proteomics. 2011;2011:343582.

8.

Desmetz C, Mange A, Maudelonde T, Solassol J. Autoantibody signatures: progress and perspectives for early cancer detection. J Cell Mol Med. 2011;15:2013–24.

9.

Khalil AA, Kabapy NF, Deraz SF, Smith C. Heat shock proteins in oncology: diagnostic biomarkers or therapeutic targets? Biochim Biophys Acta. 2011;1816:89–104.

10.

Ciocca DR, Calderwood SK. Heat shock proteins in cancer: diagnostic, prognostic, predictive, and treatment implications. Cell Stress Chaperones. 2005;10:86–103.

11.

Conroy SE, Sasieni PD, Fentiman I, Latchman DS. Autoantibodies to the 90kDa heat shock protein and poor survival in breast cancer patients. Eur J Cancer. 1998;34:942–3.

12.

Conroy SE, Sasieni PD, Amin V, Wang DY, Smith P, Fentiman IS, et al. Antibodies to heat-shock protein 27 are associated with improved survival in patients with breast cancer. Br J Cancer. 1998;77:1875–9.

13.

Conroy SE, Gibson SL, Brunstrom G, Isenberg D, Luqmani Y, Latchman DS. Autoantibodies to 90 kD heat-shock protein in sera of breast cancer patients. Lancet. 1995;345:126.

14.

Hamrita B, Chahed K, Kabbage M, Guillier CL, Trimeche M, Chaieb A, et al. Identification of tumor antigens that elicit a humoral immune response in breast cancer patients' sera by serological proteome analysis (SERPA). Clin Chim Acta. 2008;393:95–102.

15.

Desmetz C, Bibeau F, Boissiere F, Bellet V, Rouanet P, Maudelonde T, et al. Proteomics-based identification of HSP60 as a tumor-associated antigen in early stage breast cancer and ductal carcinoma in situ. J Proteome Res. 2008;7:3830–7.

16.

Luo LY, Herrera I, Soosaipillai A, Diamandis EP. Identification of heat shock protein 90 and other proteins as tumour antigens by serological screening of an ovarian carcinoma expression library. Br J Cancer. 2002;87:339–43.

17.

Desmetz C, Bascoul-Mollevi C, Rochaix P, Lamy PJ, Kramar A, Rouanet P, et al. Identification of a new panel of serum autoantibodies associated with the presence of in situ carcinoma of the breast in younger women. Clin Cancer Res. 2009;15:4733–41.

18.

Sutandy FX, Qian J, Chen CS, Zhu H. Overview of protein microarrays. Curr Protoc Protein Sci. 2013, Chapter 27, Unit 27.1. doi:10.1002/0471140864.ps2701s72.

19.

Cretich M, Damin F, Chiari M. Protein microarray technology: how far off is routine diagnostics? Analyst. 2014;139:528–42.

20.

Hu S, Xie Z, Qian J, Blackshaw S, Zhu H. Functional protein microarray technology. Wiley Interdiscip Rev Syst Biol Med. 2012;3:255–68.

21.

Balboni I, Limb C, Tenenbaum JD, Utz PJ. Evaluation of microarray surfaces and arraying parameters for autoantibody profiling. Proteomics. 2008;8:3443–9.

22.

Seurynck-Servoss SL, Baird CL, Rodland KD, Zangar RC. Surface chemistries for antibody microarrays. Front Biosci. 2007;12:3956–64.

23.

Kusnezow W, Hoheisel JD. Solid supports for microarray immunoassays. J Mol Recognit. 2003;16:165–76.

24.

Zhu H, Snyder M. Protein chip technology. Curr Opin Chem Biol. 2003;7:55–63.

25.

Cretich M, Damin F, Pirri G, Chiari M. Protein and peptide arrays: recent trends and new directions. Biomol Eng. 2006;23:77–88.

26.

Jonkheijm P, Weinrich D, Schroder H, Niemeyer CM, Waldmann H. Chemical strategies for generating protein biochips. Angew Chem Int Ed Engl. 2008;47:9618–47.

27.

Rusmini F, Zhong Z, Feijen J. Protein immobilization strategies for protein biochips. Biomacromolecules. 2007;8:1775–89.

28.

Yang Z, Chevolot Y, Ataman-Önal Y, Choquet-Kastylevsky G, Souteyrand E, Laurenceau E. Cancer biomarkers detection using 3D microstructured protein chip: implementation of customized multiplex immunoassay. Sensors Actuators B Chem. 2012;175:22–8.

29.

Yang Z, Chevolot Y, Gehin T, Solassol J, Mange A, Souteyrand E, et al. Improvement of protein immobilization for the elaboration of tumor-associated antigen microarrays: application to the sensitive and specific detection of tumor markers from breast cancer sera. Biosens Bioelectron. 2013;40:385–92.

30.

Kramar A, Faraggi D, Fortune A, Reiser B. mROC: a computer program for combining tumour markers in predicting disease states. Comput Methods Prog Biomed. 2001;66:199–207.

31.

Lindquist S. The heat-shock response. Annu Rev Biochem. 1986;55:1151–91.

32.

Ellis RJ, Hartl FU. Principles of protein folding in the cellular environment. Curr Opin Struct Biol. 1999;9:102–10.

33.

Yang Z, Chevolot Y, Géhin T, Dugas V, Xanthopoulos N, Laporte V, et al. Characterization of three amino-functionalized surfaces and evaluation of antibody immobilization for the multiplex detection of tumor markers involved in colorectal cancer. Langmuir. 2013;29:1498–509.

34.

Kim J, Shin D, Chung W, Jang K, Lee K, Kim Y, et al. Effects of polymer grafting on a glass surface for protein chip applications. Colloids Surf B: Biointerfaces. 2004;33:67–75.

35.

El Khoury G, Laurenceau E, Chevolot Y, Mérieux Y, Desbos A, Fabien N, et al. Development of miniaturized immunoassay: influence of surface chemistry and comparison with enzyme-linked immunosorbent assay and Western blot. Anal Biochem. 2010;400:10–8.

36.

Seurynck-Servoss SL, White AM, Baird CL, Rodland KD, Zangar RC. Evaluation of surface chemistries for antibody microarrays. Anal Biochem. 2007;371:105–15.

37.

Kusnezow W, Jacob A, Walijew A, Diehl F, Hoheisel JD. Antibody microarrays: an evaluation of production parameters. Proteomics. 2003;3:254–64.

38.

Fan J, Upadhye S, Worster A. Understanding receiver operating characteristic (ROC) curves. Can J Emerg Med. 2006;8:19–20.

39.

He Y, Wu Y, Mou Z, Li W, Zou L, Fu T, et al. Proteomics-based identification of HSP60 as a tumor-associated antigen in colorectal cancer. Proteomics Clin Appl. 2007;1:336–42.

40.

Anderson KS, Sibani S, Wallstrom G, Qiu J, Mendoza EA, Raphael J, et al. Protein microarray signature of autoantibody biomarkers for the early detection of breast cancer. J Proteome Res. 2011;10:85–96.

41.

Liu W, Wang P, Li Z, Xu W, Dai L, Wang K, et al. Evaluation of tumour-associated antigen (TAA) miniarray in immunodiagnosis of colon cancer. Scand J Immunol. 2009;69:57–63.

42.

Li J, Wang LJ, Ying X, Han SX, Bai E, Zhang Y, et al. Immunodiagnostic value of combined detection of autoantibodies to tumor-associated antigens as biomarkers in pancreatic cancer. Scand J Immunol. 2012;75:342–9.

43.

Dai L, Ren P, Liu M, Imai H, Tan EM, Zhang JY. Using immunomic approach to enhance tumor-associated autoantibody detection in diagnosis of hepatocellular carcinoma. Clin Immunol. 2014;152:127–39.
Acknowledgments
China Scholarship Council is acknowledged for offering a Ph.D. fellowship to Liu Shi. The CNANO Rhône-Alpes and BQR Ecole Centrale de Lyon are acknowledged for financial support. NanoLyon is acknowledged for technical support.
Ethics declarations
Conflict of interest
The authors declare that they have no competing interests.
Informed consent
All human samples were prospectively collected between 2005 and 2007 at the CRLC Val d'Aurelle Cancer Institute (Montpellier, France) at the time of cancer diagnosis after obtaining written informed consent. This study was approved by the Montpellier University Hospital human research committee and the INSERM review board (RBM-03-63).
Electronic supplementary material
Below is the link to the electronic supplementary material.
About this article
Cite this article
Shi, L., Gehin, T., Chevolot, Y. et al. Anti-heat shock protein autoantibody profiling in breast cancer using customized protein microarray. Anal Bioanal Chem 408, 1497–1506 (2016). https://doi.org/10.1007/s00216-015-9257-2
Received:

Revised:

Accepted:

Published:

Issue Date:
Keywords
Breast cancer

Autoantibodies

Heat shock proteins

Protein microarray