Multi-instrument characterization of five nanodiamond samples: a thorough example of nanomaterial characterization
Abstract
Here, we report the most comprehensive characterization of nanodiamonds (NDs) yet undertaken. Five different samples from three different vendors were analyzed by a suite of analytical techniques, including X-ray photoelectron spectroscopy (XPS), time-of-flight secondary ion mass spectrometry (ToF-SIMS), inductively coupled plasma mass spectrometry (ICP-MS), diffuse reflectance infrared Fourier transform (DRIFT) spectroscopy, X-ray diffraction (XRD), transmission electron microscopy (TEM), electron energy loss spectroscopy (EELS), Brunauer-Emmett-Teller (BET) surface area measurements, and particle size distribution (PSD) measurements. XPS revealed the elemental compositions of the ND surfaces (83–87 at.% carbon and 12–14 at.% oxygen) with varying amounts of nitrogen (0.4–1.8 at.%), silicon (0.1–0.7 at.%), and tungsten (0.3 at.% only in samples from one vendor). ToF-SIMS and ICP showed metal impurities (Al, Fe, Ni, Cr, etc. with unexpectedly high amounts of W in one vendor's samples: ca. 900 ppm). Principal component analyses were performed on the ToF-SIMS and ICP data. DRIFT showed key functional groups (–OH, C=O, C–O, and C=C). BET showed surface areas of 50–214 m2/g. XRD and TEM revealed PSD (bimodal distribution and a wide PSD, 5–100 nm, for one vendor's samples). XRD also provided particle sizes (2.7–27 nm) and showed the presence of graphite. EELS gave the sp2/sp3 contents of the materials (37–88 % sp3). PSD measurements were performed via differential sedimentation of the particles (mean particle size ca. 17–50 nm). This comprehensive understanding should allow for improved construction of nanodiamond-based materials.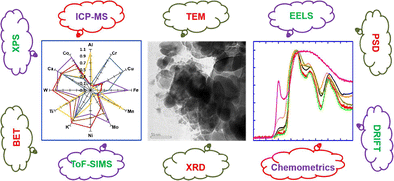 Keywords
Nanodiamond 
XPS 
ToF-SIMS 
XRD 
TEM 
DRIFT 
Notes
Acknowledgments
This work was supported financially by Diamond Analytics, a US Synthetic Company, Orem, UT, USA. We also acknowledge the Department of Chemistry and Biochemistry and College of Physical and Mathematical Sciences at Brigham Young University for their support of this work. We would like to thank Cody C. Frisby (US Synthetic Corporation) and Anna Nielsen (Brigham Young University) for analyzing the ICP samples.
Compliance with ethical standards
Conflict of interest
Some of the authors on this paper stand to benefit financially from the sale of nanodiamond-containing core-shell HPLC particles that are produced and marketed by Diamond Analytics.
The authors declare no other conflict of interest.
Copyright information
© Springer-Verlag Berlin Heidelberg 2015