Abstract
Antibiotics are commonly used in the poultry industry to treat bacterial infections. In the combat against bacterial resistance, policies require, besides a reduction of antibiotic usage in humans and animals, an up-to-date farmer registration mentioning all treatments. For enforcement of such policies, tests are needed to antedate administration and to determine the type of treatment so as to prevent off-label use and the supervacaneous use of last-resort antibiotics like cephalosporins and fluoroquinolones. After poultry treatment, high amounts of enrofloxacin and its metabolite ciprofloxacin are deposited in chicken feathers. A method is presented to discriminate different treatments based on differentiating extractable and non-extractable enrofloxacin and ciprofloxacin in chicken feathers. With this approach, we show it is possible to distinguish between a registered therapeutic oral treatment, an off-label spray treatment and an illegal prolonged sub-therapeutic treatment with enrofloxacin. This approach is a new and strong tool in the enforcement of new policies in the fight against off-label and supervacaneous antibiotic use.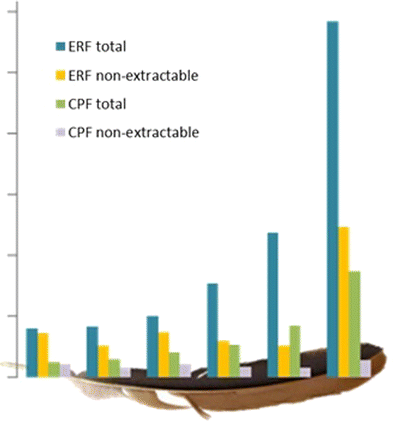 Access options
Buy single article
Instant access to the full article PDF.
US$ 39.95
Tax calculation will be finalised during checkout.
Subscribe to journal
Immediate online access to all issues from 2019. Subscription will auto renew annually.
US$ 119
Tax calculation will be finalised during checkout.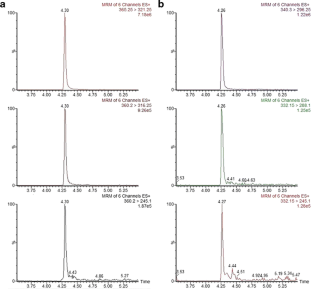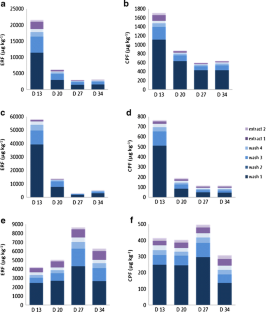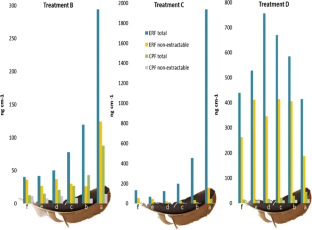 Abbreviations
ACN:

Acetonitrile

CPF:

Ciprofloxacin

EDTA:

Ethylenediaminetetra-acetic acid

ERF:

Enrofloxacin

FA:

Formic acid

LC:

Liquid chromatography

MeOH:

Methanol

MS:

Mass spectrometry

TFA:

Trifluoroacetic acid
References
1.

Feighner SD, Dashkevicz MP (1987) Subtherapeutic levels of antibiotics in poultry feeds and their effects on weight gain, feed efficiency, and bacterial cholyltaurine hydrolase activity. Appl Environ Microbiol 53(2):331–336

2.

Gullberg E, Cao S, Berg OG, Ilbäck C, Sandegren L, Hughes D, Andersson DI (2011) Selection of resistant bacteria at very low antibiotic concentrations. PLoS Pathog 7(7), e1002158

3.

Niels Fridmodt-Møller NR, Wegener HC (1998) Microbiological resistance promoted by misuse of antibiotics: a public health concern. Eur J Pub Health 8(3):193–194

4.

Commission E. (1990) Council Regulation (ECC) No 2377/90/EC Laying down a Community procedure for the establishment of maximum residue limits of veterinary medicinal products in foodstuffs of animal origin. Off J Eur Commun L224:1–8

5.

EU/37/2010 (2010) Commission Regulation EU/37/2010 on pharmacologically active substances and their classification regarding maximum residue limits in foodstuffs of animal origin. Off J Eur Commun L15:1–72

6.

Campoli-Richards DM, Monk JP, Price A, Benfield P, Todd PA, Ward A (1988) Ciprofloxacin. A review of its antibacterial activity, pharmacokinetic properties and therapeutic use. Drugs 35:373–447

7.

Slana M, Pahor V, Cvitkovič Maričič L, Sollner-Dolenc M (2014) Excretion pattern of enrofloxacin after oral treatment of chicken broilers. J Vet Pharmacol Ther 37(6):611–614

8.

San Martín B, Cornejo J, Iragüen D, Hidalgo H, Anadón A (2007) Depletion study of enrofloxacin and its metabolite ciprofloxacin in edible tissues and feathers of white leghorn hens by liquid chromatography coupled with tandem mass spectrometry. J Food Prot 70(8):1952–1957

9.

Cornejo J, Lapierre L, Iragüen D, Pizarro N, Hidalgo H, Martín BS (2011) Depletion study of three formulations of flumequine in edible tissues and drug transfer into chicken feathers. J Vet Pharmacol Ther 34(2):168–175

10.

Berendsen BJA, Bor G, Gerritsen HW, Jansen LJM, Zuidema T (2013) The disposition of oxytetracycline to feathers after poultry treatment. Food Addit Contam Part A 30(12):2102–2107

11.

Heinrich K, Chan D, Fussell RJ, Kay JF, Sharman M (2013) Can the unauthorised use of ceftiofur be detected in poultry? Food Addit Contam Part A Chem Anal Control Expo Risk Assess 30(10):1733–1738

12.

Love DC, Halden RU, Davis MF, Nachman KE (2012) Feather meal: a previously unrecognized route for reentry into the food supply of multiple pharmaceuticals and personal care products (PPCPs). Environ Sci Technol 46(7):3795–3802

13.

CD 2002/657/EC (2002) Commission Decision 2002/657/EC of 12 August 2002 implementing Council Directive 96/23/EC concerning the performance of analytical methods and the interpretation of results. Off J Eur Commun. L221:8–36

14.

Sorgel F, Jaehde U, Naber K, Stephan U (1989) Pharmacokinetic disposition of quinolones in human body fluids and tissues. Clin Pharmacokinet 16(suppl 1):5–24

15.

Cester CC, Toutain PL (1997) A comprehensive model for enrofloxacin to ciprofloxacin transformation and disposition in dog. J Pharm Sci 86(10):1148–1155
Acknowledgments
This research was funded by the Dutch Ministry of Economic Affairs under its statutory tasks (project number 124.73.148.01). We thank Maria Groot for her assistance in designing the animal study.
Ethics declarations
Conflict of interest
The authors declare that they have no competing interests.
About this article
Cite this article
Jansen, L.J.M., Bolck, Y.J.C. & Berendsen, B.J.A. Feather segmentation to discriminate between different enrofloxacin treatments in order to monitor off-label use in the poultry sector. Anal Bioanal Chem 408, 495–502 (2016). https://doi.org/10.1007/s00216-015-9118-z
Received:

Revised:

Accepted:

Published:

Issue Date:
Keywords
Antibiotics

Enrofloxacin

Feathers

Treatments

Antedating

LC-MS/MS