Abstract
Multi-residue methods permitting the high-throughput and affordable simultaneous determination of an extended range of endocrine disrupting chemicals (EDCs) with reduced time and cost of analysis is of prime interest in order to characterize a whole set of bioactive compounds. Such a method based on UHPLC-MS/MS measurement and dedicated to 13 estrogenic EDCs was developed and applied to biological matrices. Two molecular recognition-based strategies, either molecular imprinted polymer (MIP) with phenolic template or estrogen receptors (ERα) immobilized on a sorbent, were assessed in terms of recovery and purification efficiency. Both approaches demonstrated their suitability to measure ultra-trace levels of estrogenic EDCs in aqueous samples. Applicability of the MIP procedure to urine and serum samples has also been demonstrated.
Access options
Buy single article
Instant access to the full article PDF.
USD 39.95
Price excludes VAT (USA)
Tax calculation will be finalised during checkout.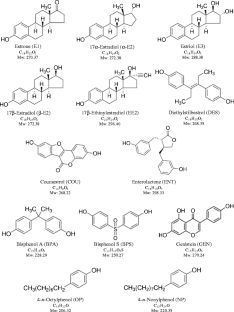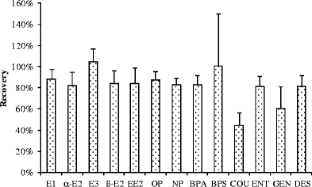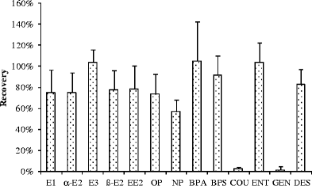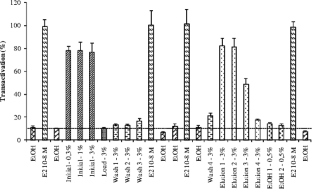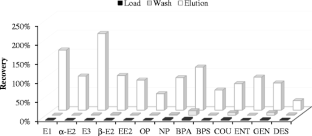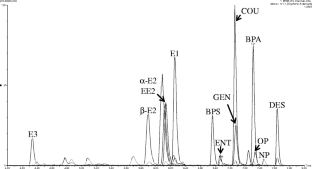 References
Skakkebaek N, Rajpert-De Meyts E, Main KM (2001) Hum Reprod 16:972–978

Zhou F, Zhang L, Liu A, Shen Y, Yuan J, Yu X, Feng X, Xu Q, Cheng C (2013) J Chromatogr B 938:80–85

Shen Y, Ren M-L, Feng X, Gao Y-X, Xu Q, Cai Y-L (2014) Eur J Obstet Gynecol Reprod Biol 178:137–137

Tang R, Chen M-J, Ding G-D, Chen X-J, Han X-M, Zhou K, Chen L-M, Xia Y-K, Tian Y, Wang X-R (2013) Environ Pollut 178:115–120

Casals-Casas C, Desvergne B (2011) Annu Rev Physiol 73:135–162

Virtanen HE, Adamsson A (2012) Mol Cell Endocr 355:208–220

Grün F, Blumberg B (2009) Mol Cell Endocr 304:19–29

Ziegler RG, Faupel-Badger JM, Sue LY, Fuhrman BJ, Falk RT, Boyd-Morin J, Henderson MK, Hoover RN, Veenstra TD, Keefer LK, Xu X (2010) J Steroid Biochem Mol Biol 121:538–545

Diamanti-Kandarakis E, Bourguignon J-P, Giudice LC, Hauser R, Prins GS, Soto AM, Zoeller RT, Gore AC (2009) Endocr Rev 30:293–342

Aris A (2014) Reprod Toxicol 45:8–13

Prasain JK, Arabshahi A, Moore RD II, Greendale GA, Wyss JM, Barnes S (2010) J Chromatogr B 878:994–1002

Ferrara F, Ademollo N, Orrù MA, Silvestroni L, Funari E (2011) Chemosphere 82:1044–1049

Kushnir MM, Rockwood AL, Bergquist J, Varshavsky M, Roberts WL, Yue B, Bunker AM, Meikle AW (2008) Am J Clin Pathol 129:530–539

Pichon V, Chapuis-Hugon F (2008) Anal Chim Acta 622:48–61

Hu Y, Pan J, Zhang K, Lian H, Li G (2013) Trends Anal Chem 43:37–52

Zhang J-H, Jiang M, Zou L, Shi D, Mei S-R, Zhu Y-X, Shi Y, Dai K, Lu B (2006) Anal Bioanal Chem 385:780–786

Gadzała-Kopciuch R, Ričanyová J, Buszewski B (2009) J Chromatogr B 877:1177–1184

Chrzanowska AM, Poliwoda A, Wieczorek PP (2015) J Chromatogr A 1392:1–9

Le Maire A, Bourguet W, Balaguer P (2010) Cell Mol Life Sci 67:1219–1237

Nguyen HP, Li L, Gatson JW, Maass D, Wigginton JG, Simpkins JW, Schug KA (2011) J Pharma Biomed Anal 54(4):830–837

Lin Y-H, Chen C-Y, Wang G-S (2007) Rapid Commun Mass Spectrom 21:1973–1983

Commission Decision 2002/657/EC of 12 August 2002 implementing Council Directive 96/23/EC concerning the performance of analytical methods and the interpretation of results (Text with EEA relevance) (notified under document number C(2002) 3044). Off J Eur Commun 2002:L221, 8

Balaguer P, François F, Comunale F, Fenet H, Boussioux A-M, Pons M, Nicolas J-C, Casellas C (1999) Sci Total Environ 233:47–56

Li W, Li Y-H, Li AC, Zhou S, Naidong W (2005) J Chromatogr B 825:223–232

Blonder J, Johann DJ, Veenstra TD, Xiao Z, Emmert-Buck MR, Ziegler RG, Rodriguez-Canales J, Hanson JA, Xu X (2008) Anal Chem 80:8845–8852

Xu L, Spink DC (2008) Anal Biochem 375:105–114

Pillon A, Boussioux A-M, Escande A, Aït-Aïssa S, Gomez E, Fenet H, Ruff M, Moras D, Vignon F, Duchesne M-J, Casellas C, Nicolas J-C, Balaguer P (2005) Environ Health Perspect 113(3):278–284

Liu Z-H, Kanjo Y, Mizutani S (2010) Water Res 44:567–577

Molina-Molina J-M, Amaya E, Grimaldi M, Sáenz J-M, Real M, Fernández MF, Balaguer P, Olea N (2013) Toxicol Appl Pharmacol 272:127–136

Chandsawangbhuwana C, Baker ME (2014) Steroids 80:37–43

Delfosse V, Grimaldi M, Cavaillès V, Balaguer P, Bourguet W (2014) Environ Health Perspect 122(12):1306–1313

Delfosse V, Grimaldi M, Pons J-L, Boulahtouf A, Le Maire A, Cavailles V, Labesse G, Bourguet W, Balaguer P (2012) Proc Natl Acad Sci U S A 109:14930–14935

Adlercreutz H, Yamada T, Wähälä K, Watanabe S (1999) Am J Obstet Gynecol 180(3):737–743

Kuijper E, Ket JCF, Caanen MR, Lambalk CB (2013) Reprod Biomed Online 27:33–63

Pirard C, Sagot C, Deville M, Dubois N, Charlier C (2012) Environ Int 48:78–83
Acknowledgments
The authors want to express their special thanks to all the volunteers who have permitted the collection of biological samples exploited in this work. They also thank the Centre Hospitalier Universitaire de Toulouse as the promoter of the corresponding clinical protocol.
Conflict of Interest
The authors declare no conflict of interest.
Electronic supplementary material
Below is the link to the electronic supplementary material.
About this article
Cite this article
Bousoumah, R., Antignac, J.P., Camel, V. et al. Development of a molecular recognition based approach for multi-residue extraction of estrogenic endocrine disruptors from biological fluids coupled to liquid chromatography-tandem mass spectrometry measurement. Anal Bioanal Chem 407, 8713–8723 (2015). https://doi.org/10.1007/s00216-015-9024-4
Received:

Revised:

Accepted:

Published:

Issue Date:

DOI: https://doi.org/10.1007/s00216-015-9024-4
Keywords