Angularly resolved ellipsometric optical biosensing by means of Bloch surface waves
Part of the following topical collections:
Abstract
In label-free biosensing, a continuous improvement of the limit of detection is necessary to resolve the small change of the surface refractive index produced by interacting biomolecules at a very small concentration. In the present work, optical sensors based on one-dimensional photonic crystals supporting Bloch surface waves are proposed and adopted for label-free optical biosensing. We describe the implementation of an angularly resolved ellipsometric optical sensing scheme based on Bloch surface waves sustained by tantala/silica multilayers. The angular operation is obtained using a focused beam at fixed wavelength and detection of the angular reflectance spectrum by means of an array detector. The results show that the experimental limit of detection for a particular photonic crystal design is 6.5 × 10−7 refractive index units (RIU)/Hz1/2 and further decrease could be obtained. For the first time, we report on the practical application of this technique to a cancer biomarker protocol that aims at the detection of a specific glycoprotein (angiopoietin 2) involved in angiogenesis and inflammation processes.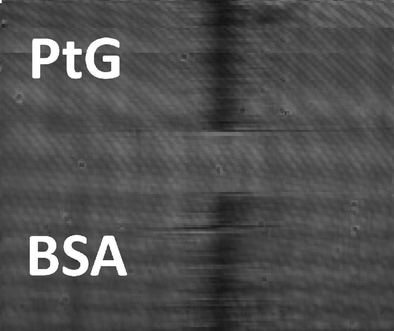 Keywords
Optical biosensing 
Label-free biosensors 
Photonic crystals 
Bloch surface waves 
Ellipsometry 
Biophotonics 
Notes
Acknowledgments
This research has received funding from the European Union Seventh Framework Program (FP7/2007–2013) under grant agreement no. 318035—Project BILOBA (www.biloba-project.eu). The authors gratefully acknowledge Agostino Occhicone from Sapienza University of Rome (Italy) for his assistance with experimental work, Frank Sonntag and Stefan Schmieder from Fraunhofer IWS (Germany) for their fabrication of the PDMS fluidic cell and Emmanuel Maillart from HORIBA Jobin Yvon (France) and Lucia Napione from the University of Torino (Italy) for their fruitful discussions.
Copyright information
© Springer-Verlag Berlin Heidelberg 2015