Identification of carbonylated lipids from different phospholipid classes by shotgun and LC-MS lipidomics
Part of the following topical collections:
Abstract
Oxidized lipids play a significant role in the pathogenesis of numerous oxidative stress-related human disorders, such as atherosclerosis, obesity, inflammation, and autoimmune diseases. Lipid peroxidation, induced by reactive oxygen and nitrogen species, yields a high variety of modified lipids. Among them, carbonylated lipid peroxidation products (oxoLPP), formed by oxidation of the fatty acid moiety yielding aldehydes or ketones (carbonyl groups), are electrophilic compounds that are able to modify nucleophilic substrates like proteins, nucleic acid, and aminophospholipids. Some carbonylated phosphatidylcholines possess even pro-inflammatory activities. However, little is known about oxoLPP derived from other phospholipid (PL) classes. Here, we present a new analytical strategy based on the mass spectrometry (MS) of PL-oxoLPP derivatized with 7-(diethylamino)coumarin-3-carbohydrazide (CHH). Shotgun MS revealed many oxoLPP derived from in vitro oxidized glycerophosphatidylglycerols (PG, 31), glycerophosphatidylcholine (PC, 23), glycerophosphatidylethanolamine (PE, 34), glycerophosphatidylserines (PS, 7), glycerophosphatidic acids (PA, 17), and phosphatidylinositiolphosphates (PIP, 6) vesicles. This data were used to optimize LipidXplorer-assisted identification, and a python-based post-processing script was developed to increase both throughput and accuracy. When applied to full lipid extracts from rat primary cardiomyocytes treated with peroxynitrite donor SIN-1, ten PL-bound oxoLPP were unambiguously identified by LC-MS, including two PC-, two PE-, one PG-, two PS-, and three PA-derived species. Some of the well-known carbonylated PC were detected, while most PL-oxoLPP were shown for the first time.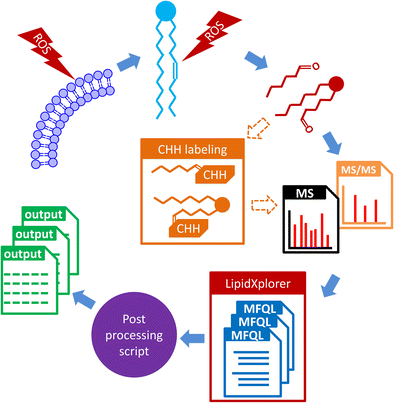 Keywords
7-(Diethylamino)coumarin-3-carbohydrazide 
Carbonylated lipids 
LC-MS 
Lipid peroxidation products 
LipidXplorer 
Shotgun lipidomics 
Abbreviations
AA

Arachidonic acid

CHH

7-(Diethylamino)coumarin-3-carbohydrazide

CID

Collision-induced dissociation

DAG

Diacylglycerols

DBE

Double bond equivalents

DDA

Data-dependent acquisition

DHA

Docosahexaenoic acid

ESI

Electrospray

FA

Fatty acid

GPF

Gas phase fractionation

HG

Head group

HOOA-PC

1-Palmitoyl-2-(5-hydroxy-8-oxo-oct-6-enoyl)-glycerophosphatidylcholine

LA

Linoleic acid

LC-MS

Liquid chromatography coupled to mass spectrometry

LPP

Lipid peroxidation products

MFQL

Molecular fragmentation query language

MS

Mass spectrometry

MS/MS

Tandem mass spectrometry

MTBE

Methyl-tert-butyl ether

nCE

Normalized collision energy

OA

Oleic acid

OAP

Oxygen addition products

OCP

Oxygen cleavage products

oxoLPP

Carbonylated lipid peroxidation products

oxPC

Oxidized phosphatidylcholine

PA

Glycerophosphatidic acids

PAPC

1-Palmitoyl-2-arachidonyl-glycerophosphatidylcholine

PAPE

1-Palmitoyl-2-arachidonoyl-glycerophosphatidylethanolamine

PAPG

1-Palmitoyl-2-arachidonoyl-glycerophosphatidylglycerol

PC

Glycerophosphatidylcholine

PDPC

1-Palmitoyl-2-docosahexaenoyl-glycerophosphatidylcholine

PDPE

1-Palmitoyl-2-docosahexaenoyl-glycerophosphatidylethanolamine

PE

Glycerophosphatidylethanolamine

PI

Glycerophosphatidylinositols

PIP

Phosphatidylinositiolphosphates

PL

Glycerophospholipids

PLPA

1-Palmitoyl-2-linoleoyl-glycerophosphatidic acid

PLPC

1-Palmitoyl-2-linoleoyl-glycerophosphatidylcholine

PLPE

1-Palmitoyl-2-linoleoyl-glycerophosphatidylethanolamine

PLPG

1-Palmitoyl-2-linoleoyl-glycerophosphatidylglycerol

PLPS

1-Palmitoyl-2-linoleoyl-glycerophosphatidylserine

POPA

1-Palmitoyl-2-oleoyl-glycerophosphatidic acid

POPC

1-Palmitoyl-2-oleoyl-glycerophosphatidylcholine

POPE

1-Palmitoyl-2-oleoyl-glycerophosphatidylethanolamine

POPG

1-Palmitoyl-2-oleoyl-glycerophosphatidylglycerol

POPS

1-Palmitoyl-2-oleoyl-glycerophosphatidylserine

POVPC

1-Palmitoyl-2-(5-oxo-valeryl)-glycerophosphatidylcholine

PS

Glycerophosphatidylserines

PUFA

Polyunsaturated fatty acid

RNS

Reactive nitrogen species

ROS

Reactive oxygen species

RPC

Reversed phase chromatography

SAPC

1-Stearoyl-2-arachidonoylglycerophosphatidylcholine

SAPIP

1-Stearoyl-2-arachidonoyl-gylcerophosphatidylinositolphosphate

SIN-1

3-Morpholinosydnonimine

SLPIP

1-Stearoyl-2-linoleoyl-glycerophosphatidylinositolphosphate
Notes
Acknowledgments
The authors are thankful to Prof. Ralf Hoffmann (Institute of Bioanalytical Chemistry, University of Leipzig) for providing access to his laboratory and mass spectrometers. Financial support from European Regional Development Fund (ERDF, European Union and Free State Saxony; 100146238 and 100121468 to M.F) and a stipend to I.M. provided by Universität Leipzig are gratefully acknowledged.
Copyright information
© Springer-Verlag Berlin Heidelberg 2015