Abstract
Antimicrobial residues found to be present in milk can have both health and economic impacts. For these reasons, the widespread routine testing of milk is required. Due to delays with sample handling and test scheduling, laboratory-based tests are not always suited for making decisions about raw material intake and product release, especially when samples require shipping to a central testing facility. Therefore, rapid on-site screening tests that can produce results within a matter of minutes are required to facilitate rapid intake and product release processes. Such tests must be simple for use by non-technical staff. There is increasing momentum towards the development and implementation of multiplexing tests that can detect a range of important antimicrobial residues simultaneously. A simple in situ multiplexed planar waveguide device that can simultaneously detect chloramphenicol, streptomycin and desfuroylceftiofur in raw dairy milk, without sample preparation, has been developed. Samples are simply mixed with antibody prior to an aliquot being passed through the detection cartridge for 5 min before reading on a field-deployable portable instrument. Multiplexed calibration curves were produced in both buffer and raw milk. Buffer curves, for chloramphenicol, streptomycin and desfuroylceftiofur, showed linear ranges (inhibitory concentration (IC)20–IC80) of 0.1–0.9, 3–129 and 12–26 ng/ml, whilst linear range in milk was 0.13–0.74, 11–376 and 2–12 ng/ml, respectively, thus meeting European legislated concentration requirements for both chloramphenicol and streptomycin, in milk, without the need for any sample preparation. Desfuroylceftiofur-contaminated samples require only simple sample dilution to bring positive samples within the range of quantification. Assay repeatability and reproducibility were lower than 12 coefficient of variation (%CV), whilst blank raw milk samples (n = 9) showed repeatability ranging between 4.2 and 8.1 %CV when measured on all three calibration curves.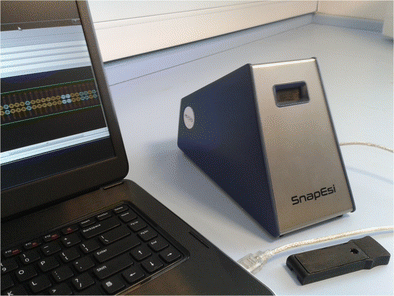 Access options
Buy single article
Instant access to the full article PDF.
US$ 39.95
Tax calculation will be finalised during checkout.
Subscribe to journal
Immediate online access to all issues from 2019. Subscription will auto renew annually.
US$ 119
Tax calculation will be finalised during checkout.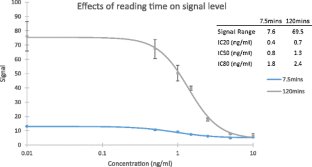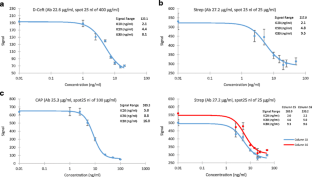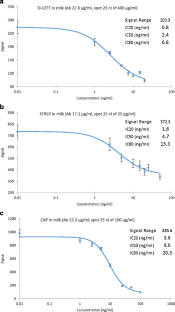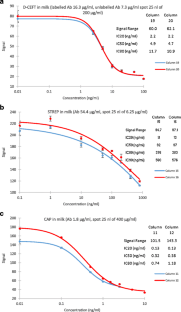 References
1.

Centers for Disease Control and Prevention (2014) Antibiotic use in food-producing animals—tracking and reducing the public health impact. Available via http://www.cdc.gov/narms/animals.html. Accessed 16/01 2015

2.

McGrath TF, Elliott CT, Fodey TL (2012) Biosensors for the analysis of microbiological and chemical contaminants in food. Anal Bioanal Chem 403:75–92

3.

Cerniglia C, Kotarski S (1999) Evaluation of veterinary drug residues in food for their potential to affect human intestinal microflora. Regul Toxicol Pharmacol 29:238–261

4.

Kaklamanos G, Vincent U, von Holst C (2013) Multi-residue method for the detection of veterinary drugs in distillers grains by liquid chromatography-Orbitrap high resolution mass spectrometry. J Chromatogr A 1322:38–48

5.

FDA Grade "A" Pasteurized Milk Ordinance (Includes provisions from the Grade "A" Condensed and Dry Milk Products and Condensed and Dry Whey—Supplement I to the Grade "A" PMO) 2009 Revision U.S. Department of Health and Human Services. Public Health Service. Food and Drug Administration. Available via http://www.fda.gov/downloads/Food/GuidanceRegulation/UCM209789.pdf. Accessed 09/29 2014

6.

G. M. Jones (2009) On-farm tests for drug residues in milk communications and marketing. College of Agriculture and Life Sciences, Virginia Polytechnic Institute and State University. Available via http://pubs.ext.vt.edu/404/404-401/404-401_pdf.pdf. Accessed 09/29 2014

7.

Commission Regulation (EU) No 37/2010 of 22 December 2009 on pharmacologically active substances and their classification regarding maximum residue limits in foodstuffs of animal origin (text with EEA relevance) (OJ L 15, 20.1.2010, p. 1), consolidated version 2014-08-19

8.

Commission Decision 2002/657/EC of 12 August 2002 implementing Council Directive 96/23/EC concerning the performance of analytical methods and the interpretation of results (notified under document number C(2002) 3044) (Text with EEA relevance) (OJ L 221, 17.8.2002, p. 8) consolidated version 2004-01-10

9.

European Commission. Commission Staff Working Document on the Implementation of National Residue Monitoring Plans in the Member States in 2012 (Council Directive 96/23/EC). Available via http://ec.europa.eu/food/food/chemicalsafety/residues/docs/workdoc_2012_en.pdf. Accessed 10/13 2014

10.

Charm Sciences Inc (2014) Charm II. Available via http://www.charm.com/en/products/charm-ii.html. Accessed 09/30 2014

11.

IDEXX Laboratories Inc (2014) Dairy testing. Available via http://www.idexx.co.uk/dairy/dairy-testing.html. Accessed 09/30 2014

12.

Charm Sciences Inc (2014) Charm ROSA milk tests. Available via http://www.charm.com/en/products/rosa-milk.html. Accessed 09/30 2014

13.

Neogen Corporation Food Safety Dairy Analysis Test Kits. Available via http://www.neogen.com/FoodSafety/FS_DA_Index.html. Accessed 09/30 2014

14.

DSM (2014) Milk tests. Available via http://www.dsm.com/markets/foodandbeverages/en_US/products/tests/delvotest.html#. Accessed 09/30 2014

15.

Unisensor (2012) Unisensor home page. Available via http://www.unisensor.be/. Accessed 01/13 2015

16.

Bohm DA, Stachel CS, Gowik P (2009) Multi-method for the determination of antibiotics of different substance groups in milk and validation in accordance with Commission Decision 2002/657/EC. J Chromatogr A 1216:8217–8223

17.

Deng X, Yang H, Li J et al (2011) Multiclass residues screening of 105 veterinary drugs in meat, milk, and egg using ultra high performance liquid chromatography tandem quadrupole time-of-flight mass spectrometry. J Liq Chromatogr Rel Technol 34:2286–2303

18.

Freitas A, Barbosa J, Ramos F (2013) Development and validation of a multi-residue and multiclass ultra-high-pressure liquid chromatography-tandem mass spectrometry screening of antibiotics in milk. Int Dairy J 33:38–43

19.

Hou X, Chen G, Zhu L et al (2014) Development and validation of an ultra high performance liquid chromatography tandem mass spectrometry method for simultaneous determination of sulfonamides, quinolones and benzimidazoles in bovine milk. J Chromatogr B 962:20–29

20.

Toaldo IM, Gamba GZ, Picinin LA et al (2012) Multiclass analysis of antibacterial residues in milk using RP-liquid chromatography with photodiode array and fluorescence detection and tandem mass spectrometer confirmation. Talanta 99:616–624

21.

Raz SR, Bremer MGEG, Haasnoot W et al (2009) Label-free and multiplex detection of antibiotic residues in milk using imaging surface plasmon resonance-based immunosensor. Anal Chem 81:7743–7749

22.

Douglas D, Banaszewski K, Juskelis R et al (2012) Validation of a rapid lateral flow test for the simultaneous determination of beta-lactam drugs and flunixin in raw milk. J Food Prot 75:1270–1277

23.

Zhi A, Li B, Liu Q et al (2010) Development of a lateral-flow immunochromatographic test device for the rapid detection of difloxacin residues. Food Agric Immunol 21:335–345

24.

Meneely JP, Campbell K, Greef C et al (2013) Development and validation of an ultrasensitive fluorescence planar waveguide biosensor for the detection of paralytic shellfish toxins in marine algae. Biosens Bioelectron 41:691–697

25.

Devlin S, Meneely JP, Greer B et al (2013) Next generation planar waveguide detection of microcystins in freshwater and cyanobacterial extracts, utilising a novel lysis method for portable sample preparation and analysis. Anal Chim Acta 769:108–113

26.

Lochhead MJ, Todorof K, Delaney M et al (2011) Rapid multiplexed immunoassay for simultaneous serodiagnosis of HIV-1 and coinfections. J Clin Microbiol 49:3584–3590

27.

Burkin M, Galvidis I (2013) Immunochemical detection of apramycin as a contaminant in tissues of edible animals. Food Control 34:408–413

28.

McNamee SE, Elliott CT, Delahaut P et al (2013) Multiplex biotoxin surface plasmon resonance method for marine biotoxins in algal and seawater samples. Environ Sci Pollut Res 20:6794–6807

29.

Vdovenko MM, Lu C, Yu F et al (2014) Development of ultrasensitive direct chemiluminescent enzyme immunoassay for determination of aflatoxin M1 in milk. Food Chem 158:310–314

30.

Reimer G, Gee S, Hammock B (1998) Comparison of a time-resolved fluorescence immunoassay and an enzyme-linked immunosorbent assay for the analysis of atrazine in water. J Agric Food Chem 46:3353–3358

31.

McGrath TF, Campbell K, Fodey TL et al (2013) An evaluation of the capability of a biolayer interferometry biosensor to detect low-molecular-weight food contaminants. Anal Bioanal Chem 405:2535–2544
Additional information
Published in the topical collection on Hormone and Veterinary Drug Residue Analysis with guest editors Siska Croubels, Els Daeseleire, Sarah De Saeger, Peter Van Eenoo, and Lynn Vanhaecke.
About this article
Cite this article
McGrath, T.F., McClintock, L., Dunn, J.S. et al. Development of a rapid multiplexed assay for the direct screening of antimicrobial residues in raw milk. Anal Bioanal Chem 407, 4459–4472 (2015). https://doi.org/10.1007/s00216-015-8526-4
Received:

Revised:

Accepted:

Published:

Issue Date:
Keywords
Rapid multiplexed screening

Veterinary drug residue milk

No sample preparation

Planar waveguide

On-site screening