S1 certification of alpha-endosulfan, beta-endosulfan, and endosulfan sulfate in a candidate certified reference material (organochlorine pesticides in tea) by isotope dilution gas chromatography-mass spectrometry
Part of the following topical collections:
Abstract
This paper presents the certification of alpha-endosulfan, beta-endosulfan, and endosulfan sulfate in a candidate tea certified reference material (code: GLHK-11-03) according to the requirements of the ISO Guide 30 series. Certification of GLHK-11-03 was based on an analytical method purposely developed for the accurate measurement of the mass fraction of the target analytes in the material. An isotope dilution mass spectrometry (IDMS) method involving determination by (i) gas chromatography-negative chemical ionization-mass spectrometry (GC-NCI-MS) and (ii) gas chromatography-electron ionization-high-resolution mass spectrometry (GC-EI-HRMS) techniques was employed. The performance of the described method was demonstrated through participation in the key comparison CCQM-K95 "Mid-Polarity Analytes in Food Matrix: Mid-Polarity Pesticides in Tea" organized by the Consultative Committee for Amount of Substance-Metrology in Chemistry in 2012, where the study material was the same as the certified reference material (CRM). The values reported by using the developed method were in good agreement with the key comparison reference value (KCRV) assigned for beta-endosulfan (727 ± 14 μg kg−1) and endosulfan sulfate (505 ± 11 μg kg−1), where the degree of equivalence (DoE) values were 0.41 and 0.40, respectively. The certified values of alpha-endosulfan, beta-endosulfan, and endosulfan sulfate in dry mass fraction in GLHK-11-03 were 350, 730, and 502 μg kg−1, respectively, and the respective expanded uncertainties, due to sample inhomogeneity, long-term and short-term stability, and variability in the characterization procedure, were 27 μg kg−1 (7.8 %), 48 μg kg−1 (6.6 %), and 33 μg kg−1 (6.6 %).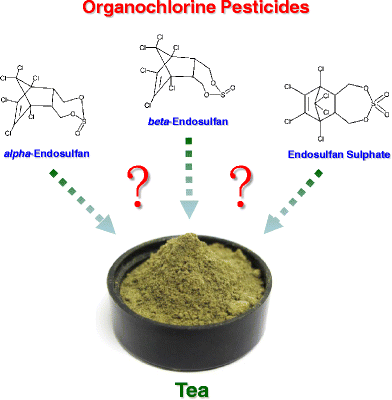 Keywords
Certified reference material 
Alpha-endosulfan 
Beta-endosulfan 
Endosulfan sulfate 
Isotope dilution gas chromatography-mass spectrometry 
Notes
Acknowledgments
The authors would like to thank Dr. Chau-ming Lau (Government Chemist) of the Government Laboratory of HKSAR, for his support and encouragement during this project. Thanks are also given to Drs. Wai-on Lee, Yiu-chung Yip, Yiu-chung Wong, and Mr. Chi-shing Ng for their helpful discussion and Wing-yin Yeung, Wing-ki Law, Chung-tung Kwok, Wai-shan Chu, and Phoebe Y. T. Hon for their contributions in this work. The contents of this paper do not necessarily reflect the views of the Government of the HKSAR nor does mention of trade names or commercial products constitute endorsement or recommendations for use.
References
1.

International Organization for Standardization, Geneva, Switzerland, ISO Guide 35:2006

Google Scholar

2.

International Organization for Standardization, Geneva, Switzerland, ISO Guide 34:2009

Google Scholar

3.

Food and Agriculture Organization of the United Nations – Production, FAOSTAT

Google Scholar

4.

5.

6.

US Environmental Protection Agency, Reregistration eligibility decision for endosulfan, EPA 738-R-02-013 November 2002

Google Scholar

7.

8.

9.

10.

11.

12.

13.

14.

15.

16.

17.

18.

19.

20.

21.

Ferrer C, Gómez MJ, García-Reyes JF, Ferrer I, Thurman EM, Fernández-Alba AR (2005) J Chromatogr A 1069:183–194

CrossRef

Google Scholar

22.

Han L, Guo D, Deng X, Wang M, Wang C, Ma Y (2007) Se Pu 25:902–906 (Chinese edn)

Google Scholar

23.

Hou ZG, Li YR, Zhang Y, Wang XM, Chen D, Lv ZB, Yuan X (2011) Afr J Biotech 10:19764–19770

Google Scholar

24.

Lozano A, Rajski L, Belmonte-Valles N, Uclés A, Uclés S, Mezcua M, Femández-Alba AR (2012) J Chromatogr A 1268:109–122

CrossRef

Google Scholar

25.

26.

Amirahmadi M, Shoeibi S, Abdollahi M, Rastegar H, Khosrokhavar R, Hamedani MP (2013) Iran J Environ Health Sci Eng 10:9

CrossRef

Google Scholar

27.

Zhang X, Mobley N, Zhang J, Zheng X, Lu L, Ragin O, Smith CJ (2010) J Agric Food Chem 58:11553–11560

CrossRef

Google Scholar

28.

Zhao Q, Jin B, Xie L, Wu W, Lan F, Lin L, Han R (2006) Se Pu 24:629–632 (Chinese edn)

Google Scholar

29.

30.

Li AJ, Wang MT, Song LG, Song A, Rong H, Yao TL (2007) Agrochemicals 46:839–840, 845

Google Scholar

31.

General Administration of Quality Supervision, Inspection and Quarantine of People's Republic of China, GB/T23204–2008 (Chinese edn)

Google Scholar

32.

General Administration of Quality Supervision, Inspection and Quarantine of People's Republic of China, GB/T23376–2009 (Chinese edn)

Google Scholar

33.

Zhang Y, Liu JW, Zheng WJ, Wang L, Zhang HY, Fang GZ, Wang S (2008) J Environ Sci Health B 43:127–133

CrossRef

Google Scholar

34.

35.

Lu X, Ren FS, Wang WB, Du HX, Li HD, Ding RY, Zhu DW, Lee NA, Sheild R, Kennedy IR (2006) J Tea Sci 02

Google Scholar

36.

37.

38.

39.

Hon PYT, Chu PWS, Cheng CH, Lee TCL, Chan PK, Cheung STC, Wong YC (2011) J Chromatogr A 1218:6907–6913

CrossRef

Google Scholar

40.

41.

Sin DWM, Chan PK, Cheung STC, Wong YL, Wong SK, Mok CS, Wong YC (2012) Anal Chim Acta 721:110–114

CrossRef

Google Scholar

42.

43.

Kanrar B, Mandal S, Bhattacharyya A (2010) J AOAC Int 93:411–424

Google Scholar

44.

European Commission, Commission Decision of 12 August 2002 implementing Council Directive 96/23/EC concerning the performance of analytical methods and interpretation of results (2002/657/EC) (2002) Off J Eur Union L221:8–36

Google Scholar

45.

CCQM-K95 'Mid-polarity analytes in food matrix: mid-polarity pesticides in tea' final report, October 2014

Google Scholar

46.

Traceability in the CIPM MRA, CIPM 2009-24, Revised 13 October 2009

Google Scholar

47.

48.

Guide to the expression of uncertainty in measurement, ISO, Geneva (1993) (Reprinted 1995: reissued as ISO Guide 98–3 (2008))

Google Scholar
Copyright information
© Springer-Verlag Berlin Heidelberg 2015