Use of LC–MS–MS as an alternative to currently available immunoassay methods to quantitate corticosterone in egg yolk and albumen
Part of the following topical collections:
Abstract
Corticosterone (CORT) is the dominant plasma glucocorticoid in birds. There has been increasing interest in the function of CORT in avian egg yolk and in the potential to use CORT concentrations in eggs to quantify stress and to assess the effect of maternal stress on offspring. The concentration of CORT in egg yolk is most frequently assessed using enzyme or radioimmunoassays, alone or in combination with high-performance liquid chromatography. However, the quantification of CORT is frequently hampered by the presence of high concentrations of other steroid hormones which cross-react with the CORT antibody. As an alternative, we developed a sensitive and specific LC–MS–MS method. The sample-preparation procedure consisted of a protein–lipid precipitation step, followed by defatting and clean-up using a C18 SPE column. Chromatography was performed on an Acquity C18 BEH column (50 mm × 2.1 mm i.d., dp: 1.7 μm, run-time: 6 min), using 0.1 % formic acid in both water (A) and acetonitrile (B) as mobile phases. The MS–MS instrument was operated in the positive-electrospray-ionization mode. The method was validated in-house according to European Guidelines (linearity, accuracy and precision, limits of quantification and detection, specificity, stability) and the results fell within the accepted ranges. The method was successfully used for the analysis of CORT in yolk and albumen of eggs collected from eight breeding lesser black-backed gulls at a Flemish coastal colony. CORT concentrations were in the range 42.4–166.3 pg g−1 in albumen and < LOQ (75 pg g−1)–762.5 pg g−1 in yolk.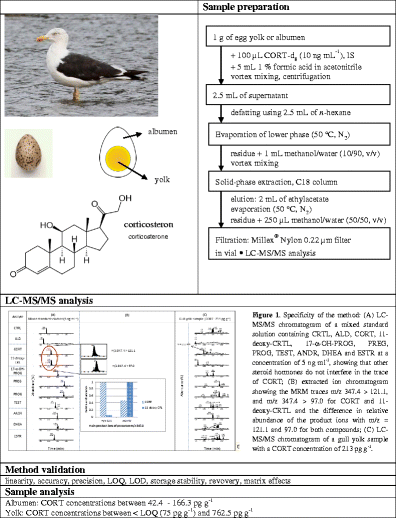 Keywords
Corticosterone 
LC–MS–MS 
Eggs 
Yolk 
Albumen 
Steroid hormones 
Abbreviations
11-deoxy-CRTL

11-Deoxycortisol

17-α-OH-PROG

17-α-Hydroxyprogesterone

a

Slope calibration curve

ALD

Aldosterone

ANDR

Androstenedione

APCI

Atmospheric-pressure chemical ionization

CORT

Corticosterone

CORT-d8

Deuterated corticosterone

CRTL

Cortisol

DHEA

Dehydroepiandrosterone

EIA

Enzyme immunoassay

ESI

Electrospray ionization

ESTR

Estradiol

EU

European Union

FDA

Food and Drug Administration

g

Goodness-of-fit coefficient

HPLC

High-performance liquid chromatography

IS

Internal standard

LC–MS–MS

Liquid chromatography tandem mass spectrometry

LOD

Limit of detection

LOQ

Limit of quantification

L–PPT

Lipid–protein precipitation

MRM

Multiple reaction monitoring

m/z

Mass-to-charge ratio

N2

Nitrogen

PBS

Phosphate-buffered saline

PREG

Pregnenolone

PROG

Progesterone

QC

Quality control

r

Correlation coefficient

RA

Apparent recovery

RE

Extraction recovery

RIA

Radioimmunoassay

rpm

Rotations per minute

RSD

Relative standard deviation

RRT

Relative retention time

S/N

Signal-to-noise ratio

SPE

Solid-phase extraction

SSE

Signal suppression and/or enhancement

TEST

Testosterone

Tr

Retention time
Notes
Acknowledgments
The authors wish to thank Mrs J. Lambrecht for her kind assistance during sample analysis, Hans Matheve for his help with data collection, and Marjut Paljakka and Cátia Santos for their help with sample preparation. This study was financially supported by FWO project G0E1614N to LL and LDN.
Conflicts of interest
The authors report no conflicts of interest.
Copyright information
© Springer-Verlag Berlin Heidelberg 2014