Abstract
High performance liquid chromatography tandem mass spectrometry (HPLC-MS/MS) has been successfully applied to cannabis plant extracts in order to identify cannabinoid compounds after their quantitative isolation by means of supercritical fluid extraction (SFE). MS conditions were optimized by means of a central composite design (CCD) approach, and the analysis method was fully validated. Six major cannabinoids [tetrahydrocannabinolic acid (THCA), tetrahydrocannabinol (THC), cannabidiol (CBD), tetrahydrocannabivarin (THCV), cannabigerol (CBG), and cannabinol (CBN)] were quantified (RSD < 10%), and seven more cannabinoids were identified and verified by means of a liquid chromatograph coupled to a quadrupole-time-of-flight (Q-ToF) detector. Finally, based on the distribution of the analyzed cannabinoids in 30 Cannabis sativa L. plant varieties and the principal component analysis (PCA) of the resulting data, a clear difference was observed between outdoor and indoor grown plants, which was attributed to a higher concentration of THC, CBN, and CBD in outdoor grown plants.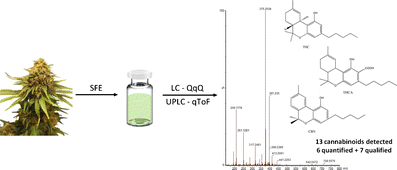 Access options
Buy single article
Instant access to the full article PDF.
USD 39.95
Price includes VAT (USA)
Tax calculation will be finalised during checkout.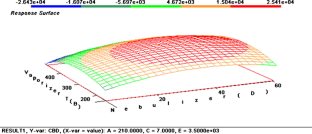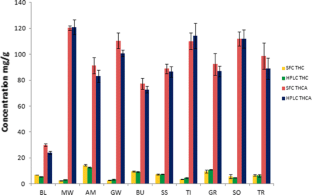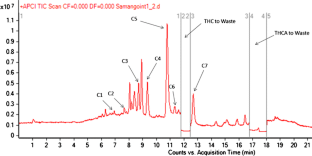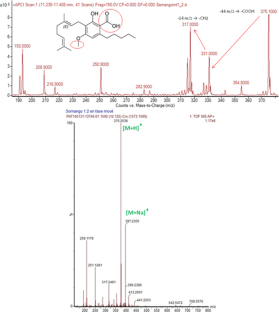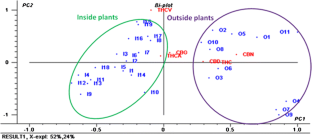 References
1.

Clarke RC, Watson DP (2007) Cannabis and natural cannabis medicines. In: ElSohly MA (ed) Marijuana and the cannabinoids. Humana Press, Totowa, pp 1–15

2.

Hazekamp A (2007) Cannabis; extracting the medicine, PhD thesis, Universiteit Leiden, The Netherlands

3.

ElSohly MA, Slade D (2005) Chemical constituents of marijuana: the complex mixture of natural cannabinoids. Life Sci 78:539–548

4.

Ahmed SA, Ross SA, Slade D, Radwan MM, Zulfiqar F, ElSohly MA (2008) Cannabinoid ester constituents from high-potency Cannabis sativa. J Nat Prod 71:536–542

5.

Radwan MM, ElSohly MA, Slade D, Ahmed SA, Khan IA, Ross SA (2009) Biologically active cannabinoids from high-potency Cannabis sativa. J Nat Prod 72:906–911

6.

Russo EB (2007) History of cannabis and its preparations in saga, science, and sobriquet. Chem Biodivers 4:1614–1648

7.

Grotenhermen F (2002) Effects of cannabis and the cannabinoids. In: Grotenhermen F, Russo E (eds) Cannabis and cannabinoids-pharmacology, toxicology, and therapeutic potential. Haworth Press, New York, pp 55–65

8.

Fishbein M, Gov S, Assaf F, Gafni M, Keren O, Sarne Y (2012) Long-term behavioral and biochemical effects of an ultra-low dose of Δ9-tetrahydrocannabinol (THC): neuroprotection and ERK signaling. Exp Brain Res 221:437–448

9.

Schweinsburg AD, Brown SA, Tapert SF (2008) The influence of marijuana use on neurocognitive functioning in adolescents. Curr Drug Abus Rev 1:99–111

10.

Lisdahl KM, Wright NE, Medina-Kirchner C, Maple KE, Shollenbarger S (2014) Considering the cannabis: the effects of regular cannabis use on neurocognition in adolescents and young adults. Curr Addict Rep 1:144–156

11.

Consroe P (1998) Brain cannabinoid systems as targets for the therapy of neurological disorders. Neurobiol Dis 5:534–551

12.

McPartland JM, Russo EB (2001) Cannabis and cannabis extracts: greater than the sum of their parts? J Cannabis Ther 1:103–132

13.

Mechoulam R, Parker LA, Gallity R (2002) Cannabidiol: an overview of some pharmacological aspects. J Clin Pharmacol 42:11S–19S

14.

Izzo AA, Borrelli F, Capasso R, Di Marzo V, Mechoulam R (2009) Non-psychotropic plant cannabinoids: new therapeutic opportunities from an ancient herb. Trends Pharmacol Sci 30:515–527

15.

Bergamaschi MM, Queiroz RH, Chagas MH, De Oliveira DC, De Martinis BS, Kapczinski F, Quevedo J, Roesler R, Schröder N, Nardi AE, Martín-Santos R, Hallak JE, Zuardi AW, Crippa JA (2011) Cannabidiol reduces the anxiety induced by simulated public speaking in treatment-naïve social phobia patients. Neuropsychopharmacology 36:1219–1226

16.

Morgan CJ, Das RK, Joye A, Vurran HV, Kamboj SK (2011) Cannabidiol reduces cigarette consumption in tobacco smokers: preliminary findings. Addict Behav 38:2433–2436

17.

Ryan D, Drysdale AJ, Pertwee RG, Platt B (2006) Differential effects of cannabis extracts and pure plant cannabinoids on hippocampal neurons and glia. Neurosci Lett 408:236–341

18.

Farrimond JA, Whalley BJ, Williams CM (2012) Non-Δ 9tetrahydrocannabinol phytocannabinoids stimulate feeding in rats. Behav Pharmacol 23:113–117

19.

Roser P, Gallinat J, Weinberg G, Juckel G, Gorynia I, Stadelmann AM (2009) Psychomotor performance in relation to acute oral administration of Δ9-tetrahydrocannabinol and standardized cannabis extract in healthy human subjects. Eur Arch Psychiatry Clin Neurosci 259:284–292

20.

Whalley BJ, Wilkinson JD, Williamson EM, Constanti A (2004) A novel component of cannabis extracts potentiates excitatory synaptic transmission in rat olfactory cortex in vitro. Neurosci Lett 365:58–63

21.

Wilkinson JD, Whalley BJ, Baker D, Pryce G, Constanti A, Gibbons S, Williamson EM (2003) Medicinal Cannabis: is Δ9-tetrahydrocannabinol necessary for all its effects? J Pharm Pharmacol 55:1687–1694

22.

Hazekamp A, Fischedick JT (2012) Cannabis—from cultivar to chemovar. Drug Test Anal 4:660–667

23.

Fischedick JT, Hazekamp A, Erkelens T, Choi YH, Verpoorte R (2010) Metabolic fingerprinting of Cannabis sativa L., cannabinoids and terpenoids for chemotaxonomic and drug standardization purposes. Phytochemistry 71:2058–2073

24.

Herrero M, Castro-Puyana M, Mendiola JA, Ibañez E (2013) Compressed fluid for the extraction of bioactive compounds. Trends Anal Chem 43:67–83

25.

Guiochon G, Tarafder A (2011) Fundamental challenges and opportunities for preparative supercritical fluid chromatography. J Chromatogr A 1218:1037–1114

26.

Omar J, Olivares M, Alzaga M, Etxebarria N (2013) Optimization and characterization of marihuana extracts obtained by supercritical fluid extraction and focused ultrasound extraction and retention time locking GC-MS. J Sep Sci 36:1397–1404

27.

Grauwiler SB, Scholer A, Drewe J (2007) Development of a LC/MS/MS method for the analysis of cannabinoids in human EDTA-plasma and urine after small doses of cannabis sativa extracts. J Chromatogr B 850:515–522

28.

De Backer B, Debrus B, Lebrun P, Theunis L, Dubois N, Decock L, Verstraete A, Hubert P, Charlier C (2009) Innovative development and validation of an HPLC/DAD method for the qualitative and quantitative determination of major cannabinoids in cannabis plant material. J Chromatogr B 877:4115–4124

29.

Gröger T, Schäffer M, Pütz M, Ahrens B, Drew K, Eschner M, Zimmermman R (2008) Application of two-dimensional gas chromatography combined with pixel-based chemometric processing for the chemical profiling of illicit drug samples. J Chromatogr A 1200:8–16

30.

Omar J, Olivares M, Amigo JM, Etxebarria N (2014) Resolution of co-eluting compounds of Cannabis sativa in comprehensive two-dimensional gas chromatography/mass spectrometry detection with multivariate curve resolution-alternating least squares. Talanta 121:273–280

31.

Bäckström B, Cole MD, Carrott MJ, Jones DC, Davidson G, Coleman K (1997) A preliminary study of the analysis of Cannabis by supercritical fluid chromatography with atmospheric pressure chemical ionisation mass spectroscopic detection. Science and Justice. J Forensic Sci Soc 37:91–97

32.

Lacorte S, Fernandez-Alba AR (2006) Time of flight mass spectrometry applied to the liquid chromatographic analysis of pesticides in water and food. Mass Spectrom Rev 25:866–880

33.

Zhou JL, Qi LW, Li P (2009) Herbal medicine analysis by liquid chromatography/time-of-flight mass spectrometry. J Chromatogr A 1216:7582–7594

34.

Bobeldijk I, Viessers JPC, Kearney G, Major H, Van Leerdam JA (2001) Screening and identification of unknown contaminants in water with liquid chromatography and quadrupole-orthogonal acceleration-timeof-flight tandem mass spectrometry. J Chromatogr A 929:63–74

35.

Stolker AAM, Van Schoonhoven J, de Vries AJ, Bobeldijk-Pastorova I, Vaes WHJ, Van den Berg R (2004) Determination of cannabinoids in cannabis products using liquid chromatography-ion trap mass spectrometry. J Chromatogr A 1058:143–151

36.

Kneisel S, Auwärter V (2012) Analysis of 30 synthetic cannabinoids in serum by liquid chromatography-electrospray ionization tandem mass spectrometry after liquid–liquid extraction. J Mass Spectrom 47:825–835

37.

Brenneisen R (2007) Chemistry and analysis of phytocannabinoids. In: ElSohly MA (ed) Marijuana and the cannabinoids. Humana Press, Totowa, pp 17–48
Acknowledgments
The authors are grateful to GANJAZZ ART CLUB for supplying the plant material used in this study, to IDOKI SCF S.L. for their support in the SFE extraction, and to the Central Service of Analysis of the University of the Basque Country for the UPLC-QToF analysis. O.A. and J.O. are grateful to the Basque Government and the University of the Basque Country for their PhD fellowship.
About this article
Cite this article
Aizpurua-Olaizola, O., Omar, J., Navarro, P. et al. Identification and quantification of cannabinoids in Cannabis sativa L. plants by high performance liquid chromatography-mass spectrometry. Anal Bioanal Chem 406, 7549–7560 (2014). https://doi.org/10.1007/s00216-014-8177-x
Received:

Revised:

Accepted:

Published:

Issue Date:
Keywords
Cannabinoid analysis

Liquid chromatography

Mass spectrometry

Fingerprinting