Abstract
An in-vacuum position-sensitive micropixelated detector (Timepix) is used to investigate the time-dependent spatial distribution of different charge state (and hence different mass-to-charge (m/z)) ions exiting an electrospray ionization (ESI)-based quadrupole mass spectrometer (QMS) instrument. Ion images obtained from the Timepix detector provide a detailed insight into the positions of stable and unstable ions of the mass peak as they exit the QMS. With the help of image processing algorithms and by selecting areas on the ion images where more stable ions impact the detector, an improvement in mass resolution by a factor of 5 was obtained for certain operating conditions. Moreover, our experimental approach of mass resolution enhancement was confirmed by in-house-developed novel QMS instrument simulation software. Utilizing the imaging-based mass resolution enhancement approach, the software predicts instrument mass resolution of ∼1,0000 for a single-filter QMS instrument with a 210-mm long mass filter and a low operating frequency (880 kHz) of the radio frequency (RF) voltage.
Access options
Buy single article
Instant access to the full article PDF.
US$ 39.95
Tax calculation will be finalised during checkout.
Subscribe to journal
Immediate online access to all issues from 2019. Subscription will auto renew annually.
US$ 119
Tax calculation will be finalised during checkout.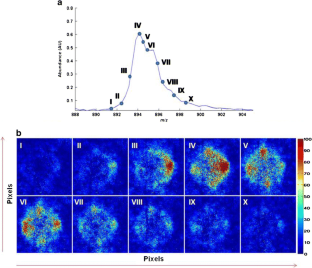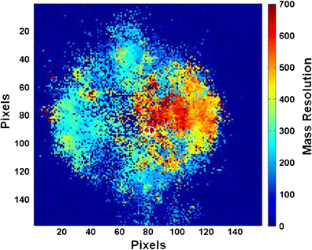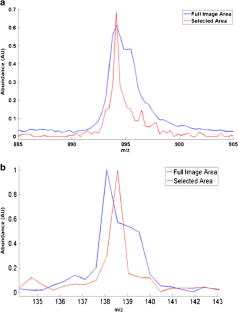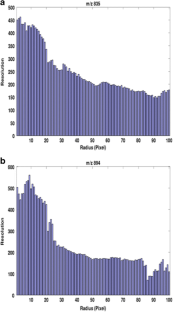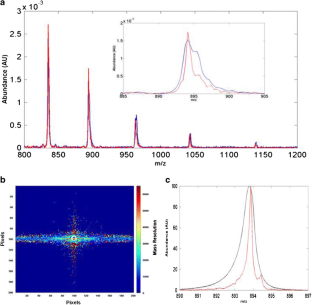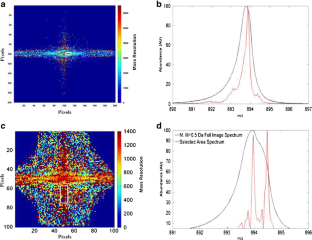 References
1.

Paul W, Raether M (1955) Das elektrische massenfilter. Z Phys 40:262–273

2.

Dawson PH (1976) Quadrupole mass spectrometry and its applications. Elsevier, Amsterdam

3.

March RE, Todd JFJ (2005) Quadrupole ion trap mass spectrometry. Wiley, New Jersey, pp 43–47

4.

Batey JH (1987) Quadropole gas analysers. Vacuum 37:659–668

5.

Brubaker WM, Tuul J (1964) Performance studies of a quadrupole mass filter. Rev Sci Instrum 35(8):1007–1010

6.

Holme AE, Thatcher WJ, Leck JH (1972) An investigation of the factors determining maximum resolution in a quadrupole mass spectrometer. J Phys E Sci Instrum 5:429–433

7.

Syed S, Hogan T, Gibson J, Taylor S (2012) Factors influencing the QMF resolution for operation in stability zones 1 and 3. J Am Soc Mass Spectrom 23:988–995

8.

Hiroki S, Abe T, Murakami Y (1994) Detection of a 10–4 helium peak in a deuterium atmosphere using a modified high-resolution quadrupole mass spectrometer. Rev Sci Instrum 65(6):1912–1917

9.

Du Z, Douglas DJ, Konenkov N (1999) Elemental analysis with quadrupole mass filters operated in higher stability regions. J Anal At Spectrom 14(8):1111–1119

10.

Maher S, Syed S, Hughes DM, Gibson JR, Taylor S (2013) Mapping the stability diagram of a quadrupole mass spectrometer with a static transverse magnetic field applied. J Am Soc Mass Spectrom 24(8):1307–1314

11.

Syed S, Maher S, Taylor S (2013) Quadrupole mass filter operation under the influence of magnetic field. J Mass Spectrom 48(12):1325–1339

12.

Syed S, Eijkel G, Kistemaker P, Ellis S, Maher S, Smith D, Heeren R (2014) Experimental investigation of the 2D ion beam profile generated by an ESI Octopole-QMS system. J Am Soc Mass Spectrom 25(10):1780–1787. doi:10.1007/s13361-014-0958-0
Acknowledgments
This work is part of the research program of the Foundation for Fundamental Research on Matter (FOM), which is part of the Netherlands Organisation for Scientific Research (NWO). The research is supported by the Comprehensive Analytical Science and Technology (COAST) foundation, which is the assigned program committee in the NWO Technology Area for Sustainable Chemistry (TASC) program. The authors acknowledge Ronald Buijs and Marc Duursma, of AMOLF for their contribution to the experiments.
Additional information
Published in the topical collection Mass Spectrometry Imaging with guest editors Andreas Römpp and Uwe Karst.
Electronic supplementary material
Below is the link to the electronic supplementary material.
About this article
Cite this article
Syed, S.U.A.H., Eijkel, G.B., Maher, S. et al. A micropixelated ion-imaging detector for mass resolution enhancement of a QMS instrument. Anal Bioanal Chem 407, 2055–2062 (2015). https://doi.org/10.1007/s00216-014-8158-0
Received:

Revised:

Accepted:

Published:

Issue Date:
Keywords
Mass spectrometry

Imaging

Spectroscopy/instrumentation