An LC-MS/MS method for serum methylmalonic acid suitable for monitoring vitamin B12 status in population surveys
Part of the following topical collections:
Abstract
Methylmalonic acid (MMA), a functional indicator of vitamin B12 insufficiency, was measured in the US population in the National Health and Nutrition Examination Survey (NHANES) from 1999 to 2004 using a GC/MS procedure that required 275 μL of sample and had a low throughput (36 samples/run). Our objective was to introduce a more efficient yet highly accurate LC-MS/MS method for NHANES 2011–2014. We adapted the sample preparation with some modifications from a published isotope-dilution LC-MS/MS procedure. The procedure utilized liquid–liquid extraction and generation of MMA dibutyl ester. Reversed-phase chromatography with isocratic elution allowed baseline resolution of MMA from its naturally occurring structural isomer succinic acid within 4.5 min. Our new method afforded an increased throughput (≤160 samples/run) and measured serum MMA with high sensitivity (LOD = 22.1 nmol/L) in only 75 μL of sample. Mean (±SD) recovery of MMA spiked into serum (2 d, 4 levels, 2 replicates each) was 94 % ± 5.5 %. Total imprecision (41 d, 2 replicates each) for three serum quality control pools was 4.9 %–7.9 % (97.1–548 nmol/L). The LC-MS/MS method showed excellent correlation (n = 326, r = 0.99) and no bias (Deming regression, Bland-Altman analysis) compared to the previous GC/MS method. Both methods produced virtually identical mean (±SD) MMA concentrations [LC-MS/MS: 18.47 ± 0.71 ng/mL (n = 17), GC/MS: 18.18 ± 0.67 ng/mL (n = 11)] on a future plasma reference material compared with a GC/MS method procedure from the National Institute of Standards and Technology [18.41 ± 0.70 ng/mL (n = 15)]. No adjustment will be necessary to compare previous (1999–2004) to future (2011–2014) NHANES MMA data.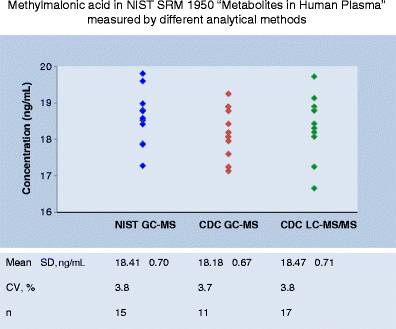 Keywords
MMA 
Method comparison 
GC/MS 
Anticoagulant types 
NHANES 
NIST SRM 1950 
Vitamin B12 
Notes
Acknowledgments
The Division of Laboratory Sciences at the National Centers for Environmental Health contributed to this project. The authors thank Michael Welch and Lorna Sniegoski, from NIST, for their involvement in MMA measurements in SRM 1950. They thank Hui Ping Chen and Bridgette Toombs, members of Nutritional Biomarkers group at the CDC, for their contribution in sample supply for stability and collection tube studies.
Copyright information
© Springer-Verlag Berlin Heidelberg (outside the USA) 2014