Abstract
We have studied the effects of a gel-like environment on the characteristics of enzyme preparations based on the coupled enzyme system of luminous bacteria, NADH:FMN–oxidoreductase–luciferase, to design a stable immobilizing reagent for bioluminescent analysis. Natural polymers, gelatin and starch, were used to create a viscous, structured microenvironment. The stability of the coupled enzyme system to such physical and chemical environmental factors as temperature, pH, and ionic strength in gelatin and starch-containing media was examined. It was shown that both gelatin and starch have a stabilizing effect on the enzymes of luminous bacteria under specific conditions. In particular, the enzymes' activity is increased twofold in the presence of 1 and 5 % of gelatin at 20 °C and 25 °C, respectively (temperatures lower than the gel point). Also, the acceptable pH range of the coupled enzyme system expands into the alkaline region and becomes 6.8–8.1. Stabilization at low ionic strength (0.01–0.06 mol L−1) is observed. At the same time, microenvironments based on either gelatin or starch do not change the enzymes' thermal inactivation rate constants in the temperature range from 25 to 43 °C. Finally, gelatin and starch are suitable for development of a reagent for immobilization of enzymes which would be stable and resistant to physical and chemical environmental conditions.
This is a preview of subscription content, log in to check access.
Access options
Buy single article
Instant access to the full article PDF.
US$ 39.95
Price includes VAT for USA
Subscribe to journal
Immediate online access to all issues from 2019. Subscription will auto renew annually.
US$ 157
This is the net price. Taxes to be calculated in checkout.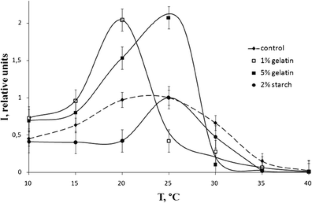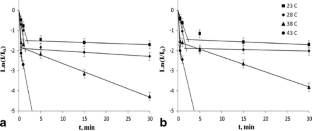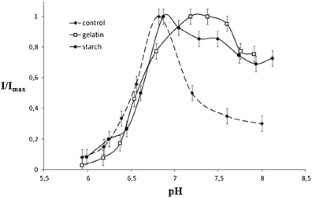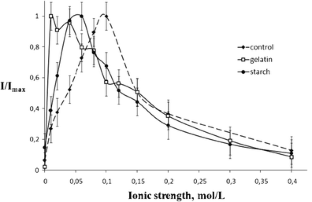 References
1.

Shimomura O (2012) Bioluminescence: chemical principles and methods. World Scientific Publishing Co. Pte. Ltd., Singapore

2.

Roda A, Guardigli M, Michelini E, Mirasoli M (2009) Bioluminescence in analytical chemistry and in vivo imaging. Trends Anal Chem 28:307–322

3.

Vetrova E, Esimbekova E, Remmel N, Kotova S, Beloskov N, Kratasyuk V, Gitelson I (2007) A bioluminescent signal system: detection of chemical toxicants in water. Luminescence 22:206–214

4.

Guilbault G, Das J (1970) Immobilization of cholinesterase and urease. Anal Biochem 33:341–355

5.

Muetgeert J, Otto L, Herman P, Flippo F (1983) Enzyme immobilisation in a starch gel. United States Patent 4418147 (November 29, 1983)

6.

Fadnavis NW, Koteshwar K (1999) An unusual reversible sol-gel transition phenomenon in organogels and its application for enzyme immobilization in gelatin membranes. Biotechnol Prog 15(1):98–104

7.

Sheelu G, Kavitha G, Fadnavis NW (2008) Efficient immobilisation of lecitase in gelatin hydrogel and degumming of rice bran oil using a spinning bascet reactor. J Am Oil Chem Soc 85:739–748

8.

Esimbekova EN, Torgashina IG, Kratasyuk VA (2009) Comparative study of immobilized and soluble NADH:FMN-oxidoreductase–luciferase coupled enzyme system. Biochem Mosc 74(6):695–700

9.

Badii F, Howell NK (2006) Fish gelatin: structure, gelling properties and interaction with egg albumen proteins. Food Hydrocoll 20:630–640

10.

Makemson JC, Hastings J (1991) Bovine serum albumin interacts with bacterial luciferase. J Biolumin Chemilumin 6(2):131–136

11.

Parker R, Ring SG (2001) Aspects of the physical chemistry of starch. J Cereal Sci 34(1):1–17

12.

Bezrukikh AE, Esimbekova EN, Kratasyuk VA (2011) Thermoinactivation of coupled enzyme system of luminous bacteria NADH:FMN–oxidoreductase–luciferase in gelatin. J Sib Fed Univ Biol 4(1):64–74

13.

Sutormin O, Sukovataya I, Kratasyuk V (2012) Thermal stability of coupled enzyme system NAD(P)H:FMN-oxidoreductase-luciferase in solvents of different viscosity. Luminescence 27:162

14.

Hagman J, Loren N, Hermansson AM (2010) Effect of gelatin gelation kinetics on probe diffusion determined by FRAP and rheology. Biomacromolecules 11(12):3359–3366
Acknowledgments
The authors are grateful to Anna Orlova for her help with the experimental work.
Declaration of interest
The work was supported by the Program of the Government of Russian Federation "Measures to attract leading scientists to Russian educational institutions" (grant no. 11. G34.31.0058), the Russian Academy of Sciences (program "Molecular and Cell Biology", grant no. 6.8), and the state contract between the Ministry of Education and Science and Siberian Federal University, no. 1762.
Additional information
Published in the topical collection Analytical Bioluminescence and Chemiluminescence with guest editors Elisa Michelini and Mara Mirasoli.
About this article
Cite this article
Bezrukikh, A., Esimbekova, E., Nemtseva, E. et al. Gelatin and starch as stabilizers of the coupled enzyme system of luminous bacteria NADH:FMN–oxidoreductase–luciferase. Anal Bioanal Chem 406, 5743–5747 (2014). https://doi.org/10.1007/s00216-014-7987-1
Received:

Revised:

Accepted:

Published:

Issue Date:
Keywords
Bacterial luciferase

NADH:FMN-oxidoreductase

Bioluminescence

Stabilization of enzymes

Gelatin

Starch