New validated LC-MS/MS method for the determination of three alkylated adenines in human urine and its application to the monitoring of alkylating agents in cigarette smoke
Abstract
A highly specific liquid chromatography–tandem mass spectrometry (LC–MS/MS) method was developed for simultaneous determination of urinary N 3-methyladenine (N 3-MeA), N 3-ethyladenine (N 3-EtA), and N 3-(2-hydroxyethyl)adenine (N 3-HOEtA). Chromatographic separation was achieved on a hydrophilic interaction liquid chromatography column, with a mobile phase gradient prepared from aqueous 10 mM ammonium formate–acetonitrile (5:95 v/v, pH 4.0). Quantification of the analytes was done by multiple reaction monitoring using a triple-quadrupole mass spectrometer in positive-ionization mode. The limits of quantification were 0.13, 0.02, and 0.03 ng/mL for N 3-MeA, N 3-EtA, and N 3-HOEtA, respectively. Intraday and interday variations (relative standard deviations) ranged from 0.6 to 1.3 % and from 3.7 to 7.5 %. The recovery ranges of N 3-MeA, N 3-EtA, and N 3-HOEtA in urine were 80.1–97.3 %, 83.3–90.0 %, and 100.0–110.0 %, respectively. The proposed method was successfully applied to urine samples from 251 volunteers including 193 regular smokers and 58 nonsmokers. The results showed that the levels of urinary N 3-MeA, N 3-EtA, and N 3-HOEtA in smokers were significantly higher than those in nonsmokers. Furthermore, the level of urinary N 3-MeA in smokers was found to be positively correlated with the level of 4-(methylnitrosamino)-1-(3-pyridyl)-1-butanol (r = 0.48, P < 0.001, N = 192). This method is appropriate for routine analysis and accurate quantification of N 3-MeA, N 3-EtA, and N 3-HOEtA. It is also a useful tool for the surveillance of alkylating agent exposure.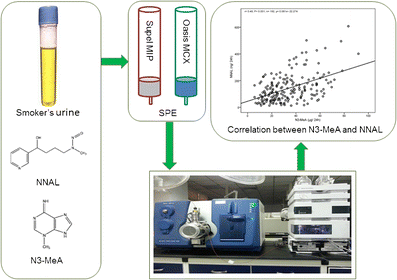 Keywords
N3-Methyladenine 
N3-Ethyladenine 
N3-(2-Hydroxyethyl)adenine 
Urine 
Liquid chromatography–tandem mass spectrometry 
Notes
Acknowledgments
This work was supported by the National Natural Science Foundation of China (No. 21277174, 21347002). The authors thank Gao Na from the Institute of Clinical Pharmacology (School of Medicine, Zhengzhou University, China) for providing 24-h urine samples of smokers and blank urine samples of nonsmokers.
Copyright information
© Springer-Verlag Berlin Heidelberg 2014