Abstract
In this work, chronoamperometric myelo-peroxidase (MPO) detection was accomplished using immunofunctionalized magnetic microparticles (MPs), disposable carbon screen-printed electrodes (C-SPEs), and a ready-to-use commercially available tetramethylbenzidine (TMB)-based enzymatic substrate. In order to reach the limit of detection (LOD) needed to study real blood serum samples, assay performance was additionally improved by exploiting CNT wiring, which amplified the signal and decreased the LOD. The optimized assay can be performed in 30 min and yields LODs of 6 and 55 ng mL−1 in PBS and undiluted human serum, respectively, making it useful for the identification of patients at risk of cardiovascular disease. These results demonstrate that electrode nanostructuring can be accomplished "post-assay," which favors the development of enhanced magneto immunosensors based on the exploitation of cheap and simple SPE devices.
Access options
Buy single article
Instant access to the full article PDF.
US$ 39.95
Tax calculation will be finalised during checkout.
Subscribe to journal
Immediate online access to all issues from 2019. Subscription will auto renew annually.
US$ 119
Tax calculation will be finalised during checkout.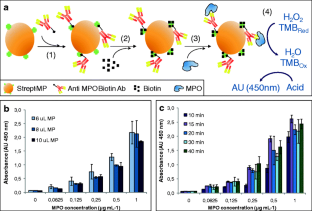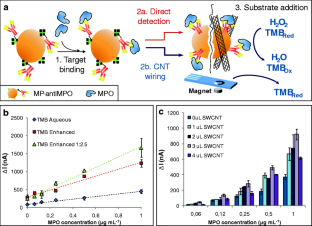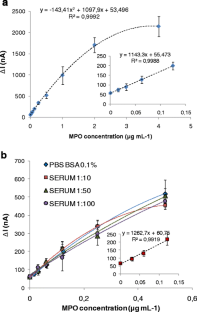 References
1.

WHO (2013) Prevention and control of noncommunicable diseases in the European Region: a progress report. WHO, Geneva

2.

Qureshi A, Gurbuz Y, Niazi JH (2012) Biosensors for cardiac biomarkers detection: a review. Sens Actuators B 171–172(0):62–76. doi:10.1016/j.snb.2012.05.077

3.

Brennan M-L, Penn MS, Van Lente F, Nambi V, Shishehbor MH, Aviles RJ, Goormastic M, Pepoy ML, McErlean ES, Topol EJ, Nissen SE, Hazen SL (2003) Prognostic value of myeloperoxidase in patients with chest pain. N Engl J Med 349(17):1595–1604. doi:10.1056/NEJMoa035003

4.

Lau D, Baldus S (2006) Myeloperoxidase and its contributory role in inflammatory vascular disease. Pharmacol Ther 111(1):16–26. doi:10.1016/j.pharmthera.2005.06.023

5.

Baldus S, Heeschen C, Meinertz T, Zeiher AM, Eiserich JP, Münzel T, Simoons ML, Hamm CW, CAPTURE Investigators (2003) Myeloperoxidase serum levels predict risk in patients with acute coronary syndromes. Circulation 108(12):1440–1445. doi:10.1161/01.cir.0000090690.67322.51

6.

Meuwese MC, Stroes ESG, Hazen SL, van Miert JN, Kuivenhoven JA, Schaub RG, Wareham NJ, Luben R, Kastelein JJP, Khaw K-T, Boekholdt SM (2007) Serum myeloperoxidase levels are associated with the future risk of coronary artery disease in apparently healthy individuals: the EPIC-Norfolk Prospective Population Study. J Am Coll Cardiol 50(2):159–165

7.

Barallat J, Olivé-Monllau R, Gonzalo-Ruiz J, Ramírez-Satorras R, Muñoz-Pascual FX, Ortega AG, Baldrich E (2013) Chronoamperometric magneto immunosensor for myeloperoxidase detection in human plasma based on a magnetic switch produced by 3D laser sintering. Anal Chem 85(19):9049–9056. doi:10.1021/ac401549d

8.

Lin KC, Kunduru V, Bothara M, Rege K, Prasad S, Ramakrishna BL (2010) Biogenic nanoporous silica-based sensor for enhanced electrochemical detection of cardiovascular biomarkers proteins. Biosens Bioelectron 25(10):2336–2342

9.

Venkatraman VL, Reddy RK, Zhang F, Evans D, Ulrich B, Prasad S (2009) Iridium oxide nanomonitors: clinical diagnostic devices for health monitoring systems. Biosens Bioelectron 24(10):3078–3083. doi:10.1016/j.bios.2009.03.029

10.

Lu LL, Liu B, Xie G (2010) Amperometric immunosensor for myeloperoxidase in human serum based on a multi-wall carbon nanotubes–ionic liquid–cerium dioxide film-modified electrode. Bull Kor Chem Soc 31(31):3259–3264

11.

Lu L, Liu B, Li S, Zhang W, Xie G (2011) Improved electrochemical immunosensor for myeloperoxidase in human serum based on nanogold/cerium dioxide-BMIMPF6/L-cysteine composite film. Colloids Surf B 86(2):339–344. doi:10.1016/j.colsurfb.2011.04.017

12.

Liu B, Lu L, Li Q, Xie G (2011) Disposable electrochemical immunosensor for myeloperoxidase based on the indium tin oxide electrode modified with an ionic liquid composite film containing gold nanoparticles, poly(o-phenylenediamine) and carbon nanotubes. Microchim Acta 173(3–4):513–520. doi:10.1007/s00604-011-0575-6

13.

Olivé-Monllau R, Muñoz-Pascual FX, Baldrich E (2013) Characterization and optimization of carbon nanotube electrodes produced by magnetic entrapment: application to paracetamol detection. Sens Actuators B 185(0):685–693. doi:10.1016/j.snb.2013.05.066

14.

Herrasti Z, Olivé-Monllau R, Muñoz-Pascual FX, Martínez F, Baldrich E (2014) Electrochemical biosensing of non-electroactive targets using ferrocene-labeled magnetic particles and CNT wiring. Analyst (Cambridge, UK) 139(6):1334–1339

15.

McDonnell B, Hearty S, Finlay WJJ, O'Kennedy R (2011) A high-affinity recombinant antibody permits rapid and sensitive direct detection of myeloperoxidase. Anal Biochem 410(1):1–6. doi:10.1016/j.ab.2010.09.039

16.

Baldrich E, Muñoz FX (2011) Carbon nanotube wiring: a tool for straightforward electrochemical biosensing at magnetic particles. Anal Chem 83(24):9244–9250. doi:10.1021/ac201137q

17.

Baldrich E, Gómez R, Gabriel G, Muñoz FX (2011) Magnetic entrapment for fast, simple and reversible electrode modification with carbon nanotubes: application to dopamine detection. Biosens Bioelectron 26(5):1876–1882. doi:10.1016/j.bios.2010.03.020
Acknowledgments
E.B. is supported by the Miguel Servet program, funded by the Fondo de Investigaciones Sanitarias of the Instituto de Salud Carlos III (CP13/00052).
Electronic supplementary material
Below is the link to the electronic supplementary material.
About this article
Cite this article
Herrasti, Z., Martínez, F. & Baldrich, E. Carbon nanotube wiring for signal amplification of electrochemical magneto immunosensors: application to myeloperoxidase detection. Anal Bioanal Chem 406, 5487–5493 (2014). https://doi.org/10.1007/s00216-014-7954-x
Received:

Revised:

Accepted:

Published:

Issue Date:
Keywords
Carbon nanotube (CNT) wiring

Magnetic particles (MP)

Myeloperoxidase (MPO)

Electrochemical biosensor

Tetramethylbenzidine (TMB)