Effects of an iron-based fuel-borne catalyst and a diesel particle filter on exhaust toxicity in lung cells in vitro
Part of the following topical collections:
Abstract
Metal-containing fuel additives catalyzing soot combustion in diesel particle filters are used in a widespread manner, and with the growing popularity of diesel vehicles, their application is expected to increase in the near future. Detailed investigation into how such additives affect exhaust toxicity is therefore necessary and has to be performed before epidemiological evidence points towards adverse effects of their application. The present study investigates how the addition of an iron-based fuel additive (Satacen®3, 40 ppm Fe) to low-sulfur diesel affects the in vitro cytotoxic, oxidative, (pro-)inflammatory, and mutagenic activity of the exhaust of a passenger car operated under constant, low-load conditions by exposing a three-dimensional model of the human airway epithelium to complete exhaust at the air–liquid interface. We could show that the use of the iron catalyst without and with filter technology has positive as well as negative effects on exhaust toxicity compared to exhaust with no additives: it decreases the oxidative and, compared to a non-catalyzed diesel particle filter, the mutagenic potential of diesel exhaust, but increases (pro-)inflammatory effects. The presence of a diesel particle filter also influences the impact of Satacen®3 on exhaust toxicity, and the proper choice of the filter type to be used is of importance with regards to exhaust toxicity.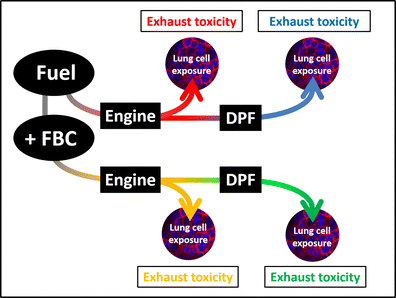 Keywords
Exhaust exposures 
Iron catalyst 
Diesel particle filter 
3D lung cell model 
Air–liquid interface 
Notes
Acknowledgments
The authors would like to acknowledge the financial support of the Swiss Federal Office for the Environment, Erdölvereinigung EV and VSS lubes, as well as the Adolphe Merkle Foundation, and furthermore, the Bern University of Applied Sciences, the Institute of Aerosol and Sensor Technology, Northwestern Switzerland, and the University of Rouen for technical assistance. We would also like to thank Dr. Gruenert (University of California, San Francisco) for providing the 16HBE14o- cell line.
Conflict of interest
Andreas Mayer is the owner and general manager of "TTM Andreas Mayer," Switzerland, an emission consulting company. As all the other authors, however, he declares to have no conflicts of interest.
Copyright information
© Springer-Verlag Berlin Heidelberg 2014