Abstract
In this study, the development of a new sensitive method for the analysis of alpha-dicarbonyls glyoxal (G) and methylglyoxal (MG) in environmental ice and snow is presented. Stir bar sorptive extraction with in situ derivatization and liquid desorption (SBSE-LD) was used for sample extraction, enrichment, and derivatization. Measurements were carried out using high-performance liquid chromatography coupled to electrospray ionization tandem mass spectrometry (HPLC-ESI-MS/MS). As part of the method development, SBSE-LD parameters such as extraction time, derivatization reagent, desorption time and solvent, and the effect of NaCl addition on the SBSE efficiency as well as measurement parameters of HPLC-ESI-MS/MS were evaluated. Calibration was performed in the range of 1–60 ng/mL using spiked ultrapure water samples, thus incorporating the complete SBSE and derivatization process. 4-Fluorobenzaldehyde was applied as internal standard. Inter-batch precision was <12 % RSD. Recoveries were determined by means of spiked snow samples and were 78.9 ± 5.6 % for G and 82.7 ± 7.5 % for MG, respectively. Instrumental detection limits of 0.242 and 0.213 ng/mL for G and MG were achieved using the multiple reaction monitoring mode. Relative detection limits referred to a sample volume of 15 mL were 0.016 ng/mL for G and 0.014 ng/mL for MG. The optimized method was applied for the analysis of snow samples from Mount Hohenpeissenberg (close to the Meteorological Observatory Hohenpeissenberg, Germany) and samples from an ice core from Upper Grenzgletscher (Monte Rosa massif, Switzerland). Resulting concentrations were 0.085–16.3 ng/mL for G and 0.126–3.6 ng/mL for MG. Concentrations of G and MG in snow were 1–2 orders of magnitude higher than in ice core samples. The described method represents a simple, green, and sensitive analytical approach to measure G and MG in aqueous environmental samples.
Access options
Buy single article
Instant access to the full article PDF.
USD 39.95
Price excludes VAT (USA)
Tax calculation will be finalised during checkout.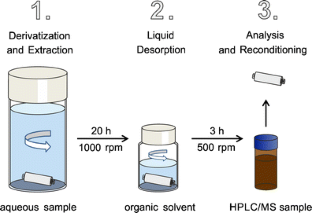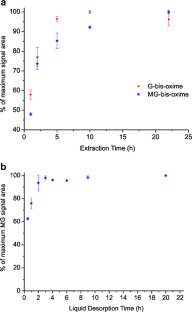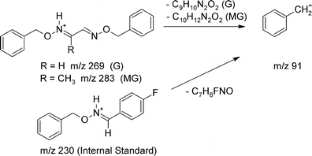 References
Fu T, Jacob D, Wittrock F, Burrows J, Vrekoussis M, Henze D (2008) Global budgets of atmospheric glyoxal and methylglyoxal, and implications for formation of secondary organic aerosols. J Geophys Res 113(D15):D15303

Mahowald N, Ward DS, Kloster S, Flanner MG, Heald CL, Heavens NG, Hess PG, Lamarque J, Chuang PY (2011) Aerosol impacts on climate and biogeochemistry. In: Gadgil A, Liverman DM (eds) Annu Rev Environ Resour 36:45–74

Kawamura K, Steinberg S, Kaplan IR (1996) Concentrations of monocarboxylic and dicarboxylic acids and aldehydes in southern California wet precipitations: Comparison of urban and nonurban samples and compositional changes during scavenging. Atmos Environ 30(7):1035–1052

Carlton A, Wiedinmyer C, Kroll JH (2009) A review of secondary organic aerosol (SOA) formation from isoprene. Atmos Chem Phys 9:4987–5005

van Pinxteren M, Herrmann H (2013) Glyoxal and methylglyoxal in Atlantic seawater and marine aerosol particles: method development and first application during the Polarstern cruise ANT XXVII/4. Atmos Chem Phys 13(23):11791–11802

Carlton AG, Turpin BJ, Altieri KE, Seitzinger S, Reff A, Lim H, Ervens B (2007) Atmospheric oxalic acid and SOA production from glyoxal: results of aqueous photooxidation experiments. Atmos Environ 41(35):7588–7602

Matsunaga SN, Guenther AB, Izawa Y, Wiedinmyer C, Greenberg JP, Kawamura K (2007) Importance of wet precipitation as a removal and transport process for atmospheric water soluble carbonyls. Atmos Environ 41(4):790–796

Kawamura K, Kasukabe H, Barrie L (1996) Source and reaction pathways of dicarboxylic acids, ketoacids and dicarbonyls in arctic aerosols: one year of observations. Atmos Environ 30(10):1709–1722

Ervens B, Volkamer R (2010) Glyoxal processing by aerosol multiphase chemistry: towards a kinetic modeling framework of secondary organic aerosol formation in aqueous particles. Atmos Chem Phys 10(17):8219–8244

Altieri K, Seitzinger S, Carlton A, Turpin B, Klein G, Marshall A (2008) Oligomers formed through in-cloud methylglyoxal reactions: chemical composition, properties, and mechanisms investigated by ultra-high resolution FT-ICR mass spectrometry. Atmos Environ 42(7):1476–1490

Dominé F, Shepson PB (2002) Air-snow interactions and atmospheric chemistry. Science 297:1506–1510

Ariya PA, Domine F, Kos G, Amyot M, Côté V, Vali H, Lauzier T, Kuhs WF, Techmer K, Heinrichs T, Mortazavi R (2011) Snow - a photobiochemical exchange platform for volatile and semi-volatile organic compounds with the atmosphere. Environ Chem 8(1):62–73

Sieg K, Fries E, Püttmann W (2008) Analysis of benzene, toluene, ethylbenzene, xylenes and n-aldehydes in melted snow water via solid-phase dynamic extraction combined with gas chromatography/mass spectrometry. J Chromatogr A 1178(1–2):178–186

Lacorte S, Quintana J, Tauler R, Ventura F, Tovar-Sánchez A, Duarte C (2009) Ultra-trace determination of persistent organic pollutants in Arctic ice using stir bar sorptive extraction and gas chromatography coupled to mass spectrometry. J Chromatogr A 1216(49):8581–8589

Winterhalter R, Kippenberger M, Williams J, Fries E, Sieg K, Moortgat GK (2009) Concentrations of higher dicarboxylic acids C-5-C-13 in fresh snow samples collected at the high alpine research station Jungfraujoch during CLACE 5 and 6. Atmos Chem Phys 9(6):2097–2112

Matsunaga S, Kawamura K (2000) Determination of α- and β-hydroxycarbonyls and dicarbonyls in snow and rain samples by GC/FID and GC/MS employing benzyl hydroxyl oxime derivatization. Anal Chem 72(19):4742–4746

Houdier S, Barret M, Dominé F, Charbouillot T, Deguillaume L, Voisin D (2011) Sensitive determination of glyoxal, methylglyoxal and hydroxyacetaldehyde in environmental water samples by using dansylacetamidooxyamine derivatization and liquid chromatography/fluorescence. Anal Chim Acta 704(1–2):162–173

Douglas TA, Domine F, Barret M, Anastasio C, Beine HJ, Bottenheim J, Grannas A, Houdier S, Netcheva S, Rowland G, Staebler R, Steffen A (2012) Frost flowers growing in the Arctic ocean-atmosphere–sea ice–snow interface: 1. Chemical composition. J Geophys Res 117:D00R09

Kawamura K, Yokoyama K, Fujii O, Watanabe O (2001) A Greenland ice core record of low molecular weight dicarboxylic acids, ketocarboxylic acids, and alpha-dicarbonyls: a trend from little ice age to the present (1540 to 1989 A.D.). J Geophys Res 106(D1):1331–1345

Bao M, Pantani F, Griffini O, Burrini D, Santianni D, Barbieri K (1998) Determination of carbonyl compounds in water by derivatization–solid-phase microextraction and gas chromatographic analysis. J Chromatogr A 809(1–2):75–87

Kawamura K (1993) Identification of C2-C10 w-oxocarboxylic acids, pyruvic acid, and alpha-dicarbonyls in wet precipitation and aerosol samples by capillary GC and GC/MS. Anal Chem 65:3505–3511

Xu F, Zou L, Liu Y, Zhang Z, Ong CN (2011) Enhancement of the capabilities of liquid chromatography-mass spectrometry with derivatization: general principles and applications. Mass Spectrom Rev 30(6):1143–1172

Kampf CJ, Bonn B, Hoffmann T (2011) Development and validation of a selective HPLC-ESI-MS/MS method for the quantification of glyoxal and methylglyoxal in atmospheric aerosols (PM2.5). Anal Bioanal Chem 401(10):3115–3124

Wang H, Zhang X, Chen Z (2009) Development of DNPH/HPLC method for the measurement of carbonyl compounds in the aqueous phase: applications to laboratory simulation and field measurement. Environ Chem 6:389–397

Neng N, Cordeiro C, Freire A, Nogueira J (2007) Determination of glyoxal and methylglyoxal in environmental and biological matrices by stir bar sorptive extraction with in-situ derivatization. J Chromatogr A 1169(1–2):47–52

David F, Sandra P (2007) Stir bar sorptive extraction for trace analysis. J Chromatogr A 1152(1–2):54–69

Eichler A, Schwikowski M, Gäggeler HW, Furrer V, Synal H, Beer J, Saurer M, Funk M (2000) Glaciochemical dating of an ice core from upper Grenzgletscher (4200 m a.s.l.). J Glaciol 46(154):507–515

Eichler A, Schwikowski M, Gäggeler HW (2000) An Alpine ice-core record of anthropogenic HF and HCl emissions. Geophys Res Lett 27(19):3225–3228

Tetko IV, Gasteiger J, Todeschini R, Mauri A, Livingstone D, Ertl P, Palyulin VA, Radchenko EV, Zefirov NS, Makarenko AS, Tanchuk VY, Prokopenko VV (2005) Virtual computational chemistry laboratory—design and description. J Comput Aided Mol Des 19(6):453–463

Virtual Computational Chemistry Laboratory VCCLAB (2005) http://www.vcclab.org. Accessed 01.08.2013

Kampf CJ, Corrigan AL, Johnson AM, Song W, Keronen P, Königstedt R, Williams J, Russell LM, Petäjä T, Fischer H, Hoffmann T (2012) First measurements of reactive α-dicarbonyl concentrations on PM2.5 aerosol over the Boreal forest in Finland during HUMPPA-COPEC 2010—source apportionment and links to aerosol aging. Atmos Chem Phys 12(14):6145–6155

Gunz DW, Hoffmann MR (1990) Field investigations on the snow chemistry in central and southern California - II. Carbonyls and carboxylic acids. Atmos Environ 24A(7):1673–1684
About this article
Cite this article
Müller-Tautges, C., Eichler, A., Schwikowski, M. et al. A new sensitive method for the quantification of glyoxal and methylglyoxal in snow and ice by stir bar sorptive extraction and liquid desorption-HPLC-ESI-MS. Anal Bioanal Chem 406, 2525–2532 (2014). https://doi.org/10.1007/s00216-014-7640-z
Received:

Revised:

Accepted:

Published:

Issue Date:

DOI: https://doi.org/10.1007/s00216-014-7640-z
Keywords
Glyoxal

Methylglyoxal

SBSE

Liquid desorption

HPLC-MS

Ice