Abstract
A set of four reference materials for the detection and quantification of silica nanoparticles (NPs) in food was produced as a proof of principle exercise. Neat silica suspensions were ampouled, tested for homogeneity and stability, and characterized for total silica content as well as particle diameter by dynamic light scattering (DLS), electron microscopy (EM), gas-phase electrophoretic molecular mobility analysis (GEMMA), and field-flow fractionation coupled with an inductively coupled mass spectrometer (FFF-ICPMS). Tomato soup was prepared from ingredients free of engineered nanoparticles and was spiked at two concentration levels with the silica NP suspension. Homogeneity of these materials was found sufficient to act as reference materials and the materials are sufficiently stable to allow long-term storage and distribution at ambient temperature, providing proof of principle of the feasibility of producing liquid food reference materials for the detection of nanoparticles. The spiked soups were characterized for particle diameter by EM and FFF-ICPMS (one material only), as well as for the total silica content. Although questions regarding the trueness of the results from EM and FFF-ICPMS procedures remain, the data obtained indicate that even assigning values should eventually be feasible. The materials can therefore be regarded as the first step towards certified reference materials for silica nanoparticles in a food matrix.
Access options
Buy single article
Instant access to the full article PDF.
USD 39.95
Price includes VAT (USA)
Tax calculation will be finalised during checkout.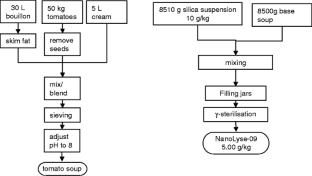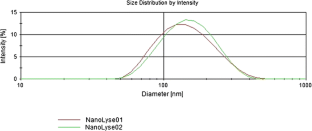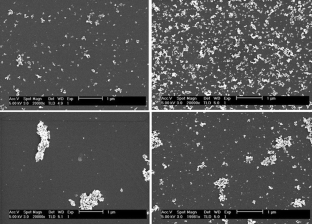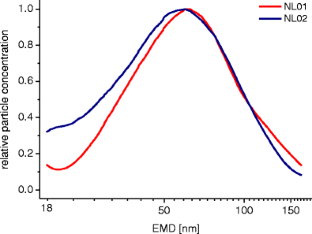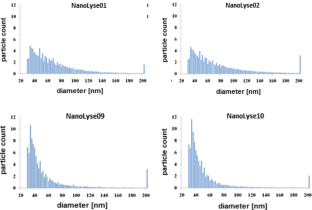 References
1.

Recommendation 2011/696/EU of the European Commission on the definition of nanomaterial

2.

Regulation 1169/2011 of the European Parliament and of the council on the provision of food information to consumers

3.

Linsinger TPJ, Roebben G, Solans C, Ramsch R (2010) Reference materials for size measurements of nanoparticles. Trends Anal Chem 30:18–27. doi:10.1016/j.trac.2010.09.005

4.

Schlag S, Suresh B, Yoneyama M, Yang V (2010) Nanoscale Chemicals and Materials, Report by SRI Consulting, 2010

5.

Plachutta E, Wagner C: Die gute Kueche, Orac, Vienna, Austria, 1993, ISBN 3701503109; p160 "Rindsknochensuppe" and p. 170 "Tomatensuppe"

6.

Liu J, Chao J, Liu R, Tan Z, Yin Y, Wu Y, Jiang G (2009) Cloud Point Extraction as an Advantageous Preconcentration Approach for Analysis of Trace Silver Nanoparticles in Environmental Waters. Anal Chem 81:6496–6502

7.

Latscha HP, Klein HA (2004) Analytische Chemie, Basiswissen III. Springer Verlag, Berlin Heidelberg

8.

Matissek M, Steiner G (2006) Lebensmittelanalytik, Grundzüge, Methoden, Anwendungen, 3rd edn. Springer Verlag, Berlin Heidelberg

9.

Wagner S, v.d. Kammer F, Legros S, Larsen EH, Loeschner K, Navratilova J, Hofmann T Sample preparation for detection of silica NPs in soup by AF4-ICP-MS (manuscript in preparation)

10.

Kaufman SL, Skogen JW, Dorman FD, Zarrin F (1996) Macromolecule Analysis Based on Electrophoretic Mobility in Air: Globular Proteins. Anal Chem 68:1895–1904

11.

Wohlecke H, Lerche D, Detloff T, Franks K, Kestens V, Roebben G (2013) In-situ determination of the effective particle density of suspended colloidal silica particles by means of analytical centrifugation, Poster at Partec 2013, Nuremberg, April 23-25 2013. Abstract available via http://www.partec.info/en/review/review2013/

12.

Van der Veen AMH, Linsinger TPJ, Pauwels J (2001) Uncertainty calculations in the certification of reference materials. 2. Homogeneity study. Accred Qual Assur 6:26–30

13.

Linsinger TPJ, Pauwels J, van der Veen AMH, Schimmel H, Lamberty A (2001) Homogeneity and stability of reference materials. Accred Qual Assur 6:20–25

14.

Lamberty A, Schimmel H, Pauwels J (1998) The study of the stability of reference materials by isochronous measurements. Fres J Anal Chem 360:359–361

15.

Linsinger TPJ, Pauwels J, Lamberty A, Schimmel H, van der Veen AMH, Siekmann L (2001) Estimating the Uncertainty of Stability for Matrix CRMs. Fres J Anal Chem 370:183–188

16.

ISO Guide 35 (2006) Reference materials — General and statistical principles for certification, International Organization for Standardization, Geneva, Switzerland

17.

ISO 13321(1996) Particle size analysis -- Photon correlation spectroscopy, International Organization for Standardization, Geneva, Switzerland

18.

Wagner S, von der Kammer F (2013) Final report of the FP7 project "NanoLyse Nanoparticles in Food: Analytical methods for detection and characterisation", Collaborative project 245162. A peer-reviewed publication on the FFF-ICPMS work on the method development and validation for silica NPs in soup is planned for 2014

19.

Braun A, Kestens V, Franks K, Roebben G, Lamberty A, Linsinger TPJ (2012) A new certified reference material for size analysis of nanoparticles. J Nanoparticle Res 14:1012–1023
Acknowledgments
The work leading to these results has received funding from the European Union Seventh Framework Programme (FP7/2007–2013) under grant agreement no. 245162. The authors thank Mrs. Meeus (EC JRC IRMM) for conducting the microbiology tests.
Additional information
Published in the topical collection Characterisation of Nanomaterials in Biological Samples with guest editors Heidi Goenaga-Infante and Erik H. Larsen.
About this article
Cite this article
Grombe, R., Charoud-Got, J., Emteborg, H. et al. Production of reference materials for the detection and size determination of silica nanoparticles in tomato soup. Anal Bioanal Chem 406, 3895–3907 (2014). https://doi.org/10.1007/s00216-013-7554-1
Received:

Revised:

Accepted:

Published:

Issue Date:
Keywords
Engineered nanoparticles

Colloidal silica

Reference material production