Abstract
Racemic mixtures of the promising anti-malarial bisindole alkoids, flinderole A–C, desmethyl flinderole C, borreverine and isoborreverine, are baseline-separated for the first time by HPLC using vancomycin-based stationary phases and partially separated by capillary electrophoresis (CE) using cyclodextrin selectors. The HPLC results compare the performance of Chirobiotic V and V2 in the polar organic and reversed phase modes and their complementary selectivity is discussed. The performance of the cyclodextrin selectors in CE, while less effective, are discussed in terms of their selectivity in normal and reversed polarity modes.
Access options
Buy single article
Instant access to the full article PDF.
USD 39.95
Price excludes VAT (USA)
Tax calculation will be finalised during checkout.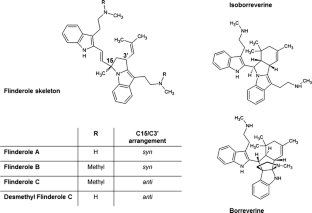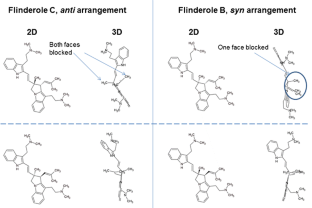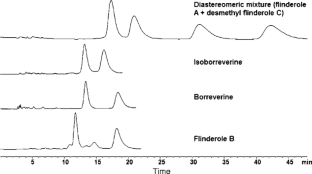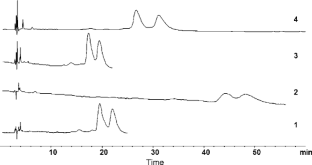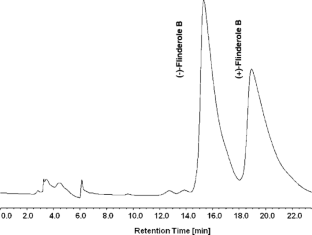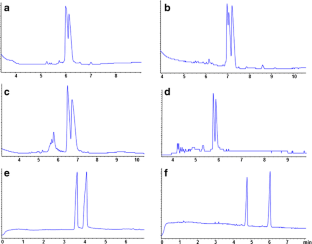 References
Fernandez LS, Jobling MF, Andrews KT, Avery VM (2008) Antimalarial activity of natural product extracts from Papua New Guinean and Australian plants against plasmodium falciparum. Phytother Res 22:1409–1412

Fernandez LS, Buchanan MS, Carroll AR, Feng YJ, Quinn RJ, Avery VM (2009) Flinderoles A–C: antimalarial bis-indole alkaloids from flindersia species. Org Lett. doi:10.1021/ol802506n

Fernandez LS, Sykes ML, Andrews KT, Avery VM (2010) Antiparasitic activity of alkaloids from plant species of Papua New Guinea and Australia. Int J Antimicrob Agents. doi:10.1016/j.ijantimicag.2010.05.008

Dethe DH, Erande RD, Ranjan A (2011) Biomimetic total syntheses of flinderoles B and C. J Am Chem Soc. doi:10.1021/ja1116974

Vallakati R, May JA (2012) Biomimetic synthesis of the antimalarial flindersial alkaloids. J Am Chem Soc. doi:10.1021/ja301387k

Zeldin RM, Toste FD (2011) Synthesis of flinderoles B and C by a gold-catalyzed allene hydroarylation. Chem Sci. doi:10.1039/c1sc00290b

Zeldin RM (2011) Gold(I)-catalyzed cycloisomerization reactions of allenes: An exploration of ligand effects and the total synthesis of flinderole B and C. :266 pp. Dissertation Univ. of California Berkeley, CA, USA

Sheu JH, Chen YK, Hong Y, Vincent L (1993) Efficient syntheses of yuehchukene and β-(dehydroprenyl)indole. J Org Chem. doi:10.1021/jo00073a044

Tillequin F, Koch M, Pousset JL, Cave A (1978) Biomimetic synthesis of borreverine and isoborreverine. J Chem Soc Chem Commun. doi:10.1039/c39780000826

Wang X, Liu Y, Nair UB, Armstrong DW, Ellis B, Williams KM (1997) Enantiomeric composition of monoterpenes in conifer resins. Tetrahedron: Asymmetry. doi:10.1016/S0957-4166(97)00600-9

Armstrong DW, Tang Y, Chen S, Zhou Y, Bagwill C, Chen J (1994) Macrocyclic antibiotics as a new class of chiral selectors for liquid chromatography. Anal Chem. doi:10.1021/ac00081a019

Beesley TE (2004) Preparative purification of basic chiral racemates. LCGC North America p.31

Sztojkov-Ivanov A, Lazar L, Fulop F, Armstrong DW, Peter A (2006) Comparison of separation efficiency of macrocyclic glycopeptide-based chiral stationary phases for the LC enantioseparation of β-amino acids. Chromatographia. doi:10.1365/s10337-006-0824-8

Bosakova Z, Curinova E, Tesarova E (2005) Comparison of vancomycin-based stationary phases with different chiral selector coverage for enantioselective separation of selected drugs in high-performance liquid chromatography. J Chromatogr A. doi:10.1016/j.chroma.2005.01.017

Takacs-Novak K, Noszal B, Tokes-Kovesdi M, Szasz G (1993) Acid–base properties and proton-speciation of vancomycin. Int J Pharm. doi:10.1016/0378-5173(93)90252-B

Berthod A, Nair UB, Bagwill C, Armstrong DW (1996) Derivatized vancomycin stationary phases for LC chiral separations. Talanta. doi:10.1016/0039-9140(96)01974-1

Kosel M, Eap CB, Amey M, Baumann P (1998) Analysis of the enantiomers of citalopram and its demethylated metabolites using chiral liquid chromatography. J Chromatogr B Biomed Sci Appl. doi:10.1016/S0378-4347(98)00384-3

El Deeb S (2010) Evaluation of a vancomycin-based LC column in enantiomeric separation of atenolol: method development, repeatability study and enantiomeric impurity determination. Chromatographia. doi:10.1365/s10337-010-1548-3

Nair UB, Chang SSC, Armstrong DW, Rawjee YY, Eggleston DS, McArdle JV (1996) Elucidation of vancomycin's enantioselective binding site using its copper complex. Chirality. doi:10.1002/(SICI)1520-636X(1996)8:8<590::AID-CHIR9>3.0.CO;2-D

Advanced Separation Technologies Inc. (2004) Chirobiotic Handbook, 5th Edition http://www.sigmaaldrich.com/etc./medialib/docs/Sigma/General_Information/chirobiotic_handbook.Par.0001.File.tmp/chirobiotic_handbook.pdf

Vallakati R, Smuts JP, Armstrong DW, May JA (2013) On the biosynthesis and optical activity of the flinderoles. Tetrahedron Letters. doi:10.1016/j.tetlet.2013.08.104

Juvancz Z, Kendrovics RB, Ivanyi R, Szente L (2008) The role of cyclodextrins in chiral capillary electrophoresis. Electrophoresis. doi:10.1002/elps.200700657
Acknowledgments
We gratefully acknowledge the Welch Foundation (Y-0026) for their continued support.
About this article
Cite this article
Smuts, J.P., Na, YC., Vallakati, R. et al. Enantioseparation of flinderoles and borreverines by HPLC on Chirobiotic V and V2 stationary phases and by CE using cyclodextrin selectors. Anal Bioanal Chem 405, 9169–9177 (2013). https://doi.org/10.1007/s00216-013-7335-x
Received:

Revised:

Accepted:

Published:

Issue Date:

DOI: https://doi.org/10.1007/s00216-013-7335-x
Keywords
Chirobiotic V

HPLC

Bisindole alkaloids

CE