Abstract
Nitration of tyrosine residues in the major birch pollen allergen Bet v 1 may alter the allergenic potential of the protein. The kinetics and mechanism of the nitration reaction, however, have not yet been well characterized. To facilitate further investigations, an efficient method to quantify the nitration degree (ND) of small samples of Bet v 1 is required. Here, we present a suitable method of high-performance liquid chromatography coupled to a diode array detector (HPLC-DAD) that can be photometrically calibrated using the amino acids tyrosine (Tyr) and nitrotyrosine (NTyr) without the need for nitrated protein standards. The new method is efficient and in agreement with alternative methods based on hydrolysis and amino acid analysis of tetranitromethane (TNM)-nitrated Bet v 1 standards as well as samples from nitration experiments with peroxynitrite. The results confirm the applicability of the new method for the investigation of the reaction kinetics and mechanism of protein nitration.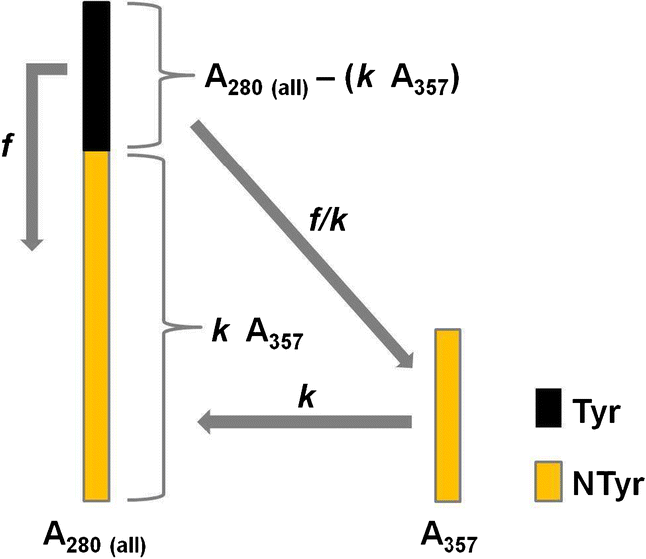 Access options
Buy single article
Instant access to the full article PDF.
USD 39.95
Price excludes VAT (USA)
Tax calculation will be finalised during checkout.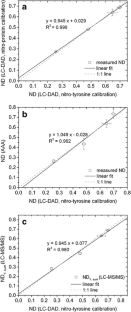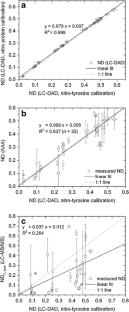 References
Greenacre SAB, Ischiropoulos H (2001) Tyrosine nitration: localisation, quantification, consequences for protein function and signal transduction. Free Radic Res 34(6):541–581. doi:10.1080/10715760100300471

Shiraiwa M, Sosedova Y, Rouviere A, Yang H, Zhang YY, Abbatt JPD, Ammann M, Pöschl U (2011) The role of long-lived reactive oxygen intermediates in the reaction of ozone with aerosol particles. Nat Chem 3(4):291–295. doi:10.1038/nchem.988

Franze T, Weller MG, Niessner R, Pöschl U (2005) Protein nitration by polluted air. Environ Sci Technol 39(6):1673–1678. doi:10.1021/es0488737

Gruijthuijsen YK, Grieshuber I, Stöcklinger A, Tischler U, Fehrenbach T, Weller MG, Vogel L, Vieths S, Pöschl U, Duschl A (2006) Nitration enhances the allergenic potential of proteins. Int Arch Allergy Immunol 141(3):265–275. doi:10.1159/000095296

Karle AC, Oostingh GJ, Mutschlechner S, Ferreira F, Lackner P, Bohle B, Fischer GF, Vogt AB, Duschl A (2012) Nitration of the pollen allergen Bet v 1.0101 enhances the presentation of Bet v 1-derived peptides by HLA-DR on human dendritic cells. PLoS One 7(2):e31483

Franze T, Weller MG, Niessner R, Pöschl U (2003) Enzyme immunoassays for the investigation of protein nitration by air pollutants. Analyst 128(7):824–831. doi:10.1039/b303132b

Crow JP, Beckman JS (1995) Quantitation of protein tyrosine, 3-nitrotyrosine, and 3-aminotyrosine utilizing HPLC and intrinsic ultraviolet absorbance. Methods (Orlando) 7(1):116–120. doi:10.1006/meth.1995.1017

Yang H, Zhang YY, Pöschl U (2010) Quantification of nitrotyrosine in nitrated proteins. Anal Bioanal Chem 397(2):879–886. doi:10.1007/s00216-010-3557-3

Kamisaki Y, Wada K, Nakamoto K, Kishimoto Y, Kitano M, Itoh T (1996) Sensitive determination of nitrotyrosine in human plasma by isocratic high-performance liquid chromatography. J Chromatogr B-Biomed Appl 685(2):343–347. doi:10.1016/s0378-4347(96)00202-2

Walcher W, Franze T, Weller MG, Pöschl U, Huber CG (2003) Liquid- and gas-phase nitration of bovine serum albumin studied by LC-MS and LC-MS/MS using monolithic columns. J Proteome Res 2(5):534–542. doi:10.1021/pr034034s

Zhang YY, Yang H, Pöschl U (2011) Analysis of nitrated proteins and tryptic peptides by HPLC-chip-MS/MS: site-specific quantification, nitration degree, and reactivity of tyrosine residues. Anal Bioanal Chem 399(1):459–471. doi:10.1007/s00216-010-4280-9

Gusenkov S, Ackaert C, Stutz H (2013) Separation and characterization of nitrated variants of the major birch pollen allergen by CZE-ESI-μTOF MS. Electrophoresis. doi:10.1002/elps.201300151

Kofler S, Asam C, Eckhard U, Wallner M, Ferreira F, Brandstetter H (2012) Crystallographically Mapped Ligand Binding Differs in High and Low IgE Binding Isoforms of Birch Pollen Allergen Bet v 1. J Mol Biol 422(1):109–123

Ferrer-Sueta G, Radi R (2009) Chemical biology of peroxynitrite: kinetics, diffusion, and radicals. ACS Chem Biol 4(3):161–177. doi:10.1021/cb800279q

De Filippis V, Frasson R, Fontana A (2006) 3-Nitrotyrosine as a spectroscopic probe for investigating protein-protein interactions. Protein Sci 15(5):976–986. doi:10.1110/ps.051957006

Mach H, Middaugh CR, Lewis RV (1992) Statistical determination of the average values of the extinction coefficients of tryptophan and tyrosine in native proteins. Anal Biochem 200(1):74–80. doi:10.1016/0003-2697(92)90279-g

Abello N, Kerstjens HAM, Postma DS, Bischoff R (2009) Protein tyrosine nitration: selectivity, physicochemical and biological consequences, denitration, and proteomics methods for the identification of tyrosine-nitrated proteins. J Proteome Res 8(7):3222–3238. doi:10.1021/pr900039c
Acknowledgments
This work was funded by the Max Planck Society (MPG) and the Austrian Science Fund (FWF): P22236-B13. KS is supported by the Max Planck Graduate Center–Johannes Gutenberg University Mainz (MPGC-JOGU). The authors gratefully acknowledge T. Pooya and G. Gadermaier for the technical support, M. Reinmuth for the fruitful discussions, and M.O. Andreae for the support. We appreciate the support by S. Kofler, F. Ferreira, and H. Brandstetter for providing the Bet v 1.0101.
Additional information
Kathrin Selzle and Chloé Ackaert contributed equally to this work.
Electronic supplementary material
Below is the link to the electronic supplementary material.
About this article
Cite this article
Selzle, K., Ackaert, C., Kampf, C.J. et al. Determination of nitration degrees for the birch pollen allergen Bet v 1. Anal Bioanal Chem 405, 8945–8949 (2013). https://doi.org/10.1007/s00216-013-7324-0
Received:

Revised:

Accepted:

Published:

Issue Date:

DOI: https://doi.org/10.1007/s00216-013-7324-0
Keywords