Abstract
In this study, levels of esterified and nonesterified fatty acids (EFAs and NEFAs, respectively) were compared in obese individuals (body mass index between 30 and 47 kg m–2) in basal state and after intake of four different breakfasts prepared with oils heated at frying temperature. The target oils were three sunflower oils—pure, enriched with dimethylsiloxane (400 μg mL–1) as lipophilic oxidation inhibitor, and enriched with phenolic compounds (400 μg mL–1) as hydrophilic oxidation inhibitors—and virgin olive oil with a natural content of phenolic compounds of 400 μg mL–1. The intake of breakfasts was randomized to avoid trends associated to this variability source. EFAs and NEFAs were subjected to a sequential derivatization step for independent gas chromatography–mass spectrometry analysis of both fractions of metabolites in human serum. Derivatization was assisted by ultrasonic energy to accelerate the reaction kinetics, as required for high-throughput analysis. Statistical analysis supported on univariate (multifactor ANOVA) and multivariate approaches (principal component analysis and partial least squares–discriminant analysis) allowed identification of the main variability sources and also discriminating between individuals after intake of each breakfast. Individuals' samples after intake of breakfasts prepared with virgin olive oil were clearly separated from those who ingested the remaining breakfasts. The main compounds contributing to discrimination were omega-3 and omega-6 EFAs with special emphasis on arachidonic acid and eicosapentaenoic acid. These two polyunsaturated fatty acids are the precursors of eicosanoid metabolites, which are of vital importance as they play important roles in inflammation and in the pathogenesis of vascular and malignant diseases as cancer.
This is a preview of subscription content,
to check access.
Access this article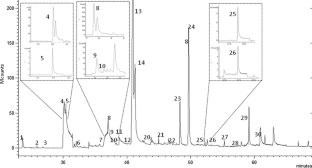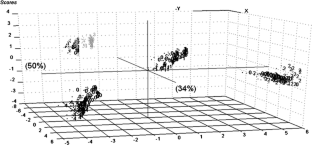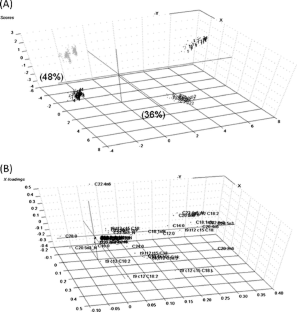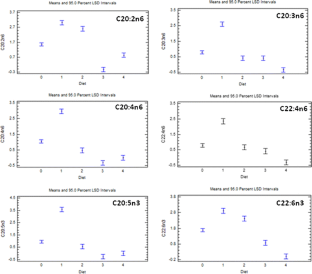 Similar content being viewed by others
References
Ascherio A, Hennekens C, Buring J, Master C, Stampfer M, Willett W (1994) Trans-fatty acids intake and risk of myocardial infarction. Circulation 89(1):94–101

Simon JA, Hodgkins ML, Browner WS, Neuhaus JM, Bernert JT, Hulley SB (1995) Serum fatty acids and the risk of coronary heart disease. Am J Epidemiol 142(5):469–476

Paravar T (2005) The Mediterranean diet: a protective effect on coronary heart disease. Nutr Bytes 10(2):1–6

González-Périz Ana CJ (2010) Resolution of Adipose Tissue Inflammation. TheScientificWorldJournal 10:832–856. http://escholarship.org/uc/item/4d9121sf

Burlingame B, Nishida C, Uauy R, Weisell R (2009) Fats and fatty acids in human nutrition: inntroduction. Nutr Metab 55:5–7

Oda E, Hatada K, Katoh K, Kodama M, Nakamura Y, Aizawa Y (2005) A case–control pilot study on n-3 polyunsaturated fatty acid as a negative risk factor for myocardial infarction. Int Heart J 46(4):583–591

Rissanen T, Voutilainen S, Nyyssönen K, Lakka TA, Salonen JT (2000) Fish oil–derived fatty acids, docosahexaenoic acid and docosapentaenoic acid, and the risk of acute coronary events. Circulation 102(22):2677–2679

Kaur G, Cameron-Smith D, Garg M, Sinclair AJ (2011) Docosapentaenoic acid (22:5n-3): a review of its biological effects. Prog Lipid Res 50(1):28–34

Perez-Herrera A, Delgado-Lista J, Torres-Sanchez LA, Rangel-Zuñiga OA, Camargo A, Moreno-Navarrete JM, Garcia-Olid B, Quintana-Navarro GM, Alcala-Diaz JF, Muñoz-Lopez C, Lopez-Segura F, Fernandez-Real JM, Luque de Castro MD, Lopez-Miranda J, Perez-Jimenez F (2012) The postprandial inflammatory response after ingestion of heated oils in obese persons is reduced by the presence of phenol compounds. Mol Nutr Food Res 56(3):510–514

Lewis T, Nichols PD, McMeekin TA (2000) Evaluation of extraction methods for recovery of fatty acids from lipid-producing microheterotrophs. J Microbiol Meth 43(2):107–116

Haslam DW, James WPT (2005) Obesity. Lancet 366(9492):1197–1209

Shinohara E, Kihara S, Yamashita S, Yamane M, Nishida M, Arai T, Kotani K, Nakamura T, Takemura K, Matsuzawa Y (1997) Visceral fat accumulation as an important risk factor for obstructive sleep apnoea syndrome in obese subjects. J Intern Med 241(1):11–18

Filipovský J, Ducimetiére P, Eschwége E, Richard JL, Rosselin G, Claude JR (1996) The relationship of blood pressure with glucose, insulin, heart rate, free fatty acids and plasma cortisol levels according to degree of obesity in middle-aged men. J Hypertens 14(2):229–235

Kusunoki M, Tsutsumi K, Nakayama M, Kurokawa T, Nakamura T, Ogawa H, Fukuzawa Y, Morishita M, Koide T, Miyata T (2007) Relationship between serum concentrations of saturated fatty acids and unsaturated fatty acids and the homeostasis model insulin resistance index in Japanese patients with type 2 diabetes mellitus. J Med Invest 54(3–4):243–247

Guallar-Castillón P, Rodríguez-Artalejo F, Lopez-Garcia E, León-Muñoz LM, Amiano P, Ardanaz E, Arriola L, Barricarte A, Buckland G, Chirlaque M-D, Dorronsoro M, Huerta J-M, Larrañaga N, Marin P, Martínez C, Molina E, Navarro C, Quirós JR, Rodríguez L, Sanchez MJ, González CA, Moreno-Iribas C (2012) Consumption of fried foods and risk of coronary heart disease: Spanish cohort of the European Prospective Investigation into Cancer and Nutrition study. Brit Med J 344:e363. doi:10.1136/bmj.e363

Guallar-Castillón P, Rodríguez-Artalejo F, Fornés NS, Banegas JR, Etxezarreta PA, Ardanaz E, Barricarte A, Chirlaque M-D, Iraeta MD, Larrañaga NL, Losada A, Mendez M, Martínez C, Quirós JR, Navarro C, Jakszyn P, Sánchez MJ, Tormo MJ, González CA (2007) Intake of fried foods is associated with obesity in the cohort of Spanish adults from the European Prospective Investigation into Cancer and Nutrition. Am J Clin Nutr 86(1):198–205

Peairs A, Rankin J, Lee Y (2011) Effects of acute ingestion of different fats on oxidative stress and inflammation in overweight and obese adults. Nutr J 10(1):122

Dandona P, Aljada A, Chaudhuri A, Mohanty P, Garg R (2005) Metabolic syndrome. Circulation 111(11):1448–1454

Yang W-C, Adamec J, Regnier FE (2007) Enhancement of the LC/MS analysis of fatty acids through derivatization and stable isotope coding. Anal Chem 79(14):5150–5157

Gutfinger T (1981) Polyphenols in olive oil. J Amer Oil Chem Soc 58:966–968

Girón MV, Ruiz-Jiménez J, de Luque -Castro MD (2009) Dependence of fatty-acid composition of edible oils on their enrichment in olive phenols. J Agr Food Chem 57(7):2797–2802

Sánchez-Ávila N, Mata-Granados JM, Ruiz-Jiménez J, Luque de Castro MD (2009) Fast, sensitive and highly discriminant gas chromatography–mass spectrometry method for profiling analysis of fatty acids in serum. J Chromatogr A 1216(40):6864–6872

Sweeting H (2007) Measurement and definitions of obesity in childhood and adolescence: a field guide for the uninitiated. Nutr J 6 (32). doi:10.1186/1475-2891-6-32

Yang R-Z, Lee M-J, Hu H, Pollin TI, Ryan AS, Nicklas BJ, Snitker S, Horenstein RB, Hull K, Goldberg NH, Goldberg AP, Shuldiner AR, Fried SK, Gong D-W (2006) Acute-phase serum amyloid a: an inflammatory adipokine and potential link between obesity and its metabolic complications. PLoS Med 3(6):884–894

Comba A, Pasqualini ME (2009) Primers on molecular pathways—lipoxygenases: their role as an oncogenic pathway in pancreatic cancer. Pancreatology 9(6):724–728

Di Mari JF, Saada JI, Mifflin RC, Valentich JD, Powell DW (2007) HETEs enhance IL-1-mediated COX-2 expression via augmentation of message stability in human colonic myofibroblasts. Am J Physiol-Gastr L 293(4):G719–G728
Acknowledgments
The Spanish Ministerio de Ciencia e Innovación (MICINN) and European FEDER program are thanked for financial support through project CTQ2009-07430. F.P.C. is also grateful to the MICINN for a Ramón y Cajal contract (RYC-2009-03921).
Electronic supplementary material
Below is the link to the electronic supplementary material.
About this article
Cite this article
Orozco-Solano, M.I., Priego-Capote, F. & Luque de Castro, M.D. Analysis of esterified and nonesterified fatty acids in serum from obese individuals after intake of breakfasts prepared with oils heated at frying temperature. Anal Bioanal Chem 405, 6117–6129 (2013). https://doi.org/10.1007/s00216-013-7004-0
Received:

Revised:

Accepted:

Published:

Issue Date:

DOI: https://doi.org/10.1007/s00216-013-7004-0
Keywords