Abstract
An automated flow-through multi-mycotoxin immunoassay using the stand-alone Munich Chip Reader 3 platform and reusable biochips was developed and evaluated. This technology combines a unique microarray, prepared by covalent immobilization of target analytes or derivatives on diamino-poly(ethylene glycol) functionalized glass slides, with a dedicated chemiluminescence readout by a CCD camera. In a first stage, we aimed for the parallel detection of aflatoxins, ochratoxin A, deoxynivalenol, and fumonisins in cereal samples in a competitive indirect immunoassay format. The method combines sample extraction with methanol/water (80:20, v/v), extract filtration and dilution, and immunodetection using horseradish peroxidase-labeled anti-mouse IgG antibodies. The total analysis time, including extraction, extract dilution, measurement, and surface regeneration, was 19 min. The prepared microarray chip was reusable for at least 50 times. Oat extract revealed itself as a representative sample matrix for preparation of mycotoxin standards and determination of different types of cereals such as oat, wheat, rye, and maize polenta at relevant concentrations according to the European Commission regulation. The recovery rates of fortified samples in different matrices, with 55–80 and 58–79 %, were lower for the better water-soluble fumonisin B1 and deoxynivalenol and with 127–132 and 82–120 % higher for the more unpolar aflatoxins and ochratoxin A, respectively. Finally, the results of wheat samples which were naturally contaminated with deoxynivalenol were critically compared in an interlaboratory comparison with data obtained from microtiter plate ELISA, aokinmycontrol® method, and liquid chromatography–mass spectrometry and found to be in good agreement.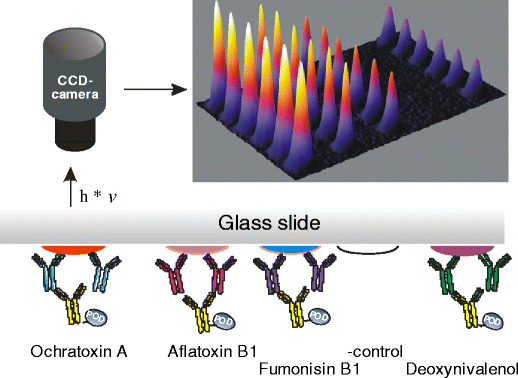 Access options
Buy single article
Instant access to the full article PDF.
USD 39.95
Price excludes VAT (USA)
Tax calculation will be finalised during checkout.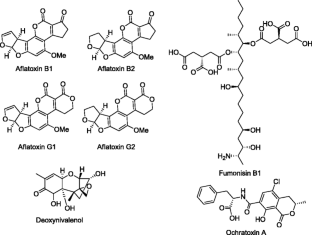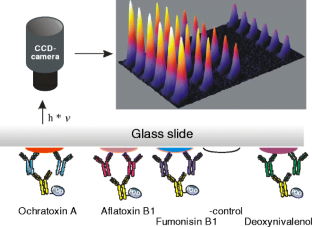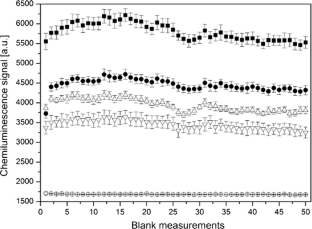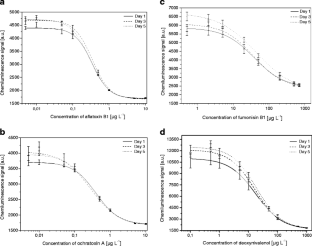 References
Shephard GS (2008) Chem Soc Rev 37:2468–2477

Urusov AE, Zherdev AV, Dzantiev BB (2010) Appl Biochem Microbiol 46:276–290

Prieto-Simon B, Karube I, Saiki H (2012) Food Chem 135:1323–1329

Li Y, Liu X, Lin Z (2012) Food Chem 132:1549–1554

Czeh A, Mandy F, Feher-Toth S, Torok L, Mike Z, Koszegi B, Lustyk GJ (2012) Immunol Methods 384:71–80

Bondarenko AP, Eremin SA (2012) J Anal Chem 67:790–794

Commission regulation (EC) No 1881/2006 (2006) Off J Eur Union 364:5–24

Commission regulation (EC) No 1126/2007 (2007) Off J Eur Union 255:14–17

IARC (1993) International Agency for Research in Cancer, Lyon, France. IARC 57:427–794

Köppen R, Koch M, Siegel D, Merkel S, Maul R, Nehls I (2010) Appl Microbiol Biotechnol 86:1595–1612

Kralj Cigic I, Prosen H (2009) Int J Mol Sci 10:62–115

Shephard GS, Berthiller F, Burdaspal PA, Crews C, Jonker MA, Krska R, MacDonald S, Malone RJ, Maragos C, Sabino M, Solfrizzo M, Van Egmond HP, Whitaker TB (2012) World Mycotox J 5:3–30

Hajslova J, Zachariasova M, Cajka T (2011) Mass spectrometry in food safety: methods and protocols. In: Zweigenbaum J (ed) Methods in molecular biology, 747th edn. Humana Press, New York, pp 233–258

Herebian D, Zühlke S, Lamshöft M, Spiteller M (2009) J Sep Sci 32:939–948

Sulyok M, Krska R, Schuhmacher R (2010) Food Chem 119:408–416

Monbaliu S, van Poucke C, Detavernier C, Dumoulin F, van de Velde M, Schoeters E, van Dyck S, Averkieva O, van Peteghem C, De Saeger S (2010) J Agric Food Chem 58:66–71

Krska R, Schubert-Ullrich P, Molinelli A, Sulyok M, MacDonald S, Crews C (2008) Food Addit Contam 25:152–163

Cichna-Markl M (2011) World Mycotox J 4:203–215

Cervino C, Asam S, Knopp D, Rychlik M, Niessner R (2008) J Agric Food Chem 56:1873–1879

Shephard GS et al (2011) World Mycotox J 4:3–2421

Lippolis V et al (2011) Anal Bioanal Chem 401:2561–2571

Li P, Zhang Q, Zhang W (2009) Trends Anal Chem 28:1115–1126

Liao J, Li H (2010) Microchim Acta 171:289–295

Tang D, Sauceda JC, Lin Z, Ott S, Basova E, Goryacheva I, Biselli S, Lin J, Niessner R, Knopp D (2009) Biosens Bioelectron 25:514–518

Basova EY, Goryacheva IY, Rusanova TY, Burmistrova NA, Dietrich R, Märtlbauer E, Detavernier C, Van Peteghem C, De Saeger S (2010) Anal Bioanal Chem 397:55–62

Beloglazova NV, Speranskaya ES, De Saeger S, Hens Z, Abé S, Goryacheva IY (2012) Anal Bioanal Chem 403:3013–2024

Lattanzio VMT, Nivarlet N, Lippolis V, Gatta DS, Huet A-C, Delahaut P, Granier B, Visconti A (2012) Anal Chim Acta 718:99–108

Zheng MZ, Richard JL, Binder J (2006) Mycopathologia 161:261–273

Li P, Zhang Z, Zhang Q, Zhang N, Zhang W, Ding X, Li R (2012) Electrophoresis 33:2253–2265

Njumbe Ediage E, Di Mavungu JD, Goryacheva IY, Van Peteghem C, De Saeger S (2012) Anal Bioanal Chem 403:265–278

Anfossi L, Baggiani C, Giovannoli C, D'Arco G, Giraudi G (2013) Anal Bioanal Chem 405:467–480

Kos G, Lohninger H, Krska R (2003) Anal Chem 75:1211–1217

Rasch C, Kumke M, Löhmannsröben HG (2010) Food Bioprocess Technol 3:908–916

Maragos CM (2009) World Mycotox J 2:221–238

Moises SS, Schäferling M (2009) Bioanal Rev 1:73–104

Tothill IE (2011) World Mycotox J 4:361–374

Peters J, Bienenmann-Ploum M, De Rijk T, Haasnoot W (2011) Mycotox Res 27:63–72

Dorokhin D, Haasnoot W, Franssen MCR, Zuilhof H, Nielen MWF (2011) Anal Bioanal Chem 400:3005–3011

Kloth K, Niessner R, Seidel M (2009) Biosen Bioelectron 24:2106–2112

Kloth K, Rye-Johnsen M, Didier A, Dietrich R, Märtlbauer E, Niessner R, Seidel M (2009) Analyst 134:1433–1439

Sauceda-Friebe J, Karsunke XYZ, Vazac S, Biselli S, Niessner R, Knopp D (2011) Anal Chim Acta 689:234–242

Cervino C, Weber E, Knopp D, Niessner R (2008) J Immunol Methods 329:184–193

Chu FS, Hsia MTS, Sun PS (1977) J Assoc Off Anal Chem Int 60:791–794

Usleber E, Märtlbauer E, Dietrich R, Terplan G (1991) J Agric Food Chem 39:2091–2095

Wolter A, Niessner R, Seidel M (2007) Anal Chem 79:4529–4537

Pope ME, Soste MV, Eyford BA, Anderson NL, Pearson TW (2009) J Immunol Methods 341:86–96

Tittlemier SA, Roscoe M, Drul D, Blagden R, Kobialka C, Chan J, Gaba D (2013) Mycotoxin Res 29:55–62
Acknowledgments
This research project was supported by the German Ministry of Economics and Technology (via AiF) and the FEI (Forschungskreis der Ernährungsindustrie e.V. Bonn); project AiF 381 ZN. Further, the authors thank Dr. T. Westermair and Dr. P. Walser (muva Kempten) for LC-MS analysis of deoxynivalenol in grain samples and Martina Kirsch, Rosenmühle Landshut (Germany) for providing naturally contaminated grain samples and performing analysis of deoxynivalenol by the aokinmycontrol® system. We are also grateful to Dr. G. Lystik (Soft Flow Biotechnology, Gödöllo, Hungary) for providing the anti-OTA monoclonal antibody and Huntsman Corporation for the free samples of DAPEG.
Additional information
This paper is dedicated to Professor Franz Dickert on the occasion of his 70th birthday.
About this article
Cite this article
Oswald, S., Karsunke, X.Y.Z., Dietrich, R. et al. Automated regenerable microarray-based immunoassay for rapid parallel quantification of mycotoxins in cereals. Anal Bioanal Chem 405, 6405–6415 (2013). https://doi.org/10.1007/s00216-013-6920-3
Received:

Revised:

Accepted:

Published:

Issue Date:

DOI: https://doi.org/10.1007/s00216-013-6920-3
Keywords
Automated multiplex immunoassay

Chemiluminescence detection

Regenerable microarray

Mycotoxins

Cereals