Abstract
Laboratory identification of carbapenemase-producing clinical isolates is crucial to limit the spread of the bacteria. In this study, we shall first develop the matrix-assisted laser desorption ionization–time-of-flight mass spectrometry (MALDI-TOF MS) assay in automatic identification of carbapenemase producers. A total of 143 well-characterized isolates were studied. After an incubation of bacteria with meropenem trihydrate, the mixture was centrifuged and the supernatant analyzed by MALDI-TOF MS. A genetic algorithm model with ClinProTools software was built using spectra of 43 carbapenemase-positive isolates and 40 carbapenemase-negative isolates after 2 h of incubation. This model was externally validated using 60 test isolates. All spectra of supernatants of the carbapenemase-negative isolates showed peak profiles comparable to that of pure meropenem (m/z 384.159, 406.140, and 428.122 of its two sodium salt variants) regardless of the incubation time tested. For the carbapenemase-positive isolates, the specific peak for meropenem at m/z 384.159 disappeared during the incubation time, two products of meropenem degradation were identified with m/z 358.18 (the decarboxylated product) and 380.161 (sodium salt of the decarboxylated product), and other degradation products were observed (native molecule with disrupted amide bond with m/z 402.169, three sodium salt variants with m/z 424.151, 446.133, and 468.115). Sixty test isolates were 100 % correctly classified as carbapenemase positive and carbapenemase negative with the genetic algorithm model. MALDI-TOF MS coupled with ClinProTools is capable of rapidly, accurately, and automatically identifying carbapenemase producers.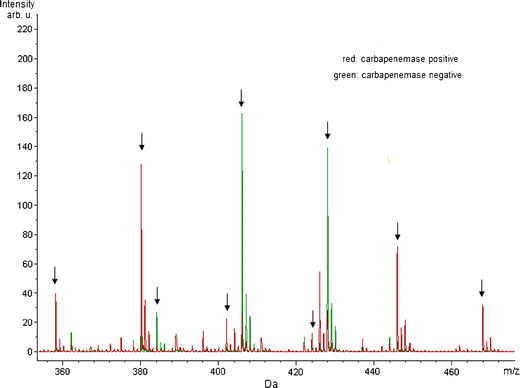 Access options
Buy single article
Instant access to the full article PDF.
USD 39.95
Price excludes VAT (USA)
Tax calculation will be finalised during checkout.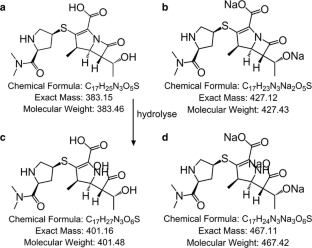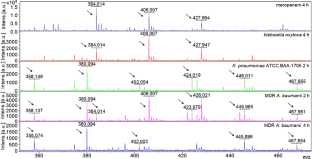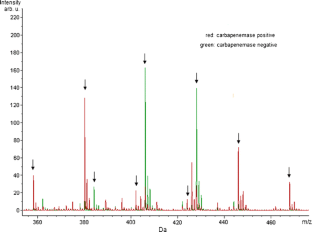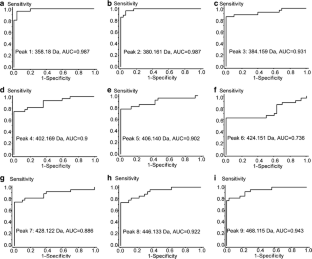 References
Gupta N, Limbago BM, Patel JB, Kallen AJ (2011) Carbapenem-resistant Enterobacteriaceae: epidemiology and prevention. Clin Infect Dis: Off publ Infect Dis Soc Am 53(1):60–67. doi:10.1093/cid/cir202

Poirel L, Pitout JD, Nordmann P (2007) Carbapenemases: molecular diversity and clinical consequences. Futur Microbiol 2(5):501–512. doi:10.2217/17460913.2.5.501

Xia Y, Liang Z, Su X, Xiong Y (2012) Characterization of carbapenemase genes in Enterobacteriaceae species exhibiting decreased susceptibility to carbapenems in a university hospital in Chongqing, China. Ann Lab Med 32(4):270–275. doi:10.3343/alm.2012.32.4.270

Anderson KF, Lonsway DR, Rasheed JK, Biddle J, Jensen B, McDougal LK, Carey RB, Thompson A, Stocker S, Limbago B, Patel JB (2007) Evaluation of methods to identify the Klebsiella pneumoniae carbapenemase in Enterobacteriaceae. J Clin Microbiol 45(8):2723–2725. doi:10.1128/JCM.00015-07

Lee K, Lim YS, Yong D, Yum JH, Chong Y (2003) Evaluation of the Hodge test and the imipenem-EDTA double-disk synergy test for differentiating metallo-beta-lactamase-producing isolates of Pseudomonas spp. and Acinetobacter spp. J Clin Microbiol 41(10):4623–4629

Carvalhaes CG, Picao RC, Nicoletti AG, Xavier DE, Gales AC (2010) Cloverleaf test (modified Hodge test) for detecting carbapenemase production in Klebsiella pneumoniae: be aware of false positive results. J Antimicrob Chemother 65(2):249–251. doi:10.1093/jac/dkp431

Chen L, Mediavilla JR, Endimiani A, Rosenthal ME, Zhao Y, Bonomo RA, Kreiswirth BN (2011) Multiplex real-time PCR assay for detection and classification of Klebsiella pneumoniae carbapenemase gene (bla KPC) variants. J Clin Microbiol 49(2):579–585. doi:10.1128/JCM.01588-10

Edwards R, Hashmi PS, Greenwood D (1997) The effect of zinc ions on the activity of metallo-beta-lactamases of Bacteroides fragilis. J Med Microbiol 46(9):807–809

Hrabak J, Walkova R, Studentova V, Chudackova E, Bergerova T (2011) Carbapenemase activity detection by matrix-assisted laser desorption ionization-time of flight mass spectrometry. J Clin Microbiol 49(9):3222–3227. doi:10.1128/JCM.00984-11

Hrabak J, Studentova V, Walkova R, Zemlickova H, Jakubu V, Chudackova E, Gniadkowski M, Pfeifer Y, Perry JD, Wilkinson K, Bergerova T (2012) Detection of NDM-1, VIM-1, KPC, OXA-48, and OXA-162 carbapenemases by matrix-assisted laser desorption ionization-time of flight mass spectrometry. J Clin Microbiol 50(7):2441–2443. doi:10.1128/JCM.01002-12

Sparbier K, Schubert S, Weller U, Boogen C, Kostrzewa M (2012) Matrix-assisted laser desorption ionization-time of flight mass spectrometry-based functional assay for rapid detection of resistance against beta-lactam antibiotics. J Clin Microbiol 50(3):927–937. doi:10.1128/JCM.05737-11

Burckhardt I, Zimmermann S (2011) Using matrix-assisted laser desorption ionization-time of flight mass spectrometry to detect carbapenem resistance within 1 to 2.5 hours. J Clin Microbiol 49(9):3321–3324. doi:10.1128/JCM.00287-11

Kempf M, Bakour S, Flaudrops C, Berrazeg M, Brunel JM, Drissi M, Mesli E, Touati A, Rolain JM (2012) Rapid detection of carbapenem resistance in Acinetobacter baumannii using matrix-assisted laser desorption ionization-time of flight mass spectrometry. PLoS One 7(2):e31676. doi:10.1371/journal.pone.0031676

Carvalhaes CG, Cayo R, Assis DM, Martins ER, Juliano L, Juliano MA, Gales AC (2012) Detection of SPM-1-producing Pseudomonas aeruginosa and CHDL-producing Acinetobacter baumannii using liquid chromatography mass spectrometry (LCMS) and MALDI-TOF MS. J Clin Microbiol. doi:10.1128/JCM.02365-12

Jeon BC, Jeong SH, Bae IK, Kwon SB, Lee K, Young D, Lee JH, Song JS, Lee SH (2005) Investigation of a nosocomial outbreak of imipenem-resistant Acinetobacter baumannii producing the OXA-23 beta-lactamase in Korea. J Clin Microbiol 43(5):2241–2245. doi:10.1128/JCM.43.5.2241-2245.2005

Wang L, Gu H, Lu X (2012) Rapid low-cost detection of Klebsiella pneumoniae carbapenemase genes by internally controlled real-time PCR. J Microbiol Methods 91(3):361–363. doi:10.1016/j.mimet.2012.09.009

Lay JO Jr (2001) MALDI-TOF mass spectrometry of bacteria. Mass Spectrom Rev 20(4):172–194. doi:10.1002/mas.10003

Queenan AM, Bush K (2007) Carbapenemases: the versatile beta-lactamases. Clin Microbiol Rev 20(3):440–458. doi:10.1128/CMR.00001-07, table of contents
Acknowledgments
We thank Dr. Dong Li (Bruker Daltonics, China) for his assistance during the study. This work was supported by the Research Foundation of Beijing Tongren Hospital Affiliated to Capital Medical University (no. 2012-YJJ-010).
Conflict of interest
The authors declare that they have no conflict of interest.
About this article
Cite this article
Wang, L., Han, C., Sui, W. et al. MALDI-TOF MS applied to indirect carbapenemase detection: a validated procedure to clearly distinguish between carbapenemase-positive and carbapenemase-negative bacterial strains. Anal Bioanal Chem 405, 5259–5266 (2013). https://doi.org/10.1007/s00216-013-6913-2
Received:

Revised:

Accepted:

Published:

Issue Date:

DOI: https://doi.org/10.1007/s00216-013-6913-2
Keywords
MALDI

Carbapenem

Carbapenemases

Resistance

Classification