Abstract
DART (direct analysis in real time), a novel technique with wide potential for rapid screening analysis, coupled with high-resolution time-of-flight mass spectrometry (TOF-MS) has been used for quantitative analysis of 5-hydroxymethylfurfural (5-HMF), a typical temperature marker of food. The DART/TOF-MS method was optimised and validated. Quantification of 5-HMF was achieved by use of a stable isotope-labelled 5-HMF standard prepared from glucose. Formation of 5-HMF from saccharides, a potential source of overestimation of results, was evaluated. Forty-four real samples (honey and caramelised condensed sweetened milk) and 50 model samples of heated honey were analysed. The possibility of using DART for analysis of heated samples of honey was confirmed. HPLC and DART/TOF-MS methods for determination of 5-HMF were compared. The correlation equation between these methods was DART = 1.0287HPLC + 0.21340, R 2 = 0.9557. The DART/TOF-MS method has been proved to enable efficient and rapid determination of 5-HMF in a variety of food matrices, for example honey and caramel.
Access options
Buy single article
Instant access to the full article PDF.
USD 39.95
Price excludes VAT (USA)
Tax calculation will be finalised during checkout.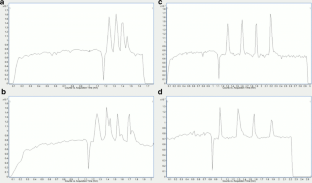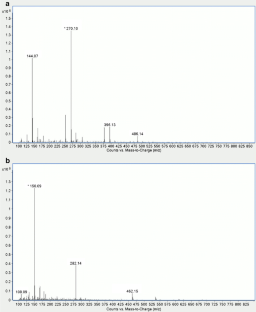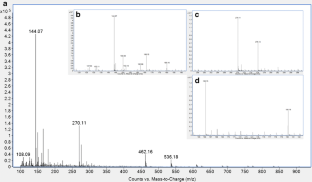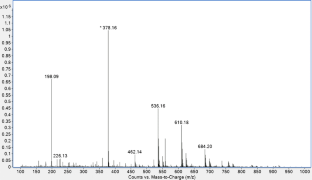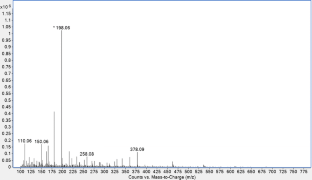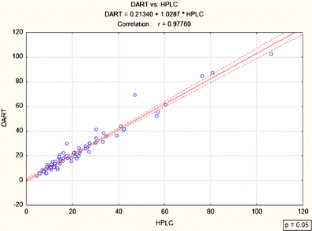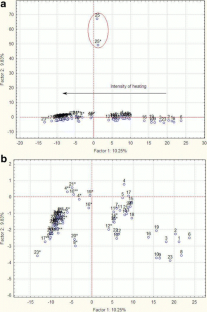 References
Capuano E, Fogliano V (2011) Acrylamide and 5-hydroxymethylfurfural (HMF): A review on metabolism, toxicity, occurrence in food and mitigation strategies. LWT – Food Sci and. Technol 44:793–810

Zappala M, Fallico B, Arena E, Verzera A (2005) Methods for the determination of HMF in honey: a comparison. Food Control 16:273–277

Rizelio VM, Gonzaga LV, Borges GC, Micke GA, Fett R, Costa ACO (2012) Development of a fast MECK method for determination of 5-HMF in honey samples. Food Chem 133:1640–1645

Iglesia F, Lazaro F, Puchades R, Maquieira A (1997) Automatic determination of 5-hydroxymethylfurfural (5-HMF) by a flow injection method. Food Chem 60:245–250

Cody RB, Laramée JA, Durst HD (2005) Versatile New Ion Source for the Analysis of Materials in Open Air under Ambient Conditions. Anal Chem 77:2297–2302

Chernetsova ES, Morlock GE, Revelsky IA (2011) DART mass spectrometry and its applications in chemical analysis. Russ Chem Rev 80:235–255

Čajka T, Václavík L, Riddellová K, Hajšlová J (2008) GC-TOF-MS and DART-TOF-MS: Challenges in the Analysis of Soft Drink. LC–GC Eur 21:250–256

Hajšlová J, Čajka T, Václavík L (2011) Challenging applications offered by direct analysis in real time (DART) in food-quality and safety analysis. Trends in Anal Chem 30:204–218

Václavík L, Čajka T, Hrbek V, Hajšlová J (2009) Ambient mass spectrometry employing direct analysis in real time (DART) ion source for olive oil quality and authenticity assessment. Anal Chim Acta 645:56–63

Chernetsova ES, Morlock GE (2012) Assessing the capabilities of direct analysis in real time mass spectrometry for 5-hydroxymethylfurfural quantitation in honey. Int J of Mass Spectrom 314:22–32

Wagner BM, Donnarumma F, Wintersteiger R, Windischhofer W, Leis HJ (2010) Simultaneous quantitative determination of alpha-ketoglutaric acid and 5-hydroxymethylfurfural in human plasma by gas chromatography–mass spectrometry. Anal Bioanal Chem 396:2629–2637

Bogdanov S, Martin P, Lüllmann C (1997) Harmonised methods of the European honey commission. Apidologie 28(extra issue):1–59

Antal MJ Jr, Mok WSL (1990) Mechanism of formation of 5-(hydroxymethyl)-2-furaldehyde from D-fructose and sucrose. Carbohydr Res 199:91–109
Acknowledgments
The authors are grateful for financial support for specific university research from The Ministry of Education, Youth and Sports (MŠMT no. 21/2012) and the Ministry of Agriculture of the Czech Republic (research project MZe No. QI91B283). The authors thank the Bee Research Institute Dol for providing the samples of honey.
About this article
Cite this article
Rajchl, A., Drgová, L., Grégrová, A. et al. Rapid determination of 5-hydroxymethylfurfural by DART ionization with time-of-flight mass spectrometry. Anal Bioanal Chem 405, 4737–4745 (2013). https://doi.org/10.1007/s00216-013-6875-4
Received:

Revised:

Accepted:

Published:

Issue Date:

DOI: https://doi.org/10.1007/s00216-013-6875-4
Keywords
DART

5-HMF

HPLC

TOF-MS

Honey

Caramel