Abstract
Dried blood spots (DBS), collected as part of the newborn screening program (NSP) in the USA, is a valuable resource for studies on environmental chemical exposures and associated health outcomes in newborns. Nevertheless, determination of concentrations of environmental chemicals in DBS requires assays with great sensitivity, as the typical volume of blood available on a DBS with 16-mm diameter disc is approximately 50 μL. In this study, we developed a liquid–liquid extraction and high-performance liquid chromatography/tandem mass spectrometry method for the detection of perfluorooctanesulfonate (PFOS), perfluorooctanoate (PFOA), and bisphenol A (BPA) in DBS. The method was validated for accuracy, precision, and sensitivity, by spiking of target chemicals at different levels on Whatman 903 filter cards, which is used in the collection of DBS by the NSP. Contamination arising from collection, storage, and handling of DBS is an important issue to be considered in the analysis of trace levels of environmental chemicals in DBS. For the evaluation of the magnitude of background contamination, field blanks were prepared from unspotted portions of DBS filter cards collected by the NSP. The method was applied for the measurement of PFOS, PFOA, and BPA in 192 DBS specimens provided by NSP of New York State. PFOS and PFOA were detected in 100 % of the specimens analyzed. The concentrations of PFOS and PFOA measured in DBS were similar to those reported earlier in the whole blood samples of newborns. BPA was also found in 86 % of the specimens at concentrations ranging from 0.2 to 36 ng/mL (excluding two outliers). Further studies are needed to evaluate the sources of BPA exposures and health outcomes in newborns.
Access options
Buy single article
Instant access to the full article PDF.
US$ 39.95
Tax calculation will be finalised during checkout.
Subscribe to journal
Immediate online access to all issues from 2019. Subscription will auto renew annually.
US$ 119
Tax calculation will be finalised during checkout.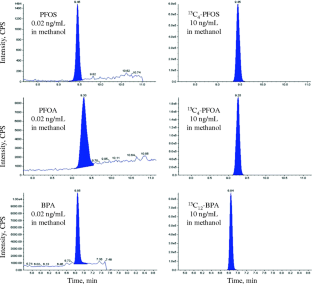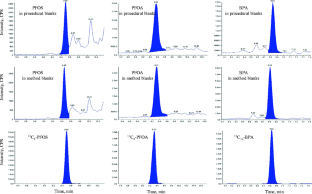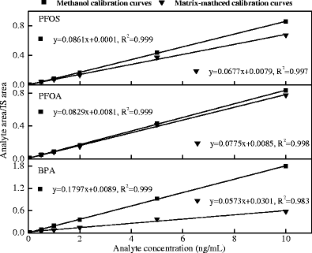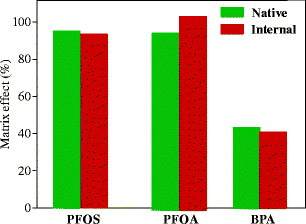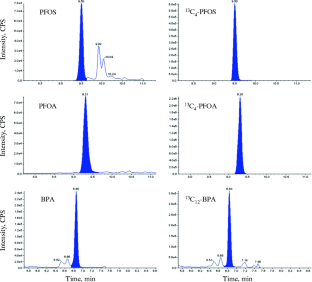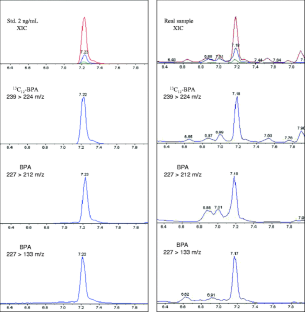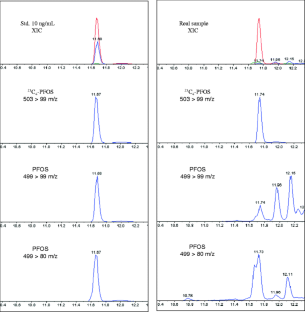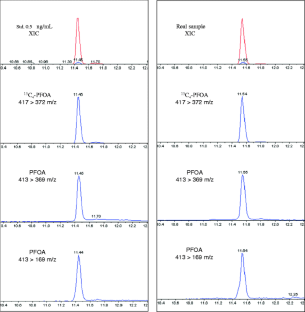 References
1.

Salihovic S, Mattioli L, Lindströma G, Lind L, Monica Lind P, Bavel B (2012) A rapid method for screening of the Stockholm Convention POPs in small amounts of human plasma using SPE and HRGC/HRMS. Chemosphere 86:747–753

2.

Riddell N, Arsenault G, Benskin JP, Chittim B, Martin JW, McAlees A, McCrindle R (2009) Branched perfluorooctane sulfonate isomer quantification and characterization in blood serum samples by HPLC/ESI-MS (/MS). Environ Sci Technol 43:7902–7908

3.

Shlosberg A, Rumbeiha WK, Lublin A, Kannan K (2011) A database of avian blood spot examinations for exposure of wild birds to environmental toxicants: the DABSE biomonitoring project. J Environ Monit 13:1547–1558

4.

Olsen GW, Lange CC, Ellefson ME, Mair DC, Church TR, Goldberg CL, Herron RM, Medhdizadekashi Z, Nobiletti JB, Rios JA (2012) Temporal trends of perfluoroalkyl concentrations in American Red Cross adult blood donors, 2000–2010. Environ Sci Technol 46:6330–6338

5.

Burse V, DeGuzman M, Korver M, Najam A, Williams C, Hannon W, Therrell B (1997) Preliminary investigation of the use of dried-blood spots for the assessment of in utero exposure to environmental pollutants. Biochem Mol Med 61:236–239

6.

Spliethoff HM, Tao L, Shaver SM, Aldous KM, Pass KA, Kannan K, Eadon GA (2008) Use of newborn screening program blood spots for exposure assessment: declining levels of perfluorinated compounds in New York State infants. Environ Sci Technol 42:5361–5367

7.

Olney RS, Moore CA, Ojodu JA, Lindegren ML, Hannon WH (2006) Storage and use of residual dried blood spots from state newborn screening programs. J Pediatr 148:618–622

8.

Lawson G, Cocks E, Tanna S (2012) Quantitative determination of atenolol in dried blood spot samples by LC-HRMS: a potential method for assessing medication adherence. J Chromatogr B 897:72–79

9.

Dua V, Pant C, Sharma V, Pathak G (1996) Determination of HCH and DDT in finger-prick whole blood dried on filter paper and its field application for monitoring concentrations in blood. Bull Environ Contam Toxicol 56:50–57

10.

Kato K, Wanigatunga AA, Needham LL, Calafat AM (2009) Analysis of blood spots for polyfluoroalkyl chemicals. Anal Chim Acta 656:51–55

11.

Otero-Santos SM, Delinsky AD, Valentin-Blasini L, Schiffer J, Blount BC (2009) Analysis of perchlorate in dried blood spots using ion chromatography and tandem mass spectrometry. Anal Chem 81:1931–1936

12.

Suyagh MF, Iheagwaram G, Kole PL, Millership J, Collier P, Halliday H, McElnay JC (2010) Development and validation of a dried blood spot-HPLC assay for the determination of metronidazole in neonatal whole blood samples. Anal Bioanal Chem 397:687–693

13.

Lu D, Wang D, Ip HSS, Barley F, Ramage R, She J (2012) Measurements of polybrominated diphenyl ethers and polychlorinated biphenyls in a single drop of blood. J Chromatogr B 891–892:36–43

14.

Adam BW, Alexander JR, Smith SJ, Chace DH, Loeber JG, Elvers L, Hannon WH (2000) Recoveries of phenylalanine from two sets of dried-blood-spot reference materials: prediction from hematocrit, spot volume, and paper matrix. Clin Chem 46:126–128

15.

Liao C, Kannan K (2011) High levels of bisphenol A in paper currencies from several countries, and implications for dermal exposure. Environ Sci Technol 45:6761–6768

16.

Liao C, Kannan K (2011) Widespread occurrence of bisphenol A in paper and paper products: implications for human exposure. Environ Sci Technol 45:9372–9379

17.

Reagen WK, Ellefson ME, Kannan K, Giesy JP (2008) Comparison of extraction and quantification methods of perfluorinated compounds in human plasma, serum, and whole blood. Anal Chim Acta 628(2):214–221

18.

Taylor JK (1987) Quality Assurance of Chemical Measurements. Lewis Publishers, Chelsea

19.

Pérez JJ, Williams MK, Weerasekera G, Smith K, Whyatt RM, Needham LL, Barr DB (2010) Measurement of pyrethroid, organophosphorus, and carbamate insecticides in human plasma using isotope dilution gas chromatography-high resolution mass spectrometry. J Chromatogr B 878:2554–2562

20.

Matuszewski BK, Constanzer ML, Chavez-Eng CM (2003) Strategies for the assessment of matrix effect in quantitative bioanalytical methods based on HPLC-MS/MS. Anal Chem 75:3019–3030

21.

Padmanabhan V, Siefert K, Ransom S, Johnson T, Pinkerton J, Anderson L, Tao L, Kannan K (2008) Maternal bisphenol-A levels at delivery: a looming problem? J Perinatol 28:258–263
Acknowledgment
This study was funded by a grant from the National Institute of Child Health and Human Development (NICHD) contract number: HHSN267200700019C to New York State Department of Health.
Conflict of interest/disclaimer
None.
About this article
Cite this article
Ma, W., Kannan, K., Wu, Q. et al. Analysis of polyfluoroalkyl substances and bisphenol A in dried blood spots by liquid chromatography tandem mass spectrometry. Anal Bioanal Chem 405, 4127–4138 (2013). https://doi.org/10.1007/s00216-013-6787-3
Received:

Revised:

Accepted:

Published:

Issue Date:
Keywords
Dried blood spot

Newborn screening

PFOS

PFOA

BPA

HPLC-MS/MS