Abstract
Ciguatera fish poisoning (CFP) is a food intoxication caused by exposure to ciguatoxins (CTXs) in coral reef fish. Rapid analytical methods have been developed recently to quantify Pacific-CTX-1 (P-CTX-1) in fish muscle, but it is destructive and can cause harm to valuable live coral reef fish. Also fish muscle extract was complex making CTX quantification challenging. Not only P-CTX-1, but also P-CTX-2 and P-CTX-3 could be present in fish, contributing to ciguatoxicity. Therefore, an analytical method for simultaneous quantification of P-CTX-1, P-CTX-2, and P-CTX-3 in whole blood of marketed coral reef fish using sonication, solid-phase extraction (SPE), and liquid chromatography tandem mass spectrometry (LC-MS/MS) was developed. The optimized method gave acceptable recoveries of P-CTXs (74–103 %) in fish blood. Matrix effects (6–26 %) in blood extracts were found to be significantly reduced compared with those in muscle extracts (suppressed by 34–75 % as reported in other studies), thereby minimizing potential for false negative results. The target P-CTXs were detectable in whole blood from four coral reef fish species collected in a CFP-endemic region. Similar trends in total P-CTX levels and patterns of P-CTX composition profiles in blood and muscle of these fish were observed, suggesting a relationship between blood and muscle levels of P-CTXs. This optimized method provides an essential tool for studies of P-CTX pharmacokinetics and pharmacodynamics in fish, which are needed for establishing the use of fish blood as a reliable sample for the assessment and control of CFP.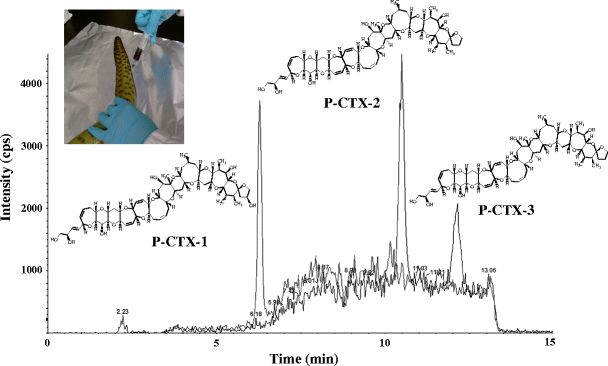 Access options
Buy single article
Instant access to the full article PDF.
US$ 39.95
Tax calculation will be finalised during checkout.
Subscribe to journal
Immediate online access to all issues from 2019. Subscription will auto renew annually.
US$ 119
Tax calculation will be finalised during checkout.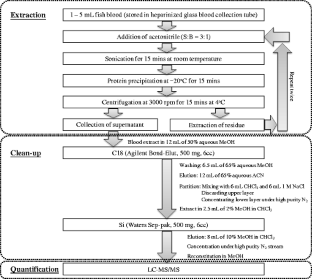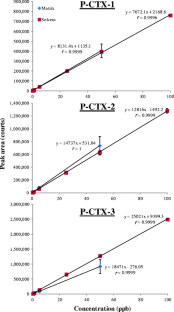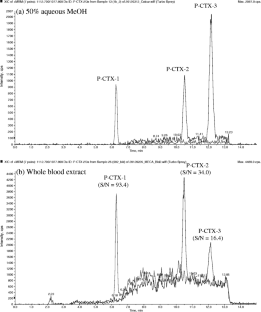 References
1.

Caillaud A, de la Iglesia P, Darius HT, Pauillac S, Aligizaki K, Fraga S, Chinain M, Diogene J (2010) Update on methodologies available for ciguatoxin determination: perspectives to confront the onset of ciguatera fish poisoning in Europe. Mar Drugs 8:1838–1907

2.

Vernoux JP, Lahlou NS, El A, Andaloussi NR, Magras L (1985) A study of the distribution of ciguatoxin in individual Caribbean fish. Acta Trop 42(3):225–233

3.

Van Dolah FM (2000) Marine algal toxins: origins, health effects, and their increased occurrence. Environ Health Persp 108:133–141

4.

Chan WH, Mak YL, Wu JJ, Jin L, Sit WH, Lam JCW, Sadovy de Mitcheson Y, Chan LL, Lam PKS, Murphy MB (2011) Spatial distribution of ciguateric fish in the Republic of Kiribati. Chemosphere 84:117–123

5.

Abraham A, Jester ELE, Granade HR, Plakas SM, Dickey RW (2012) Caribbean ciguatoxin profile in raw and cooked fish implicated in ciguatera. Food Chem 131:192–198

6.

Lehane L, Lewis RJ (2000) Ciguatera: recent advances but the risk remains. Int J Food Microbiol 61:91–125

7.

Dickey RW, Plakas SM (2010) Ciguatera: a public health perspective. Toxicon 56:123–136

8.

EFSA Panel on Contaminants in Food Chain (2010) Scientific opinion on marine biotoxins in shellfish—emerging toxins: ciguatoxin group. EFSA Journal 8:1627–1665

9.

Isbister GK, Kiernan MC (2005) Neurotoxic marine poisoning. Lancet Neurol 4:218–228

10.

Tubaro A, Hungerford J (2007) Toxicology of marine toxins. In: Gupta RC (ed) Veterinary toxicology: basic and clinical principles. Elsevier Ltd., New York, p 725

11.

Sadovy Y ed. (1998) Ciguatera hits Hong Kong live food-fish trade. SPC Live Reef Fish Information Bulletin 4: 51–53.

12.

Sadovy YJ, Donaldson TJ, Graham TR, McGilvray F, Muldoon GJ, Philips MJ, Rimmer MA, Smith A, Yeeting B (2003) While stocks last: the live reef food fish trade. Asian Development Bank, Manila

13.

Stewart I, Lewis RJ, Eaglesham GK, Graham GC, Poole S, Craig SB (2010) Emerging tropical diseases in Australia. Part 2. Ciguatera fish poisoning. Ann Trop Med Parasitol 104:557–571

14.

Stewart I, Eaglesham GK, Poole S, Graham G, Paulo C, Wickramasinghe W, Sadler R, Shaw GR (2010) Establishing a public health analytical service based on chemical methods for detecting and quantifying Pacific ciguatoxin in fish samples. Toxicon 56:804–812

15.

Banner AH (1976) Ciguatera: a disease from coral reef fish. Academic, New York

16.

De Sylva DP (1994) Distribution and ecology of ciguatera fish poisoning in Florida, with emphasis on Florida Keys. Bull Mar Sci 54(3):944–954

17.

Yogi K, Oshiro N, Inafuku Y, Hirama M, Yasumoto T (2011) Detailed LC-MS/MS analysis of ciguatoxins revealing distinct regional and species characteristics in fish and causative alga from the Pacific. Anal Chem 83:8886–8891

18.

Lewis RJ, Yang AJ, Jones A (2009) Rapid extraction combined with LC-tandem mass spectrometry (CREM-LC/MS/MS) for the determination of ciguatoxins in ciguateric fish flesh. Toxicon 54:897

19.

Wu JJ, Mak YL, Murphy MB, Lam JCW, Chan WH, Wang MF, Chan LL, Lam PKS (2011) Validation of an accelerated solvent extraction liquid chromatography-tandem mass spectrometry method for Pacific ciguatoxin-1 in fish flesh and comparison with the mouse neuroblastoma assay. Anal Bioanal Chem 400:3165–3175

20.

Lee C, Sadovy Y (1998) A taste for live fish: Hong Kong's live reef fish market. Naga, ICLARM Q 21:38–42

21.

Gundersen DT, Webb MAH, Fink AK, Kushner LR, Feist GW, Fitzpatrick MS, Foster E, Schreck C (2008) Using blood plasma for monitoring organochlorine contaminants in juvenile white sturgeon, Acipenser transmontanus, from the lower Columbia River. Bull Environ Contam Toxicol 81(3):225–229

22.

Keller JM, Kucklick JR, McClellan-Green PD (2004) Organochlorine contaminants in loggerhead sea turtle blood: extraction techniques and distribution among plasma and red blood cells. Arch Environ Contam Toxicol 46(2):254–264

23.

Lewis RJ, Sellin M, Poli MA, Norton RS, MacLeod JK, Sheil MM (1991) Purification and characterization of ciguatoxins from moray eel (Lycodontis javanicus, Muraenidae). Toxicon 29:1115–1127

24.

Bottein Dechraoui MY, Wang ZH, Ramsdell JS (2007) Optimization of ciguatoxin extraction method from blood for Pacific ciguatoxin (P-CTX-1). Toxicon 49:100–105

25.

Institutional Animal Care and Use Committee (2012) The University of Tennessee, Knoxville. http://iacuc.tennessee.edu/policies/blood_removal.shtml. Assessed 13 Nov 2012

26.

Lau PPF, Parry-Jones R (1999) The Hong Kong trade in live reef fish for food. TRAFFIC East Asia and World Wide Fund for Nature Hong Kong, Hong Kong

27.

Bottein Dechraoui MY, Kashinsky L, Wang ZH, Littnan C, Ramsdell JS (2011) Identification of ciguatoxins in Hawaiian monk seals Monachus schauinslandi from the Northwestern and Main Hawaiian Islands. Environ Sci Technol 45:5403–5409

28.

Shimadzu Corporation (2012) http://www.shimadzu.com/an/hplc/support/lib/lctalk/35/35lab.html. Assessed 22 March 2012

29.

Chan TK, Chan AYW, Shan J (1992) The clinical features and management of ciguatera fish poisoning. J Hong Kong Med Assoc 44:119–121

30.

King R, Bonfiglio R, Fernandez-Metzler C, Miller-Stein C, Olah T (2000) Mechanistic investigation of ionization suppression in electrospray ionization. J Am Soc Mass Spectrom 11(11):942–950

31.

Kilcoyne J, Fux E (2010) Strategies for the elimination of matrix effects in the liquid chromatography tandem mass spectrometry analysis of the lipophilic toxins okadaic acid and azaspiracid-1 in molluscan shellfish. J Chromatogr A 1217(45):7123–7130

32.

Lewis RJ, Holmes MJ (1993) Origin and transfer of toxins involved in ciguatera. Comp Biochem Physiol 106C:615–628

33.

Bottein Dechraoui MY, Wang ZH, Ramsdell JS (2011) Toxicokinetics of the ciguatoxin P-CTX-1 in rats after intraperitoneal or oral administration. Toxicology 284:1–6

34.

Bottein Dechraoui MY, Rezvani AH, Gordon CJ, Levin ED, Ramsdell JS (2008) Repeat exposure to ciguatoxin leads to enhanced and sustained thermoregulatory, pain threshold and motor activity responses in mice: relationship to blood ciguatoxin concentrations. Toxicology 246(1):55–62
Acknowledgments
The present work was fully supported by three grants from the Research Grants Council of the Hong Kong Special Administrative Region (CityU3/CRF/08), the National Natural Science Foundation of China (41276110) and a grant from Shenzhen strategic emerging industry development special project, China. We thank Mr. Being Yeeting (Senior Fisheries Scientist, Secretariat of the Pacific Community, New Caledonia) and the Fisheries Division (Ministry of Fisheries and Marine Resource Development, Republic of Kiribati) for facilitating the sample collection. The authors declare they have no competing financial interest.
Electronic supplementary material
Below is the link to the electronic supplementary material.
About this article
Cite this article
Mak, Y.L., Wu, J.J., Chan, W.H. et al. Simultaneous quantification of Pacific ciguatoxins in fish blood using liquid chromatography–tandem mass spectrometry. Anal Bioanal Chem 405, 3331–3340 (2013). https://doi.org/10.1007/s00216-013-6766-8
Received:

Revised:

Accepted:

Published:

Issue Date:
Keywords
Ciguatera fish poisoning

Pacific ciguatoxins

P-CTXs

Fish blood

LC-MS/MS