Abstract
The use of 1H-NMR-based metabolomics to distinguish and identify unique markers of five Ontario ginseng (Panax quinquefolius L.) landraces and two ginseng species (P. quinquefolius and P. ginseng) was evaluated. Three landraces (2, 3, and 5) were distinguished from one another in the principal component analysis (PCA) scores plot. Further analysis was conducted and specific discriminating metabolites from the PCA loadings were determined. Landraces 3 and 5 were distinguishable on the basis of a decreased NMR intensity in the methyl ginsenoside region, indicating decreased overall ginsenoside levels. In addition, landrace 5 was separated by an increased amount of sucrose relative to the rest of the landraces. Landrace 2 was separated from the rest of the landraces by the increased level of ginsenoside Rb1. The Ontario P. quinquefolius was also compared with Asian P. ginseng by PCA, and clear separation between the two groups was detected in the PCA scores plot. The PCA loadings plot and a t-test NMR difference plot were able to identify an increased level of maltose and a decreased level of sucrose in the Asian ginseng compared with the Ontario ginseng. An overall decrease of ginsenoside content, especially ginsenoside Rb1, was also detected in the Asian ginseng's metabolic profile. This study demonstrates the potential of NMR-based metabolomics as a powerful high-throughput technique in distinguishing various closely related ginseng landraces and its ability to identify metabolic differences from Ontario and Asian ginseng. The results from this study will allow better understanding for quality assessment, species authentication, and the potential for developing a fully automated method for quality control.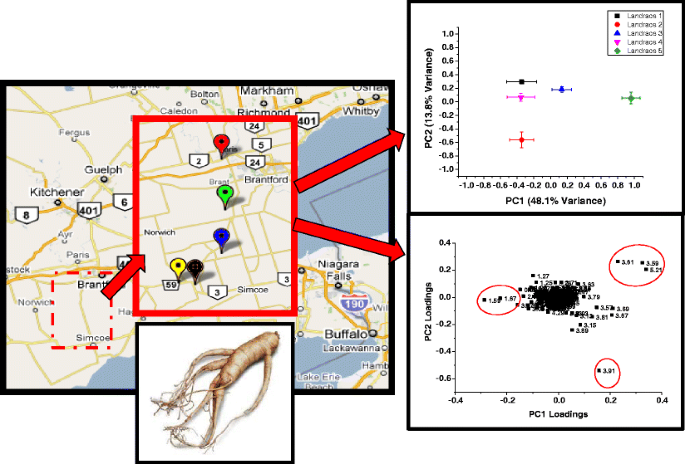 Access options
Buy single article
Instant access to the full article PDF.
USD 39.95
Price excludes VAT (USA)
Tax calculation will be finalised during checkout.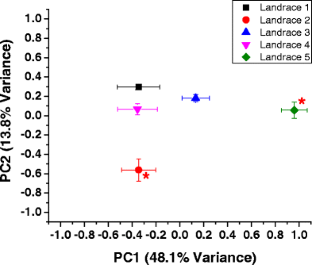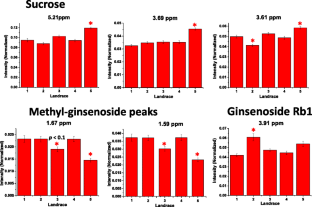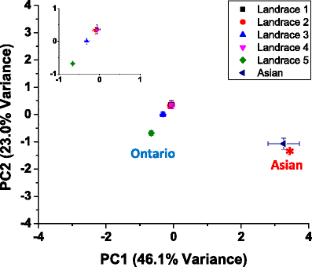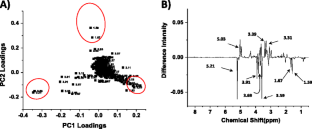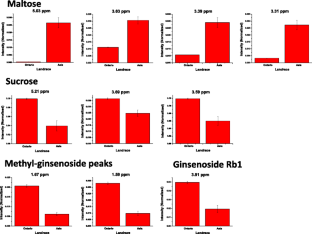 References
Liang Y, Zhao S (2008) Progress in understanding of ginsenoside biosynthesis. Plant Biol 10(4):415–421. doi:10.1111/j.1438-8677.2008.00064.x

Lee E-J, Shaykhutdinov R, Weljie AM, Vogel HJ, Facchini PJ, Park S-U, Kim Y-K, Yang T-J (2009) Quality assessment of ginseng by 1H NMR metabolite fingerprinting and profiling analysis. J Agric Food Chem 57(16):7513–7522. doi:10.1021/jf901675y

Blumenthal M, Goldberg A, Brinkman J (2000) Herbal medicine: expanded Commission E monographs. Integr Med Commun 18–19

Assinewe VA, Baum BR, Gagnon D, Arnason JT (2003) Phytochemistry of wild populations of Panax quinquefolius L. (North American ginseng). J Agric Food Chem 51(16):4549–4553. doi:10.1021/jf030042h

McIntyre KL, Luu A, Sun C, Brown D, Lui EMK, Arnason JT (2011) Ginsenoside variation within and between Ontario ginseng landraces: relating phytochemistry to biological activity. Recent Adv Phytochem 41:97–107. doi:10.1007/978-1-4419-7299-6_7

Sievenpiper JL, Arnason JT, Leiter LA, Vuksan V (2004) Decreasing, null and increasing effects of eight popular types of ginseng on acute postprandial glycemic indices in healthy humans: the role of ginsenosides. J Am Coll Nutr 23(3):248–258

Sengupta S, Toh SA, Sellers LA, Skepper JN, Koolwijk P, Leung HW, Yeung HW, Wong RNS, Sasisekharan R, Fan TPD (2004) Modulating angiogenesis - the yin and the yang in ginseng. Circulation 110(10):1219–1225. doi:10.1161/01.cir.0000140676.88412.cf

Sun JH, Chen P (2011) Differentiation of Panax quinquefolius grown in the USA and China using LC/MS-based chromatographic fingerprinting and chemometric approaches. Anal Bioanal Chem 399(5):1877–1889. doi:10.1007/s00216-010-4586-7

Hon CC, Chow YC, Zeng FY, Leung FCC (2003) Genetic authentication of ginseng and other traditional Chinese medicine. Acta Pharmacol Sin 24(9):841–846

Bai DP, Brandle J, Reeleder R (1997) Genetic diversity in north American ginseng (Panax quinquefolius L) grown in Ontario detected by RAPD analysis. Genome 40(1):111–115. doi:10.1139/g97-015

Schluter C, Punja ZK (2002) Genetic diversity among natural and cultivated field populations and seed lots of American ginseng (Panax quinquefolius L.) in Canada. Int J Plant Sci 163(3):427–439. doi:10.1086/339512

Zhang AH, Sun H, Wang P, Han Y, Wang XJ (2012) Modern analytical techniques in metabolomics analysis. Analyst 137(2):293–300. doi:10.1039/c1an15605e

Schripsema J (2010) Application of NMR in plant metabolomics: techniques, problems and prospects. Phytochem Anal 21(1):14–21. doi:10.1002/pca.1185

Spraul M, Schuetz B, Rinke P, Koswig S, Humpfer E, Schaefer H, Moertter M, Fang F, Marx UC, Minoja A (2009) NMR-based multi parametric quality control of fruit juices: SGF profiling. Nutrients 1(2):148–155. doi:10.3390/nu1020148

Frédérich M, Jansen C, de Tullio P, Tits M, Demoulin V, Angenot L (2010) Metabolomic analysis of Echinacea spp. by 1H nuclear magnetic resonance spectrometry and multivariate data analysis technique. Phytochem Anal 21(1):61–65. doi:10.1002/pca.1156

Kang J, Choi M-Y, Kang S, Kwon HN, Wen H, Lee CH, Park M, Wiklund S, Kim HJ, Kwon SW, Park S (2008) Application of a 1H nuclear magnetic resonance (NMR) metabolomics approach combined with orthogonal projections to latent structure-discriminant analysis as an efficient tool for discriminating between Korean and Chinese herbal medicines. J Agric Food Chem 56(24):11589–11595. doi:10.1021/jf802088a

Kang J, Lee S, Kang S, Kwon HN, Park JH, Kwon SW, Park S (2008) NMR-Based metabolomics approach for the differentiation of ginseng (Panax ginseng) roots from different origins. Arch Pharm Res 31(3):330–336. doi:10.1007/s12272-001-1160-2

Wen H, Kang S, Song Y, Sung SH, Park S (2010) Differentiation of cultivation sources of Ganoderma lucidum by NMR-based metabolomics approach. Phytochem Anal 21(1):73–79. doi:10.1002/pca.1166

Weckwerth W (2007) Metabolomics: methods and protocols. Humana, Totowa

Ekman DR, Teng Q, Villeneuve DL, Kahl MD, Jensen KM, Durhan EJ, Ankley GT, Collette TW (2008) Investigating compensation and recovery of fathead minnow (Pimephales promelas) exposed to 17α-ethynylestradiol with metabolite profiling. Environ Sci Technol 42(11):4188–4194

Ekman DR, Teng Q, Villeneuve DL, Kahl MD, Jensen KM, Durhan EJ, Ankley GT, Collette TW (2009) Profiling lipid metabolites yields unique information on sex- and time-dependent responses of fathead minnows (Pimephales promelas) exposed to 17α-ethynylestradiol. Metabolomics 5(1):22–32

Holmes E, Antti H (2002) Chemometric contributions to the evolution of metabonomics: mathematical solutions to characterising and interpreting complex biological NMR spectra. Analyst 127(12):1549–1557

McKelvie J, Yuk J, Xu Y, Simpson A, Simpson M (2009) 1H NMR and GC/MS metabolomics of earthworm responses to sub-lethal DDT and endosulfan exposure. Metabolomics 5(1):84–94

Trygg J, Holmes E, Lundstedt T (2007) Chemometrics in metabonomics. J Proteome Res 6(2):469–479

Goodpaster AM, Romick-Rosendale LE, Kennedy MA (2010) Statistical significance analysis of nuclear magnetic resonance-based metabonomics data. Anal Biochem 401(1):134–143. doi:10.1016/j.ab.2010.02.005

Schock TB, Newton S, Brenkert K, Leffler J, Bearden DW (2012) An NMR-based metabolomic assessment of cultured cobia health in response to dietary manipulation. Food Chem 133(1):90–101

Fitzloff JF, Yat P, Lu ZZ, Awang DVC, Arnason JT, van Breeman RB, Hall T, Blumenthal MS, Fong HHS (1998) Perspectives on the quality assurance of ginseng products in North America. Int Symp Ginseng 9:138–145

Hicks J, Muhammad A, Saleem A, Cuerrier A, Aranson T, John CLK (2012) Quantification of chlorgenic acid and hyperoside directly from crude blueberry (Vaccinium angustifolium) leaf extract by NMR spectroscopy analysis: single-laboratory validation. J AOAC Int 95(5):1406–1411

Yang SO, Shin YS, Hyun SH, Cho S, Bang KH, Lee D, Choi SP, Choi HK (2012) NMR-based metabolic profiling and differentiation of ginseng roots according to cultivation ages. J Pharm Biomed Anal 58(1):19–26

Lin CY, Wu HF, Tjeerdema RS, Viant MR (2007) Evaluation of metabolite extraction strategies from tissue samples using NMR metabolomics. Metabolomics 3(1):55–67. doi:10.1007/s11306-006-0043-1
Acknowledgments
Part of the funding was provided by the Ontario Research Fund Re-02-049. We also thank Sarah Luchsinger and Jonathan Ferrier for technical assistance and valuable discussions.
Additional information
Published in the topical collection Functional Foods and Dietary Supplements with guest editors Melissa M. Phillips and Catherine A. Rimmer.
Jimmy Yuk and Kristina L. McIntyre contributed equally to this work.
About this article
Cite this article
Yuk, J., McIntyre, K.L., Fischer, C. et al. Distinguishing Ontario ginseng landraces and ginseng species using NMR-based metabolomics. Anal Bioanal Chem 405, 4499–4509 (2013). https://doi.org/10.1007/s00216-012-6582-6
Received:

Revised:

Accepted:

Published:

Issue Date:

DOI: https://doi.org/10.1007/s00216-012-6582-6
Keywords
Metabonomics

Metabolite profiling

Quality control

Botanicals

Nuclear Magnetic Resonance and authenticity