Abstract
In this work, the development and optimization of a new methodology to analyze grape seed procyanidins based on the application of two-dimensional comprehensive LC is presented. This two-dimensional method involves the use of a microbore column containing a diol stationary phase in the first dimension coupled to either a C18 partially porous short column or a C18 monolithic column in the second dimension. The orthogonal hydrophilic interaction × reversed phase liquid chromatography (HILIC×RP-LC) system is interfaced through a ten-port two-position switching valve. The optimized HILIC×RP-LC separation followed by diode array and tandem mass spectrometry detection (HILIC×RP-LC-DAD-MS/MS) made possible the direct analysis of a complex grape seed extract and allowed the tentative identification of 43 flavan-3-ols, including monomers and procyanidin oligomers till a polymerization degree of 7 units with different galloylation degrees. To the best of our knowledge, this is the first time that this powerful analytical technique is employed to characterize complex procyanidin samples. This work successfully demonstrates the great capabilities of the HILIC×RP-LC-DAD-MS/MS coupling for the direct analysis of very complex natural samples like grape seeds.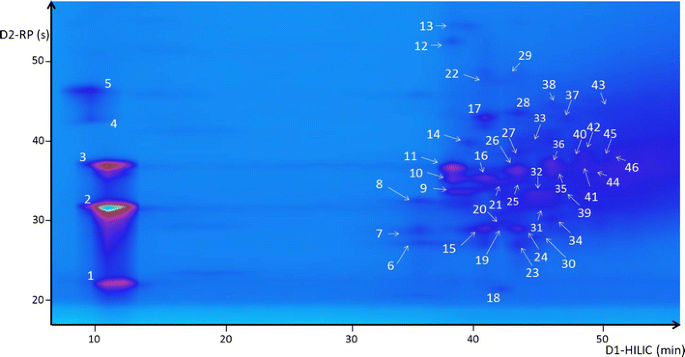 This is a preview of subscription content,
to check access.
Access this article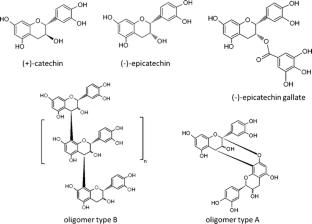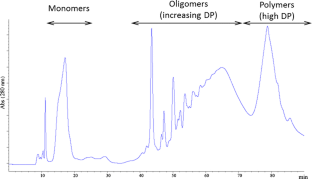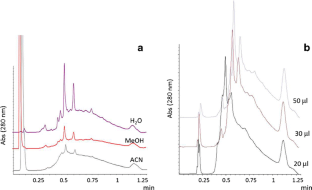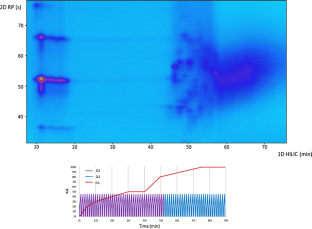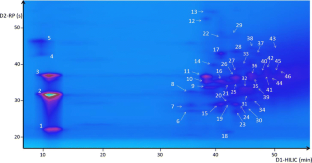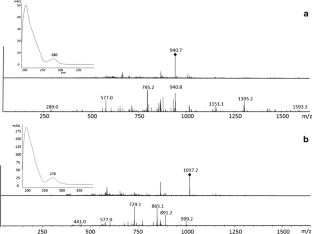 Similar content being viewed by others
References
Kelm MA, Johnson JC, Robbins RJ, Hammerstone JF, Schmitz HH (2006) High performance liquid chromatography separation and purification of cacao (Theobroma cacao L.) procyanidins according to degree of polymerization using diol stationary phase. J Agric Food Chem 54:1571–1576

Aron PM, Kennedy JA (2008) Flavan-3-ols: nature, occurrence and biological activity. Mol Nutr Food Res 52:79–104

Sarnoski PJ, Johnson JV, Reed KA, Tanko JM, O'Keefe SF (2012) Separation and characterization of proanthocyanidins in Virginia type peanut skins by LC-MSn. Food Chem 131:927–939

Hayasaka Y, Waters EJ, Cheynier V, Herderich MJ, Vidal S (2003) Characterization of proanthocyanidins in grape seeds using electrospray mass spectrometry. Rapid Commun Mass Spectrom 17:9–16

Valls J, Millan S, Marti MP, Borras E, Arola L (2009) Advanced separation methods of food anthocyanins, isoflavones and flavonols. J Chromatogr A 1216:7143–7172

Santos-Buelga C, García-Viguera C, Tomás-Barberán FA (2003) In: Santos-Buelga C, Williamson G (eds) Methods in polyphenol analysis. The Royal Society of Chemistry, Cambridge

Monagas M, Gomez-Cordoves C, Bartolome B, Laureano O, Da Silva JMR (2003) Monomeric, oligomeric and polymeric flavan-3-ol composition of wines and grapes from Vitis vinifera L. Cv. Graciano, Tempranillo and Cabernet Sauvignon. J Agric Food Chem 51:6475–6481

Vidal S, Francis L, Guyot S, Marnet N, Kwiatkowski M, Gawel R, Cheynier V, Waters EJ (2003) The mouth-feel properties of grape and apple proanthocyanidins in a wine-like medium. J Sci Food Agric 83:564–573

Yu J, Ahmedna M, Goktepe I (2010) Potential of peanut skin phenolic extract as antioxidative and antibacterial agent in cooked and raw ground beef. Int J Food Sci Technol 45:1337–1344

Pallares V, Calay D, Cedo L, Castell-Auvi A, Raes M, Pinent M, Ardevol A, Arola L, Blay M (2012) Additive, antagonistic and synergistic effects of procyanidins and polyunsaturated fatty acids over inflammation in RAW 264.7 macrophages activated by lipopolysaccharide. Nutrition 28:447–457

Dinicola S, Cucina A, Pasqualato A, D'Anselmi F, Proietti S, Lisi E, Pasqua G, Antonacci D, Bizzarri M (2012) Antiproliferative and apoptocic effects triggered by grape seed extracts (GSE) versus epigallocatechin and procyanidins on colon cancer cell lines. Int J Mol Sci 13:651–664

Bartolomé B, Hernandez T, Bengoechea ML, Quesada C, Gomez-Cordovés C, Estrella I (1996) Determination of some structural features of procyanidins and related compounds by photodiode-array detection. J Chromatogr A 723:19–26

Peng Z, Hayasaka Y, Iland PC, Sefton M, Høj P, Waters EJ (2001) Quantitative analysis of polymeric procyanidins (tannins) from grape (Vitis vinifera) seeds by reverse phase high-performance liquid chromatography. J Agric Food Chem 49:26–31

Hellstrom JK, Mattila PH (2008) HPLC determination of extractable and unextractable proanthocyanidins in plant materials. J Agric Food Chem 56:7617–7624

Counet C, Ouwerx C, Rosoux D, Collin S (2004) Relationships between procyanidin and flavor contents of cocoa liquor from different origins. J Agric Food Chem 52:6243–6249

Robbins R, Leonczak J, Li J, Johnson JC, Collins T, Kwik-Uribe C, Schmitz HH (2012) Determination of flavanol and procyanidin (by degree of polymerization 1–10) content of chocolate, cocoa liquors, powders and cocoa flavanol extracts by normal phase high-performance liquid chromatography: collaborative study. J AOAC Int 95:1153–1160

Robbins R, Leonczak J, Johnson JC, Li J, Kwik-Uribe C, Prior RL, Gu L (2009) Method performance and multi-laboratory assessment of a normal phase high pressure liquid chromatography–fluorescence detection method for the quantitation of flavanols and procyanidins in cocoa and chocolate containing samples. J Chromatogr A 1216:4831–4840

Prior RL, Lazarus SA, Gao G, Muccitelli H, Hammerstone JF (2001) Identification of procyanidins and anthocyanins in blueberries and cranberries (Vaccinium spp.) using high-performance liquid chromatography/mass spectrometry. J Agric Food Chem 49:1270–1276

Khanal RC, Howard LR, Prior RL (2009) Procyanidin composition of selected fruits and fruit by-products affected by extraction method and variety. J Agric Food Chem 57:8839–8843

Buszewski B, Noga S (2012) Hydrophilic interaction liquid chromatography (HILIC)—a powerful separation technique. Anal Bioanal Chem 402:231–237

Greco G, Crosse S, Letzel T (2011) Study of the retention behavior in zwitterionic hydrophilic interaction chromatography of isomeric hydroxyl- and aminobenzoic acids. J Chromatogr A 1235:60–67

Stoll DR (2010) Recent progress in online, comprehensive two-dimensional high-performance liquid chromatography for non-proteomic applications. Anal Bioanal Chem 397:979–986

Herrero M, Ibañez E, Cifuentes A, Bernal J (2009) Multidimensional chromatography in food analysis. J Chromatogr A 1216:7110–7129

Dugo P, Cacciola F, Kumm T, Dugo G, Mondello L (2008) Comprehensive multidimensional liquid chromatography: theory and applications. J Chromatogr A 1184:353–368

Li X, Carr PW (2011) Effects of first dimension eluent composition in two-dimensional liquid chromatography. J Chromatogr A 1218:2214–2221

Groskreutz SR, Swenson MM, Secor LB, Stoll DR (2012) Selective comprehensive multi-dimensional separation for resolution enhancement in high performance liquid chromatography. Part I—principles and instrumentation. J Chromatogr A 1228:31–40

Donato P, Cacciola F, Tranchida PQ, Dugo P, Mondello L (2012) Mass spectrometry detection in comprehensive liquid chromatography: basic concepts, instrumental aspects, applications and trends. Mass Spectrom Rev 31:523–559

Kalili KM, de Villiers A (2009) Off-line comprehensive 2-dimensional hydrophilic interaction × reversed phase liquid chromatography analysis of procyanidins. J Chromatogr A 1216:6274–6284

Prodanov M, Vacas V, Hernández T, Estrella I (2010) In Polyphenols communications. A. Ageorges, V. Cheynier, P. Lefer and P. Sarni-Machado (eds.) vol. 2., pp. 592–593.

Bedani F, Schoenmakers PJ, Janssen HG (2012) Theories to support method development in comprehensive two-dimensional liquid chromatography—a review. J Sep Sci 35:1697–1711

Jandera P (2008) Stationary phases for hydrophilic interaction chromatography, their characterization and implementation into multidimensional chromatography concepts. J Sep Sci 31:1421–1437

Rockenbach II, Jungfer E, Ritter C, Santiago-Schübel B, Thiele B, Fett R, Galensa R (2012) Characterization of flavan-3-ols in seeds of grape pomace by CE, HPLC-DAD-MSn and LC-ESI-FTICR-MS. Food Res Int 48:848–855

Neue UD (2005) Theory of peak capacity in gradient elution. J Chromatogr A 1079:153–161

Li X, Stoll DR, Carr PW (2009) Equation for peak capacity estimation in two-dimensional liquid chromatography. Anal Chem 81:845–850

Santos-Buelga C, Francia-Aricha EM, Escribano-Bailón MT (1995) Comparative flavan-3-ol composition of seeds from different grape varieties. Food Chem 53:197–201
Acknowledgments
M.H. would like to thank MICINN for his "Ramón y Cajal" research contract. The authors want to thank Projects AGL2011-29857-C03-01 and CONSOLIDER INGENIO 2010 CSD2007-00063 FUN-C-FOOD (Ministerio de Educación y Ciencia) for the financial support.
Additional information
Published in the topical collection Nutraceuticals and Separations with guest editor Luigi Mondello.
About this article
Cite this article
Montero, L., Herrero, M., Prodanov, M. et al. Characterization of grape seed procyanidins by comprehensive two-dimensional hydrophilic interaction × reversed phase liquid chromatography coupled to diode array detection and tandem mass spectrometry. Anal Bioanal Chem 405, 4627–4638 (2013). https://doi.org/10.1007/s00216-012-6567-5
Received:

Revised:

Accepted:

Published:

Issue Date:

DOI: https://doi.org/10.1007/s00216-012-6567-5
Keywords