Abstract
We present automated data analysis of high-throughput high-performance liquid chromatography with diode array detection (HPLC-DAD) data using multivariate curve resolution. This technique provides spectra and elution profiles of all UV-Vis active compounds present in the mixture. The specifics of using this method in noninteractive fashion are discussed. A case study on the stability of isoprenoids in grape extracts under two different experimental regimes serves to illustrate the potential of the method: quantitative results clearly show that the addition of triethylamine is beneficial in that carotenoid, chlorophyll, and tocopherol compounds are much more stable and in this way can be kept up to at least 30 days without any sign of degradation.
Access options
Buy single article
Instant access to the full article PDF.
USD 39.95
Price excludes VAT (USA)
Tax calculation will be finalised during checkout.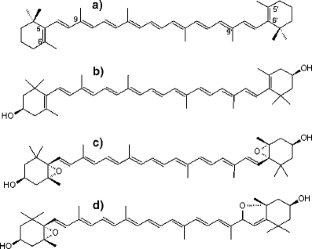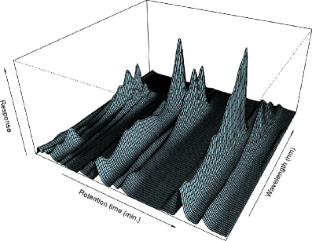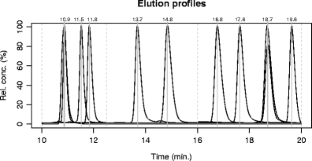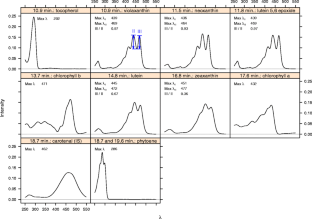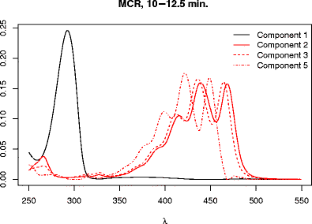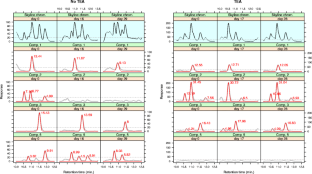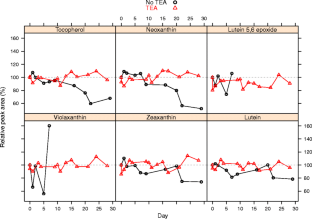 References
Lu S, Li L (2008) Carotenoid metabolism: biosynthesis, regulation, and beyond. J Integr Plant Biol 50:778

Fraser PD, Bramley PM (2004) The biosynthesis and nutritional uses of carotenoids. Prog Lipid Res 43:228

Botella-Pavía P, Rodríguez-Concepción M (2006) Carotenoid biotechnology in plants for nutritionally improved foods. Physiol Plant 126:369

Rosati C, Diretto G, Giuliano G (2010) Biosynthesis and engineering of carotenoids and apocarotenoids in plants: state of the art and future prospects. Biotechnol Genet Eng 26:139

Fraser PD, Enfissi EMA, Bramley PM (2009) Genetic engineering of carotenoid formation in tomato fruit and the potential application of systems and synthetic biology approaches. Arch Biochem Biophys 483:196

Fraser PD, Enfissi EMA, Goodfellow M, Eguchi T, Bramley PM (2007) Metabolite profiling of plant carotenoids using the matrix-assisted laser desorption ionization time-of-flight mass spectrometry. Plant J 49:552

Rodriguez-Amaya DB (1999) A guide to carotenoid analysis in foods, 1999 edn. ILSI Press, Washington, DC

Mounet F, Lemaire-Chamley M, Maucourt M, Cabasson C, Giraudel JL, Deborde C, Lessire R, Gallusci P, Bertrand A, Gaudillère M, Rothan C, Rolin D, Moing A (2007) Quantitative metabolic profiles of tomato flesh and seeds during fruit development: complementary analysis with ANN and PCA. Metabolomics 3:273

Bino RJ, De Vos CHR, Lieberman M, Hall RD, Bovy A, Jonker HH, Tikunov Y, Lommen A, Moco S, Levin I (2005) The light-hyperresponsive high pigment-2dg mutation of tomato: alterations in the fruit metabolome. New Phytol 166:427

Fraser PD, Pinto ME, Holloway DE, Bramley PM (2000) Technical advance: application of high-performance liquid chromatography with photodiode array detection to the metabolic profiling of plant isoprenoids. Plant J 24:551

Theodoridis G, Gika H, Franceschi P, Caputi L, Arapitsas P, Scholz M, Masuero D, Wehrens R, Vrhovsek U, Mattivi F (2012) LC-MS based global metabolite profiling of grapes: solvent extraction protocol optimisation. Metabolomics 8:175

Gika H, Theodoridis G, Mattivi F, Vrhovsek U, Pappa-Louisi A (2012) Hydrophilic interaction ultra performance liquid chromatography retention prediction under gradient elution. Anal Bioanal Chem 404:701

Fedrizzi B, Carlin S, Franceschi P, Vrhovsek U,Wehrens R, Viola R, Mattivi F (2012) D-optimal design to optimise untargeted HS-SPME-GC-TOF metabolites profiling. Analyst 137:3725

Lashbrooke JG, Young PR, Strever AE, Stander C, Vivier MA (2010) The develent of a method for the extraction of carotenoids and chlorophylls from grapevine leaves and berries for HPLC profiling. Aust J Grape Wine Res 16:349

Mendes-Pinto MM, Silva Ferreira AC, Caris-Veyrat C, Guedes de Pinho P (2005) Carotenoid, chlorophyll, and chlorophyll-derived compounds in grapes and port wines. J Agric Food Chem 53:10034

Crupi P, Milella RA, Antonacci D (2010) Simultaneous HPLC-DAD-MS (ESI+) determination of structural and geometrical isomers of carotenoids in mature grapes. J Mass Spectrom 45:971

Kamffer Z, Bindon KA, Oberholster A (2010) Optimization of a method for the extraction and quantification of carotenoids and chlorophylls during ripening in grape berries (Vitis vinifera cv. Merlot). J Agric Food Chem 58:6578

Britton G, Liaaen-Jensen S, Pfander H (eds) (1994) Carotenoids, volume 1A: isolation and analysis, 1st edn. Birkh¨auser, Basel

Biehler E, Alkerwi A, Hoffmann L, Krause E, Guillaume M, Lair ML, Bohn T (2012) Contribution of violaxanthin, neoxanthin, phytoene and phytofluene to total carotenoid intake: assessment in Luxembourg. J Food Compos Anal 25:56

Mas S, Fonrodona G, Tauler R, Barbosa J (2007) Determination of phenolic acids in strawberry samples by means of fast liquid chromatography and multivariate curve resolution methods. Talanta 71:1455

Lawton W, Sylvestre E (1971) Self-modeling curve resolution. Technometrics 13:617

Mas S, de Juan A, Lacorte S, Tauler R (2008) Photodegradation study of decabromodiphenilether by UV spectrophotometry and a hybrid hard- and soft-modeling approach. Anal Chem Acta 618:18

Mas S, Carbó A, Lacorte S, de Juan A, Tauler R (2011) Comprehensive description of the photodegradation of bromophenols using chromatographic monitoring and chemometric tools. Talanta 83:1134

Tauler R (1995) Multivariate curve resolution applied to second-order data. Intell Chemom Lab Syst 30:133

de Juan A, Tauler R (2006) MCR from 2000: progress in concepts and applications. Crit Rev Anal Chem 36:163

de Juan A, Rutan S, Tauler R (2009) In: Brown S, Tauler R, Walczak B (eds) Comprehensive chemometrics, vol 2. Elsevier, Oxford, pp 325–344

Maeder M (1987) Evolving factor analysis for the resolution of overlapping chromatographic peaks. Anal Chem 59:527

Windig W, Guilment J (1991) Interactive self-modeling mixture analysis. Anal Chem 63:1425

Sanchez FQ, Khots M, Massart D, de Beer J (1994) Algorithm for the assessment of peak purity in liquid chromatography with photodiode-array detection. Anal Chim Acta 285:181

de Juan A, Tauler R (2007) Factor analysis of hyphenated chromatographic data. Exploration, resolution and quantification of multicomponent systems. J Chromatogr A 1158:184

van Stokkum IHM, Mullen KM, Mihaleva VV (2009) Chemom Intell Lab Syst 95:150

de Juan A, Maeder M, Martinez M, Tauler R (2000) Chemom Intell Lab Syst 54:49

R Development Core Team (2012) R: a language and environment for statistical computing, R Foundation for Statistical Computing, Vienna, Austria. http://www.R-project.org. ISBN 3-900051-07-0

Bloemberg T, Gerretzen J, Wouters H, Gloerich J, Wessels H, van Dael M, van den Heuvel L, Eilers P, Buydens L, Wehrens R (2010) Improved parametric time warping for proteomics. Chemom Intell Lab Syst 104:65

Eilers P (2004) Parametric time warping. Anal Chem 76:404

Wehrens R (2011) Chemometrics with R—multivariate data analysis in the natural sciences and life sciences. Springer, Berlin. ISBN: 978-3-642-17840-5

Mullen KM (2012) ALS: multivariate curve resolution alternating least squares (MCR-ALS). http://CRAN.R-project.org/package=ALS. R package version 0.0.5
Acknowledgements
Research was supported by ADP 2011 project funded by the Autonomous Province of Trento. The authors wish to thank Anna della Corte, Luca Narduzzi, Panagiotis Arapitsas, and Andrea Angeli for providing the chloroform fractions of the extracted grape samples.
Additional information
Published in the topical collection Metabolomics and Metabolite Profiling with guest editors Rainer Schuhmacher, Rudolf Krska, Roy Goodacre, and Wolfram Weckwerth.
R. Wehrens and E. Carvalho contributed equally.
About this article
Cite this article
Wehrens, R., Carvalho, E., Masuero, D. et al. High-throughput carotenoid profiling using multivariate curve resolution. Anal Bioanal Chem 405, 5075–5086 (2013). https://doi.org/10.1007/s00216-012-6555-9
Received:

Revised:

Accepted:

Published:

Issue Date:

DOI: https://doi.org/10.1007/s00216-012-6555-9
Keywords