Abstract
Ionic liquid-salt aqueous two-phase extraction coupled with high-performance liquid chromatography with ultraviolet detection was developed for the determination of sulfonamides in water and food samples. In the procedure, the analytes were extracted from the aqueous samples into the ionic liquid top phase in one step. Three sulfonamides, sulfamerazine, sulfamethoxazole, and sulfamethizole were selected here as model compounds for developing and evaluating the method. The effects of various experimental parameters in extraction step were studied using two optimization methods, one variable at a time and Box–Behnken design. The results showed that the amount of sulfonamides did not have effect on the extraction efficiency. Therefore, a three-level Box–Behnken experimental design with three factors, which combined the response surface modeling, was used to optimize sulfonamides extraction. Under the most favorable extraction parameters, the detection limits (S/N = 3) and quantification limits (S/N = 10) of the proposed method for the target compounds were achieved within the range of 0.15–0.3 ng/mL and 0.5–1.0 ng/mL from spiked samples, respectively, which are lower than or comparable with other reported approaches applied to the determination of the same compounds. Finally, the proposed method was successfully applied to the determination of sulfonamide compounds in different water and food samples and satisfactory recoveries of spiked target compounds in real samples were obtained.
Access options
Buy single article
Instant access to the full article PDF.
USD 39.95
Price excludes VAT (USA)
Tax calculation will be finalised during checkout.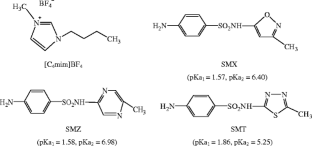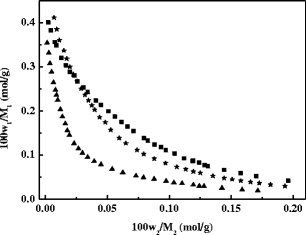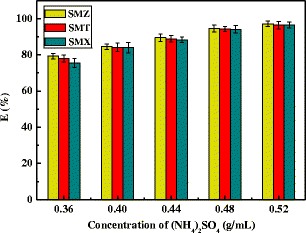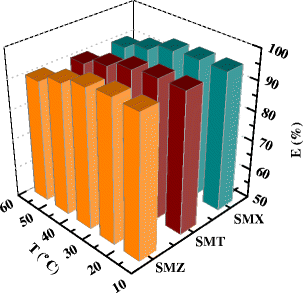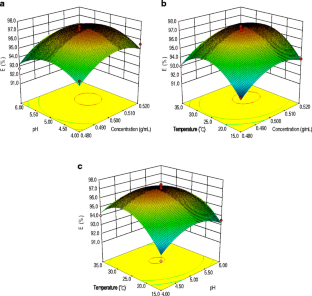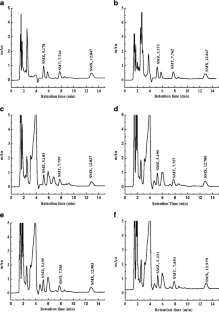 References
Zhang W, Duan C, Wang M (2011) Food Chem 126:779–785

Li JD, Cai YQ, Shi YL, Mou SF, Jiang GB (2007) J Chromatogr A 1216:3372–3379

Wom SY, Lee CH, Chang HS, Kim SO, Lee SH, Kim DS (2011) Food Chem 22:1101–1107

Pharmacologically active substances and their classification regarding maximum residue limits in foodstuffs of animal origin (2009) Commission Regulation No. 37/2010, European Community. Off J Eur Union L 15: 1–72

The Maximum Residue Limit in Food of Animal Origin established by Ministry of Agriculture of P.R. China (2003) Chin J Vet Drug 37:15

Chiavarino B, Crestoni ME, Marzio AD, Fornarini S (1998) J Chromatogr B 706:269–277

Reeves VB (1999) J Chromatogr B 723:127–137

Wen Y, Li J, Zhang W, Chen L (2011) Electrophoresis 32:2131–2138

Soto-Chinchilla JJ, García-Campaña AM, Gámiz-Gracia L (2007) Electrophoresis 28:4164–4172

García-Galán MJ, Díaz-Cruz MS, Barceló D (2010) Talanta 81:355–366

Pailler JY, Krein A, Pfister L, Hoffmann L, Guignard C (2009) Sci Total Environ 407:4736–4743

Tolika EP, Samanidou VF, Papadoyannis IN (2011) J Sep Sci 34:1627–1635

Chitescu CL, Nicolau AL, Csuma A, Moisoiu C (2011) Food Addit Contam Part A 28:1013–1020

Tsai WH, Chuang HY, Chen HH, Wu YW, Cheng SH, Huang TC (2010) J Chromatogr A 1217:7812–7815

Bernal J, Nozal MJ, Jiménez JJ, Martín MT, Sanz E (2009) J Chromatogr A 1216:7275–7280

Shelver WL, Hakk H, Larsen GL, DeSutter TM, Casey FXM (2010) J Chromatogr A 1217:1273–1282

Verzegnassi L, Savoy-Perroud MC, Stadler RH (2002) J Chromatogr A 977:77–87

Maudens KE, Zhang GF, Lambert WE (2004) J Chromatogr A 1047:85–92

Raich-Montiu J, Folch J, Compañó R, Granados M, Prat MD (2004) J Chromatogr A 1172:186–193

Font G, Juan-García A, Picó Y (2004) J Chromatogr A 1159:233–241

Lu Y, Shen Q, Dai Z, Zhang H, Wang H (2011) J Chromatogr A 1218:929–937

Kishida K, Furusawa N (2001) J Chromatogr A 937:49–55

Lu KH, Chen CY, Lee MR (2007) Talanta 72:1082–1087

Xu W, Su S, Jiang P, Wang H, Dong X, Zhang M (2010) J Chromatogr A 1217:7198–7207

Yu H, Tao Y, Chen D, Wang Y, Huang L, Peng D, Dai M, Liu Z, Wang X, Yuan Z (2011) J Chromatogr B 879:2653–2662

Lopes RP, Reyes RC, Romero-González R, Frenich AG, Vidal JLM (2012) Talanta 89:201–208

Xu X, Su R, Zhao X, Liu Z, Zhang Y, Li D, Li X, Zhang H, Wang Z (2011) Anal Chim Acta 707:92–99

Guo X, Yin D, Peng J, Hu X (2012) J Sep Sci 35:452–458

Albertsson PA (1986) Partitioning of cell particles and macromolecules. Wiley, New York

Walter H, Brooks DE, Fisher D (1985) Partitioning in aqueous two-phase systems. Academic, New York

Zaslavsky BY (1995) Aqueous two-phase partitioning, physical chemistry and bioanalytical applications. Marcel Dekker, New York

Gu Z, Glatz CE (2007) J Chromatogr B 845:38–45

Su CK, Chiang BH (2006) Process Biochem 41:257–263

Gomes GA, Azevedo AM, Aires-Barros MR, Prazeres DMF (2009) Sep Purif Technol 65:22–30

Azevedo AM, Gomes AG, Rosa PAJ, Ferreira IF, Pisco AMMO, Aires-Barros MR (2009) Sep Purif Technol 65:14–21

Mokhtarani B, Karimzadeh R, Amini MH, Manesh SD (2008) Bio Eng J 38:241–247

Shibukawa M, Nakayama N, Hayashi T, Shibuya D, Endo Y, Kawamura S (2001) Anal Chim Acta 427:293–300

Tong AJ, Dong JJ, Li LD (1999) Anal Chim Acta 390:125–131

Han X, Armstrong DW (2007) Accounts Chem Res 40:1079–1086

Gutowski KE, Broker GA, Willauer HD, Huddleston JG, Swatloski RP, Holbrey JD, Rogers RD (2003) J Am Chem Soc 125:6632–6633

He C, Li S, Liu H, Li K, Liu F (2005) J Chromatogr A 1082:143–149

Du Z, Yu YL, Wang JH (2007) Chem Eur J 13:2130–2137

Ventura SPM, Neves CMSS, Freire MG, Marrucho IM, Oliveira J, Coutinho JAP (2009) J Phys Chem B 113:9304–9310

Li CX, Han J, Wang Y, Yan YS, Xu XH, Pan JM (2009) Anal Chim Acta 653:178–183

Box G, Behnken D (1960) Technometrics 2:455–475

Marcus Y (1991) J Chem Soc Faraday Trans 87:2995–2999

Willauer HD, Huddleston JG, Rogers RD (2002) Ind Eng Chem Res 41:2591–2601

Freire MG, Neves CMSS, Carvalho PJ, Gardas RL, Fernandes AM, Marrucho IML, Santos MNBF, Coutinho JAP (2007) J Phys Chem B 111:13082–13089

De Baere S, Baert K, Croubels S, De Busser J, De Wasch K, De Backer P (2000) Analyst 125:409–415

Wei Y, Zhang M, Zhao Q, Feng YQ (2005) J Agric Food Chem 53:8468–8473

Huang AX, Qiu N, Yuan D (2009) J Chromatogr A 1216:8240–8245

Lin CY, Huang SD (2008) Anal Chim Acta 612:37–43
Acknowledgments
This work was supported by the National Natural Science Foundation of China (Nos. 21076098, 21206059 and 21207051), the Natural Science Foundation of Jiangsu Province (No. BK2010349 and BK2011529), China Postdoctoral Science Foundation funded project (No. 20110491352), Ph.D. Innovation Programs Foundation of Jiangsu Province (No. X2211_0584), Jiangsu Postdoctoral Science Foundation funded project (No. 1101036C).
Electronic supplementary material
Below is the link to the electronic supplementary material.
About this article
Cite this article
Han, J., Wang, Y., Liu, Y. et al. Ionic liquid-salt aqueous two-phase extraction based on salting-out coupled with high-performance liquid chromatography for the determination of sulfonamides in water and food. Anal Bioanal Chem 405, 1245–1255 (2013). https://doi.org/10.1007/s00216-012-6511-8
Received:

Revised:

Accepted:

Published:

Issue Date:

DOI: https://doi.org/10.1007/s00216-012-6511-8
Keywords
Ionic liquid-salt aqueous two-phase extraction

Sulfonamides

High-performance liquid chromatography

Box–Behnken design

Water samples

Foods